An Experienced Bicycle Accident Attorney Will Fight for the Compensation That You Deserve
Bicycle riders are on the very vulnerable on the road and bicycle accidents are on the rise in Texas. Even a bicyclist that follows the rules and regulations set forth by the law may end up in a devastating accident. The effects from this kind of accident can be, and often are, life altering. If you, or someone you love, has been affected by a bicycle accident in Texas you should contact a Lewisville bicycle accident attorney. A skilled and experienced attorney can help you receive the compensation that you deserve.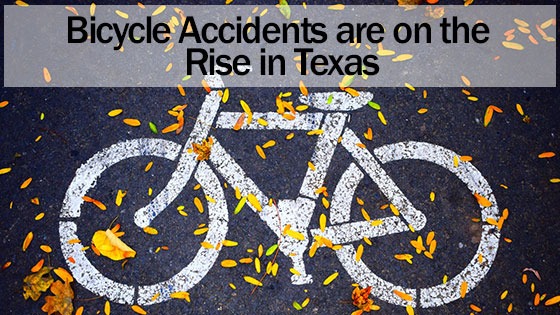 Bicycle Accidents are on the Rise In Texas
Bicycle riding has increased throughout the country, and especially in Texas. This could be because of a desire to "go green" or because of the increasing interest in health and physical fitness. No matter what the reason for the increased interest in the pastime, the increase in serious injuries involving bicycles is concerning.
Sharetheroadtexas.org is a website that is dedicated to raising public awareness for bicycle safety. According to their website, from 2007-2012 there were 12,789 crashes in Texas that involved bicycles. This number has increased in the 6 years since that data was collected.
Trends in Bicycle Accident Statistics
As stated earlier, accidents can happen to anyone at any time. Statistics, however, show that there are some trends that can help educate, and perhaps lead to a decrease in these accidents.
Age: The first interesting stat is that ten percent of all fatal bicycle accidents involve children 16 or under. This elevated number can possibly be curbed by more education and more strict parental monitoring.
Location: 69 percent of all fatal accidents that involve a bicycle happen in an urban setting. Additionally, one in three fatal accidents occur at an intersection.
Controlled Substances: In 37 percent of all fatal accidents involving bicycles either the vehicle driver or the bicycle rider is under the influence of alcohol.
These statistics can give us valuable insight into what is causing the increase in bicycle accidents and how to prevent them.
What Should You do If You Were Involved In an Accident on Your Bicycle
If you have been in an accident while you were riding your bicycle you should educate yourself on your rights. Even if you think that the accident was your fault, you may still be entitled to some form of compensation. If your trial goes to court, your opponent may have a powerful attorney to fight for them. It makes sense that you should have an attorney on your side.
You will face many challenges in the days, months, and years after a bicycle accident. You may have large medical bills to pay and expensive, ongoing treatments. You may also lose wages due to missing work, which will make paying the medical bills difficult, if not impossible. In a time of pain and suffering you should not face a legal battle alone.
An attorney from the Law Offices of David Kohm will have the experience and expertise that you need to fight for what you deserve. They have an intimate understanding of the law and how insurance companies work. The legal system can be very complicated and it can overwhelm a layperson, especially when they are dealing with the pain of an accident. The other party should be made to compensate you for the negligence of their actions that caused the accident and injury.
Representing yourself or employing a less experienced lawyer can end up causing a lot of pain and suffering. These types of attorneys do not have the tools or litigation knowledge to get positive results. Only an experienced bicycle accident attorney will be able to fight the other side for what you deserve.
Call our law offices today at any of our convenient locations and get a free consultation.
Arlington (817) 522-4451
Addison (972) 564-8108
Denton (940) 222-4060
Dallas (972) 362-6848
Garland (214) 572-2251
Fort Worth (817) 764-1375
Cedar Hill (972) 338-9427
McKinney (469) 522-3688
Lewisville (972) 354-4605
Frisco (972) 725-7681
Grapevine (817) 835-8677
Irving (972) 354-4610
Keller (817) 204-0904
Plano (972) 354-4602
You can also contact us online by using our quick contact form.