Life can change in an instant, and for anyone who has experienced a car accident, then you know the truth of it. One second, your world is fine, and in the next, you have been struck by another vehicle, injured, and forever affected by that moment in time.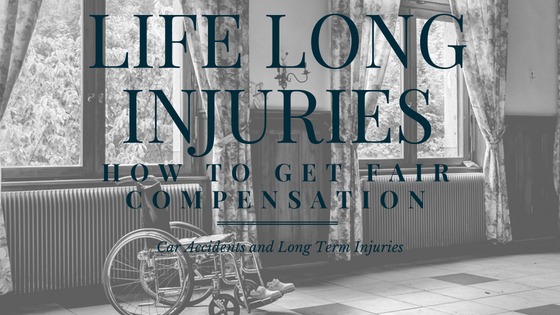 Tragically, many accident victims suffer long term chronic injuries from car accidents, enduring a lifetime of pain. For those of you who feel pain on a daily basis, you understand that even the simplest of tasks or natural gestures are no longer simple or natural. After an accident, many victims enter a new world in which they struggle with painful results from their accident, sometimes for life. For that reason, victims need the appropriate representation from an experienced car accident lawyer.
Types of Injuries
The body is miraculous in its ability to heal, but the impact from a car crash is so intense that the body's system for recovery may not be equipped to repair the damage.
Loss Of Cognitive And Motor Functions

. A severe injury to the head may result in a traumatic brain injury, a diagnosis that varies in severity from mild to profound cognitive dysfunction. Some people are never the same again. Equally debilitating, most injuries to the spinal cord and nerves cause permanent damage, and paralysis may strike any motor functions of the body. Most of these victims require round the clock care.

Emotions Run Deep And Cause Scarring

. There is an emotional component to car accidents that cause people to experience such severe stress that they develop a condition called Post Traumatic Stress Disorder (PTSD). PTSD occurs when the anxiety and fear provoked by the accident often endures and manifests in many different behaviors. It is very common for PTSD to render someone unable to continue with normal daily life activities.

Injuries From The Force Of Whiplash

. The injury most associated with car accidents, whiplash is also the most misunderstood. The symptoms appear anytime from immediately after the accident to days later, and they can affect any part of the body though most associate them with neck pain. Complicating a diagnosis of a whiplash injury is that the term describes the force behind the injury, and not type of injury; many injuries caused by this force are hard to define. Worse, the pain from injuries caused by whiplash linger and often turn into chronic pain that the victim feels every day.
Tragic Truth Of Accident Victims
For many victims of a car accident, the fact that the accident was often the result of someone else's poor skills, negligence, or disregard for safety worsens their pain. It's very difficult to accept that your long-term injury is the result of someone else's bad choices. They carry this deeper pain internally and alongside the suffering caused by their long-term injuries from the car accident.
Finding Sources Of Relief
The medical industry, rehabilitation services, and health care supply manufactures have products and services available to treat chronic pain. It's helpful to know that there are resources to manage the long-term injuries caused by car accidents.
There is also legal help for coping with the emotions and consequences of pain and suffering. Taking legal action empowers victims who often feel helpless to change their circumstances. Also, when victims' injuries are so severe that they require lifetime care, their loved ones-turned-caretakers who must fund long-term care are also entitled to find legal recourse.
While you can never undo the car accident that created long-term injuries and chronic pain that will affect the rest of your life, you can still do something about it. Seeking justice to get compensated for something after you lose everything can make a difference in how you spend the rest of your life.
Book a no-obligation legal consultation with a car accident attorney to ensure all your bases are covered.
We will explain to you everything about our representation in plain language to ensure there are no surprises. We strive to provide honest communication and work hard to obtain a fair amount of compensation for our clients.
Arlington (817) 522-4451
Denton (940) 222-4060
Dallas (972) 362-6848
Fort Worth (817) 764-1375
Cedar Hill (972) 338-9427
McKinney (469) 522-3688
Lewisville (972) 354-4605
You can also contact us online by using our quick contact form.