Many auto insurance companies get their customers by having a supportive slogan promising family-like treatment. Once a person is in a vehicle accident, the behavior of an insurance company is quite different. No matter how much an insurance company tries to seem like a friend, the bottom line is that they are a business. This is why they often work hard to pay as little as possible on a claim or to not pay it at all. An insurance company's desire for profits often result in problems for their policyholders. There are many tactics insurance companies use to keep their profits as high as possible.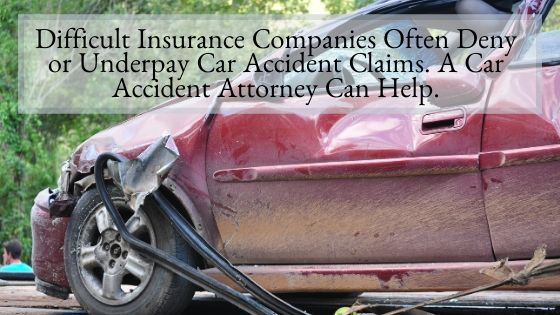 It is extremely important that you retain the services of an experienced car accident attorney who deals with difficult insurance companies on a regular basis.
Delay, Deny and Defend
There are a variety of measures used by an insurance company to make sure a claim is not paid or paid at the lowest rate possible. It consists of three different parts. 
Delay

– Initially an insurance company will appear to help a no-fault claim. They will then take an unreasonably long time to decide if a policyholder had coverage at the time of an accident. A policyholder's agent could be changed at the last second. This will require the entire process to start over. Agents could be difficult to contact causing an endless game of phone tag.

Deny

– An insurance company could simply deny a claim. A claim could be buried beneath confusing technicalities. People have had their claim denied because an insurance company believed the paperwork a policyholder submitted was wrong or the paperwork was never received. They may cite a law that does not apply to the policyholder's claim and more.

Defend

– This involves an insurance company trying to settle a claim for much less than a policyholder was entitled to receive. It will often result in a policyholder paying out-of-pocket expenses for their injuries. Policyholders are often forced to seek legal remedies to defend a claim. Many policyholders avoid this because litigating a case without an insurance company support is very expensive. 
Policyholder's Actions Contributed To Accident
Texas is a modified comparative fault state. Insurance companies are not required to cover a policyholder's damages if they are more than 50 percent at fault for the accident. Should an insurance company determine its policyholder contributed to the cause of an accident, they can proportionately decrease damage awards. 
Anything A Policyholder Says Can Be Used Against Them
It is common for insurance adjusters to ask a policyholder to provide their version of the car accident. Anyone facing this situation should not do it. Nobody should just agree to answer any question asked of them. A recorded statement should not be done or agreements signed until a policyholder speaks with a car accident attorney. This must be done no matter how reasonable an insurance company's settlement offer may appear. 
Threats To Take Away Driver's License
There is a common extortion technique an insurance company may use to recover their losses from paying a claim. An insurance company will pay its policyholder and then send a collection letter to the other driver. This ignores any agreements in place as well as recognizing who was at fault for the accident. When someone gets such a letter, they should not panic. A person can't have their driver's license suspended unless they have been successfully sued in court and a formal judgment is made against them. 
Vulnerability
When someone is involved in a no-fault accident claim, they will be experiencing a time of vulnerability. This is especially true if an auto accident involves injuries. Nobody has to accept the aggressive tactics used by insurance companies to pay little or nothing on a claim. An experienced car accident attorney will know how to protect a person's rights and get them a fair settlement. They will be able to send an insurance company a clear message their policyholder is not giving up and isn't going away. 
Call our law offices today at any of our convenient locations and get a free consultation. 
Arlington (817) 522-4451
Dallas (972) 362-6848
Fort Worth (817) 764-1375
Plano (972) 354-4602
Cedar Hill (972) 338-9427
McKinney (469) 522-3688
Lewisville (972) 354-4605
Frisco (972) 725-7681
Grapevine (817) 835-8677
Irving (972) 354-4610
Keller (817) 204-0904
Garland (214) 572-2251
Denton (940) 222-4060
Addison (972) 564-8108 
You can also contact us online by using our quick contact form.