Distraction is a huge problem on the streets of Dallas, Texas. It results in a number of accidents that lead to serious injuries and even death. However, one aspect that may be surprising is that it isn't just drivers who are getting distracted and causing road accidents. Bicyclists and pedestrians are getting increasingly distracted as well.
Bicycle Accidents
A bicycle accident attorney in the Dallas area knows the seriousness of these accidents and how they have been on a steady incline with the introduction of SMART phones. According to the Governors Highway Safety Association, nearly 6,000 pedestrians were killed in road accidents in 2016. This number has risen a total of 22 percent from the year before. Overall, however, around two percent of all people who die in vehicle accidents are those on bicycles. Most accidents involving bicycles are very serious in nature and involve head injuries, which stress the importance of wearing a helmet while riding a bike.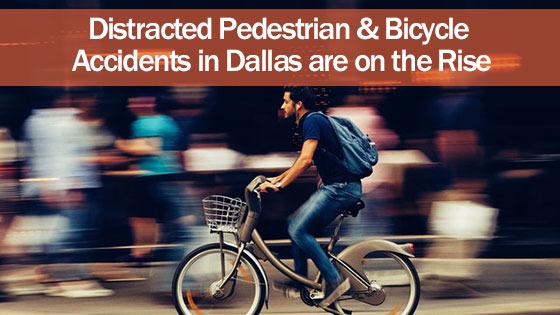 One of the reasons why more and more Dallas bicyclists have been involved in accidents is because of the growing number of bike lanes on the roads. More people are riding bikes to work or school instead of cars as a way to save money and fuel. In addition, many of these people are distracted while riding due to the increase in popularity of smartphones. Even taking one's eyes off the road for a few seconds to view a short text message can have devastating results. It doesn't help that efforts to curb distraction while on the road is generally focused on drivers instead of bicyclists and pedestrians.
In the past 10 years, the country has seen a 60 percent increase in people using bicycles to get around and Dallas has also seen an increase in bicycles being used a transportation. However, at the same time, this has led to another trend of fatalities among individuals 20 and older on bikes, three times the amount of cyclist deaths in that same decade.
Additionally, many pedestrians have sustained injuries after being struck by bicyclists who ride without paying attention to the rules of the road or while distracted. A Dallas bicycle accident attorney can help anyone who has been injured in an accident with a bicyclist who was distracted. One of our Dallas area bike accident attorneys may help you to recover compensation for your injuries, pain and suffering and other damages.
The National Safety Council urges all people on bicycles to stay safe by following these rules:
Always familiarize yourself with the traffic laws and remember that bicyclists are required to follow the same rules as drivers in cars and other vehicles

Know your bicycle's capabilities

Always ride single-file in the direction of the traffic and keep your eyes open for any hazards

Use hand signals when making turns and be careful at intersections

Never hitch onto cars

Stop and look left, right and over your shoulder before entering traffic

Ride during the day and wear bright clothing

Wear reflective clothing if you must ride at night

Equip your bicycle with reflectors on the front, back, pedals and spokes

Install a rear-view mirror and horn or bell on your bike and use a headlight
Pedestrian Accidents
Pedestrians, particularly individuals between the ages of 18 and 24, are more prone to being distracted while walking. This is largely due to the increased use of smartphones and people being connected to their devices at all times. Texting while walking on Dallas streets is a growing problem that is resulting in more pedestrians getting into accidents and sustaining injuries.
According to the Centers for Disease Control and Prevention, on average, in only 24 hours' time, 445 pedestrians will receive treatment at emergency rooms for injuries sustained in traffic accidents. In addition, on average, one pedestrian dies after an accident. Also, in 2012, there were over 4,743 pedestrian fatalities from traffic accidents. Another 76,000 pedestrians suffered injuries. The city of Dallas is not immune to these types of distracted pedestrian accidents, in fact we are seeing a steady increase of these accidents year over year.
Pew Research Center reports that more than half of all adult pedestrians have engaged in distracted walking. Distracted driving plus distracted walking makes for a disastrous situation, which makes it unsurprising that accidents have dramatically increased in number.
Our expert Dallas pedestrian accident attorneys can help you if you have been involved in an accident involving a distracted pedestrian.
There are certain things that pedestrians can do to keep themselves safe while sharing the streets with vehicles. Teens, in particular, are vulnerable and should take these tips to heart. The following tips can keep everyone safer:
Make eye contact with drivers and look out for those who appear to be distracted

Put down cell phones and other devices while walking, especially when crossing the street

Cross in front of school buses so that drivers can see you
If you are in Dallas, Texas and have been involved in an accident involving bicyclists or pedestrians who were distracted and need legal assistance in starting a lawsuit, you need a skilled bike accident attorney or pedestrian accident attorney. Call our law offices today at any of our convenient locations and get a free consultation.
Arlington (817) 522-4451
Denton (940) 222-4060
Dallas (972) 362-6848
Fort Worth (817) 764-1375
Cedar Hill (972) 338-9427
McKinney (469) 522-3688
Lewisville (972) 354-4605
Frisco (972) 725-7681
You can also contact us online by using our quick contact form.