If your social security disability claim was denied the first time, you're not alone. You need an experienced social security disability attorney who can represent you in administrative hearings within the social security administration. Social Security Disability and Supplemental Security Income (SSI) offer financial security to people with disabilities, but Social Security Disability and Supplemental Security Income are two different funds with entirely different rules. Social security disability pays benefits to those who have worked for at least 10 years and suffered disabling illnesses or injuries. Supplemental Security Income is awarded to children and adults who have never worked based on disability and financial need.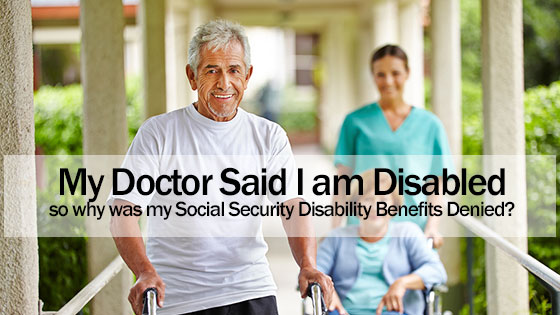 Social Security Benefits
Experienced personal injury attorneys who are skilled in agency law can help you file for and collect social security benefits. Your social security disability claim may be permanently lost if you do not answer every question correctly to prove that you're disabled. Suppose your doctor says you're disabled, but you reported that you smoke. You reported that you began smoking as a teenager, and your diagnosis was based on your physician's good will. The social security administration will schedule appointments for you with their doctors who can decide that your smoking caused your disability. A Social Security Disability Attorney will be able to help you navigate the complex and difficult Social Security review process.
Supplementary Security Income and Social Security Disability
If you qualify for Supplemental Security Income (SSI) from the Social Security Administration, you also qualify for food stamps and Medicaid. General guidelines for SSI require you to be blind, disabled, or over 65. You cannot own property worth more than $2,000 if you are single or $3,000 if you are married and collect SSI.
The Social Security Administration defines disability as a severe physical or mental condition that makes it impossible for you to work. The disability must be more than one year in duration or result in death. The Social Security Administration knows disability in depth. The SSA employs medical experts and claims examiners to decide if you are disabled. Disabilities such as acute leukemia, Lou Gehrig's disease (ALS), and pancreatic cancer are expedited in the SSA's initial computer scan because their disability benefits are granted as soon as the diagnosis is confirmed. There are a number of other disabilities that aren't expedited, a Social Security Disability attorney can assist you in understanding what you should expect from the Social Security Administration pertaining to your case.
An Experienced Social Security Disability Attorney
If your disability is as a result of an injury or a work-related illness, you should not file your social security application without a lawyer. You shouldn't try to negotiate with insurance companies, your employer, or insurance companies by yourself. If your doctor recommended you apply for Social Security disability, our experienced Social Security Disability lawyer will work diligently to get your disability benefits. Our Social Security Disability attorneys deal with these cases on a daily basis and can provide you the necessary guidance and legal advice you will need in order to process your claim.
Ability to Work
Ability to work after an injury which could take a year to heal is not permanent or long-term disability. Social security work incentives expedite reinstatement of your SSI benefits if your disability gets worse or reoccurs. They don't reinstate your benefits if you demonstrate the ability to work but lose your first job after a few months.
Social Security Disability Appeal
Our Social Security Disability attorneys can file a request for consideration which occurs within Social Security Disability Determination Services. The reconsideration is performed by a social security medical consultant who reports to a claims examiner who was not involved in the initial denial of your benefits. Our dedicated disability benefits attorney knows what additional information to submit to the SSA. If your request for consideration is denied, our attorney is well respected by the administrative law judges within the Texas social security disability offices. Our lawyer can petition for a hearing before an Administrative Law Judge.
Call our law offices today at any of our convenient locations and get a free consultation.
Arlington (817) 522-4451
Dallas (972) 362-6848
Fort Worth (817) 764-1375
Plano (972) 354-4602
Cedar Hill (972) 338-9427
McKinney (469) 522-3688
Lewisville (972) 354-4605
Frisco (972) 725-7681
Grapevine (817) 835-8677
Irving (972) 354-4610
Keller (817) 204-0904
Garland (214) 572-2251
Denton (940) 222-4060
Addison (972) 564-8108
You can also contact us online by using our quick contact form.