It seems like everyone knows a story about false allegations during child custody and divorce. One spouse points the finger at the other and receives a restraining order from the court. The wife or husband recognizes that doing this will, almost by default, give them custody of the children and exclusive use of the family home. The accused parent then must defend themselves in court and prove these allegations false.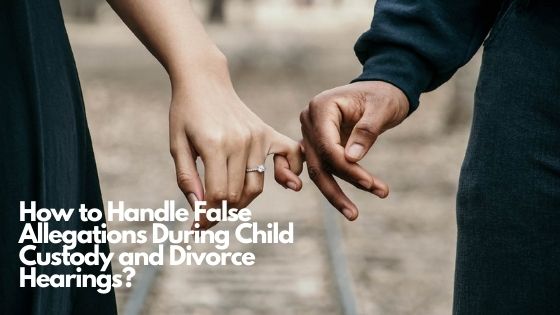 While false accusations are a legal mess, it is also terrible to have someone who you once shared a life make claims of either abuse or neglect. It is something no one is ever really prepared for. You may feel you should reach out to your soon to be ex-spouse, but this can actually make things worse for you. Additionally, trying to make contact could be used against you. It is not unheard of for there to be accusations of stalking, harassment, or violence when all you want to do is smooth things over. No matter how tempted, it is best to keep away, and, with a clear mind, take more appropriate actions. It is vitally important that you contact a divorce attorney who has child custody experience.
What Should You Do?
You and your divorce attorney can formulate a plan to prove your innocence.
Gather Evidence

– If there is an accusation, reported against you, collect evidence that will prove differently. You need names, places, and dates that will show the charges are false. If your ex-spouse claims you physically threatened her/him, but you have a receipt proving you were eating at a restaurant, that would disprove those assertions.
Courts rely on evidence for everything. A he-said-she-said argument never ends well for either party. Instead, the courts may want documented evidence of everything that occurs. If you worry that your ex-spouse will falsely accuse you of any type of abuse or wrongdoing, you need witnesses.

Seek Legal Council

– While any general practice attorney can represent you in this kind of situation, it is best to seek a Divorce and Family Law attorney with experience dealing with these issues. Only a lawyer with the right knowledge and experience can provide you with the best legal council and properly protect your interests.

Expect State Involvement

: This is not uncommon when there is an accusation of child neglect or abuse. Therefore, expect a child protective services investigation. While it may seem intrusive, they are only doing their job and cooperating is best for you in the long run. In many cases, child protective services will quickly and easily discover the accusations are false.

Cooperate with Child Protective Services

– If a judge thinks there is any merit in the accusations made, Child Protective Services will likely get involved. While their investigation can seem invasive and demeaning, they are doing it for the wellbeing of your children. The more that you cooperate with the investigation, the more smoothly the process will go. The agency might talk to your family, friends, and neighbors. They want to talk to others that can confirm the stories that you tell. They will, of course, look for their own evidence based on the questions and investigations they do. Even if you aren't guilty of any wrongdoing, it's a good idea to have a legal resource team on your side so that you cover all of your own legal bases.
Ultimately, successfully dealing with false allegations during child custody and divorce will require calm and being organized. Pull together all your evidence proving you are a good parent. While no one likes being accused of abuse or neglect, the best thing is knowing your rights. When you educate yourself, you will make better choices. Most importantly, allow an experienced divorce attorney to guide you on what you can do and say.
Call our law offices today at any of our convenient locations and get a free consultation.

Arlington (817) 522-4451
Dallas (972) 362-6848
Fort Worth (817) 764-1375
Plano (972) 354-4602
Cedar Hill (972) 338-9427
McKinney (469) 522-3688
Lewisville (972) 354-4605
Frisco (972) 725-7681
Grapevine (817) 835-8677
Irving (972) 354-4610
Keller (817) 204-0904
Garland (214) 572-2251
Denton (940) 222-4060
Addison (972) 564-8108 
You can also contact us online by using our quick contact form.