Texas is a U.S. state with a relatively higher number of traffic accidents involving trucks. The National Highway Traffic Safety Administration reported over 1,000 traffic-related fatalities in 2022, with over half involving trucks, semis and other large vehicles.
When people get involved in an accident involving trucks, you can't assume that the truck driver is automatically at fault. Even if you strongly believe you were the victim, you must prove the other driver's negligence.
However, trucking companies and their truck drivers usually won't admit any fault in the incident. Even their insurance adjuster will try to put part of the blame on you to reduce the amount you can claim. It would be difficult to prove their guilt if you don't have competent legal advice on your side.
Having a seasoned truck accident attorney on your side will help you prove your case. Your lawyer will gather all the necessary evidence to prove the other party's negligence. Not only will an attorney gather evidence, but retaining their service also helps you win the insurance claim amount that you deserve.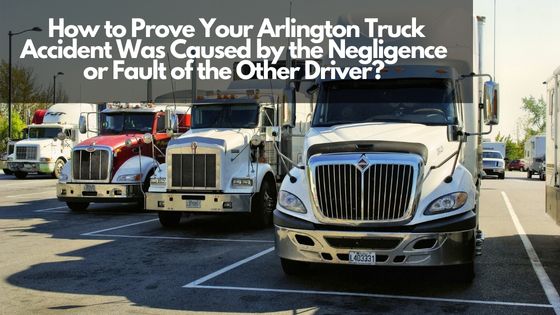 Determining the Potential Causes of a Truck Accident
An expert truck accident lawyer knows the factors to look for when determining the negligence of the driver at fault. According to Texas law, negligence constitutes any failure to act upholding one's duty of care, which causes personal injury and property damage to another party.
To prove that the truck driver is at fault, you must provide evidence that demonstrates the other party's negligence. A Texas truck accident lawyer can point out specific factors that will establish the other driver's negligence, such as:
Speeding:

Commercial trucks traveling faster than the specified speed limits on the road can lose significant levels of control. Their capability to immediately stop their trucks is reduced, posing significant risks to other vehicles on the road.

Driving Under the Influence (DUI):

Your truck accident attorney can look into the possibility that the truck driver was DUI at the time of the incident. Since truck drivers are professionals, they are held under stricter blood alcohol concentration limits. Unlike the standard limits for other drivers, a BAC level of 0.04 is already too high for commercial truck drivers, which means they will be considered intoxicated.

Failure To Ensure a Truck's Roadworthiness:

Truck drivers are expected to ensure the roadworthiness of their vehicles. Their trucks need to undergo pre-trip inspections to prevent mechanical failure while on the road.

Improper Lane Changes:

Unlike other vehicles, trucks have enormous blind spots. Truck drivers are expected to account for them before attempting to change lanes.

Distracted Driving:

Since truckers are responsible for huge vehicles, they're more liable for distracted driving. A seasoned Texas truck accident lawyer will help you determine if the other driver was using mobile devices or otherwise distracted while driving since nearly one in five road accidents in Texas involves a distracted driver.

Reckless or Aggressive Driving:

Truck drivers can't afford to be reckless when on the road. The sheer size of their vehicles can cause significant damage due to aggressive driving.

Violations of Hours of Service (HOS):

The law strictly limits the number of hours a truck driver can drive within a week. This regulation helps to ensure that truck drivers aren't overworked or too tired while driving on duty. Trucking companies can become liable if they make drivers violate HOS limits to complete deliveries. The maximum HOS in Texas is 70 hours within a seven-day period. Truck drivers are required to be at least 34 hours off-duty after reaching that limit.
Elements of Negligence Claims
Apart from the factors that led to the accident, your attorney will look into various elements that can determine the negligence of the truck driver:
Causation:

The truck driver breached his duty of care while driving.

Duty of Care:

Truck drivers are held responsible for operating their vehicles safely.

Breach of Duty:

Drivers failed to conduct themselves professionally and reasonably while operating their vehicles.

Damages:

A truck driver's breach of duty resulted in physical injury and property damage.
When your attorney proves these elements, you can win compensation for pain and suffering, lost income and medical bills.
Where and When to Collect Evidence
Insurance and trucking companies often act quickly to collect the necessary evidence during an accident. You should have someone assist you as well, which is why retaining the services of a seasoned truck accident attorney is crucial.
Your attorney can analyze reports by officers on the scene and other sources of evidence to determine the cause of the accident. Apart from the scene of the accident, your attorney can also go over the trucking company's paperwork to determine if they potentially contributed to the incident.
Trucking Company's Liability for Their Driver's Negligence
As mentioned earlier, trucking companies can also be held accountable for the negligence of their drivers. For instance, the company may have scheduled too many deliveries for that driver, which made the trucker violate HOS limits. Another example would be trucking companies hiring drivers with a history of drunk driving or other DUI cases.
All of this constitutes vicarious liabilities, where the trucking company can also be held accountable for the accident. Unfortunately, many companies try to evade their responsibilities by labeling their drivers as independent contractors, trying to distance themselves from the acts of their employees. However, your attorney can help you prove these cases using ample evidence, which can secure a higher settlement or claim you deserve.
Work with Seasoned Texas Truck Accident Lawyers
If you or your loved ones are involved in a commercial truck accident in Texas, call the Law Offices of David Kohm today. Leverage our many years of experience to get the best settlement. To get a free consultation, you may reach us at any of our convenient locations:
Arlington (817) 522-4451
Dallas (972) 362-6848
Fort Worth (817) 764-1375
Plano (972) 354-4602
Cedar Hill (972) 338-9427
McKinney (469) 522-3688
Lewisville (972) 354-4605
Frisco (972) 725-7681
Grapevine (817) 835-8677
Irving (972) 354-4610
Keller (817) 204-0904
Garland (214) 572-2251
Denton (940) 222-4060
Addison (972) 564-8108
You can also contact us online by using our quick contact form.