If you are having trouble making your mortgage payments and are at risk for losing your home, you are probably feeling lost and hopeless. Facing foreclosure is a stressful and difficult time for anyone who goes through it.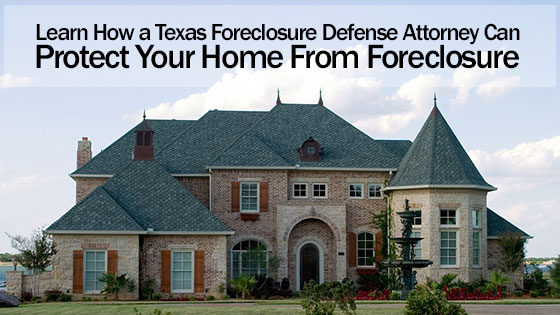 While many people believe they have no options left, bankruptcy might be able to save your home and protect your future. It's a viable option for many people who are at risk of losing their homes. This guide explains everything you need to know and reveals why a foreclosure defense attorney can give you a hand.
Chapter 13
Chapter 13 is what most people picture when thinking of using bankruptcy to save their home from foreclosure. You will list all of your debts and create a repayment plan with a term of up to five years when applying for a Chapter 13. You will then have a meeting with a trustee and any of your lenders who decide to show up.
If nobody challenges your repayment plan, the court will let you implement it. Rather than paying your bills as you did before, you will make a single monthly payment to the trustee. Your case will remain open until you have repaid all of your debt. Since you are not walking away from your bills, you can keep your home during a Chapter 13 bankruptcy.
Chapter 7
Some people believe filing for Chapter 7 bankruptcy means they will lose their home. Although most people who use this path face foreclosure, it does not always play out that way. You can offer to reaffirm your mortgage during your Chapter 7 case. If the court and lender agree to the reaffirmation, you sign a contract agreeing to pay the remaining balance of your mortgage and get to keep your home.
Lenders almost never disagree to a reaffirmation because it's much easier to collect money from you then to cut their losses at an auction. The trustee might not accept your reaffirmation agreement if your home has enough positive equity to pay off the majority of your creditors. When you file for Chapter 7, you agree to let the trustee claim and sell your nonexempt assets to repay the banks to which you owe money.
How a Foreclosure Defense Attorney Helps
If you are like other people considering bankruptcy to save their homes, you might be wondering whether you can move forward alone. The law permits people to file for bankruptcy without the guidance or support of a legal adviser. Although you are allowed to take this path alone, it might not be a great idea if you want to enjoy the best possible odds of success.
Without a foreclosure defense lawyer in your corner, you risk making mistakes on the form or during the legal process that can ruin your case, forcing you to start from the beginning. This mistake could be enough to cause you to lose your home before you have the opportunity to get bankruptcy protection. Hiring a legal professional ensures you don't fall into that trap or make other mistakes along the way, and you will be pleased with your decision.
Moving Forward with the Law Offices of David Kohm
You can't afford to waste any time when your house is at risk. Our kind and caring professionals will review each aspect of your case and help you decide what option gives you the best chance of keeping your home. You get peace of mind because you will know what to expect at each stage. Nobody should have to go through a foreclosure alone, and you won't need to do so if you let us stand by your side. If you are ready to see if bankruptcy is a viable option for your situation, pick up your phone and call us right away or fill out the form on our website to get a free consultation.
Arlington (817) 522-4451
Addison (972) 564-8108
Denton (940) 222-4060
Dallas (972) 362-6848
Garland (214) 572-2251
Fort Worth (817) 764-1375
Cedar Hill (972) 338-9427
McKinney (469) 522-3688
Lewisville (972) 354-4605
Frisco (972) 725-7681
Grapevine (817) 835-8677
Irving (972) 354-4610
Keller (817) 204-0904
Plano (972) 354-4602
You can also contact us online by using our quick contact form.