Finding yourself in a car accident is a stressful event in itself, and it can be worsened when you are not the driver at fault. The authorities may have already established that the other driver is responsible for the accident. As a result, you expect the other driver's insurance company to contact you as soon as possible.
Following the accident, you receive a call from an insurance agent. During the first few calls and contacts, they seem pleasant and helpful. They may even sound like they're on your side and they appear to care about the claims that have been filed. However, it's not uncommon for the conversation to change into lowering the settlement claim.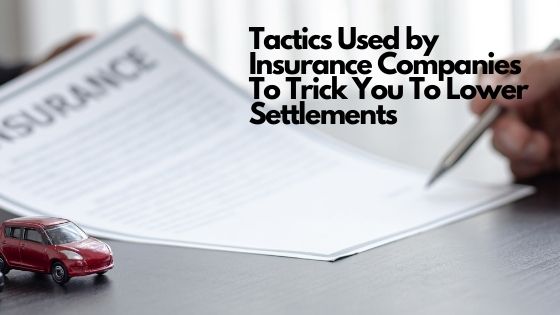 A Change Of Tone
Things change after your first encounter with the insurance of the other driver. Instead of trying to help you get the funds you need, they may ask you to agree to a lower settlement offer. You'll be surprised to find that there are some insurance companies that do this, especially if the claimant doesn't have an attorney by their side during negotiations.
When speaking with insurance representatives about your claims, keep this fact in mind. When they try to lower the offer, it's best to have legal counsel on hand to guide you through the process. Like any other business, the insurance company may be looking to make a profit. This is why you should have a seasoned car accident attorney to help you receive the claims that you deserve.
Common Tactics Used by Insurance Companies to Reduce Settlement Claims
Insurance companies use various negotiation tactics to lower a settlement. Often, the figures they present don't match what you need to get your car repaired. It may not even be enough to cover any medical bills due to sustained injuries. Often, they won't mention the lowball settlement, and some people get tricked into agreeing to these terms.
The following are some of the strategies dishonest insurance companies use to trick you into a lower settlement.
Early Settlement Offers
Sometimes the representatives of an insurance company will offer you quick access to the funds you need but at a lower amount. For example, they would explain that you may have to wait a while before your claim can be processed, but if you agree to a lower settlement, they can release the funds to you a lot faster.
It's easy to agree to this settlement over the phone, which can be confirmed verbally. However, sometimes they get you agree to these reduced terms via email. Once you agree to it, it would be like signing a contract. The claim will then be closed, and you won't get the higher compensation you deserve. Never agree to these terms without the advice of an expert car accident lawyer.
Before deciding on any insurance claim, insurance companies will investigate liabilities. An adjuster will determine if their policyholder is at fault – which they will find true. They will contact you for an early settlement to mitigate any risk of paying a higher claim amount. They're also trying to avoid a potential jury verdict, which will increase the amount they will have to pay you.
If you're waiting for a long-term prognosis about your injuries, you shouldn't agree to an early settlement. You should first determine how your injuries will impact your lifestyle and work, and determine the total cost of the medical treatments you need. Remember that when you agree to an early settlement, you lose the right to further compensation because of prolonged injuries. Again, the best course of action is to consult with a car accident attorney before you consider this type of agreement.
Shifting The Blame To The Victim
Some states have a comparative fault system where some of the blame regarding the accident may be assigned to the victim. If it can be proven that you are partly to blame for your injuries due to the accident, then the reward amount from the insurance company can be reduced. But, of course, the insurance company needs to produce evidence to prove it.
One way that some insurance companies get that evidence is by asking you to make a recorded statement. Of course, you have no obligation to do so.
This is often done over the phone, wherein the insurance company persuades you to agree and make the statement, often indirectly. Once recorded, the end result is that you get lower compensation.
Delaying The Process And Downplaying Injuries
Another tactic used by insurance companies is delaying their processes. There are deadlines and statutes of limitations that everyone must keep in mind. The insurance company will also have specific deadlines to meet. For example, there is a set time to acknowledge claims, evaluate them, and deny or confirm them. They also have deadlines for receiving any proof of liability and time for a settlement payment.
However, when they resort to delaying tactics, the goal is to discourage you from taking action and make you doubt that you'll receive any compensation. Using this tactic, they will try to convince you to agree to a lower settlement offer so they can get things done faster.
Another tactic related to this one is downplaying the injuries you claim to have sustained due to the accident. They can argue that the injuries were pre-existing, perhaps from a different accident or mishap. They can also state that the injuries aren't as severe as you claim.
Insurance companies can use this argument to delay the process and make you agree to a lower claim. Consulting with an expert car accident lawyer will be a wise move on your part to ensure you don't fall subject to any of these strategies. 
How A Skilled Car Accident Attorney Can Help
An auto accident attorney is an invaluable resource during a claim settlement. Of course, not all insurance companies will make accident insurance claims a difficult experience. But, with an attorney at your side, they will be more likely to handle your case seriously.
A skilled car accident attorney can help you in several ways:
Communicate with the insurance company representatives so as not to devalue your claim.

Litigate your case in the courtroom if needed.

Gather evidence and relevant documents for processing.

Negotiate with the insurance company, so you get fair compensation.
Your attorney will help you navigate the tricky process of insurance settlement. They act as the mediators between you and the insurance company to get the most of any insurance claims you deserve.
Call the Offices at David Kohm today at any of our convenient locations and get a free consultation.
Arlington (817) 522-4451
Dallas (972) 362-6848
Fort Worth (817) 764-1375
Plano (972) 354-4602
Cedar Hill (972) 338-9427
McKinney (469) 522-3688
Lewisville (972) 354-4605
Frisco (972) 725-7681
Grapevine (817) 835-8677
Irving (972) 354-4610
Keller (817) 204-0904
Garland (214) 572-2251
Denton (940) 222-4060
Addison (972) 564-8108You can also contact us online by using our quick contact form.