The Texas Family Code determines the amount of child support that you will have to pay. The person who does not live with the child is typically the one who will have to pay child support. Even though the child support payments can vary, the following guidelines are typically taken into consideration. 
1 child – 20 percent of the net resources

2 children – 25 percent of the net resources

3 children – 30 percent of net resources

4 children – 35 percent of net resources

5 children – 40 percent of net resources

6 children or more – not less than the amount of 5 children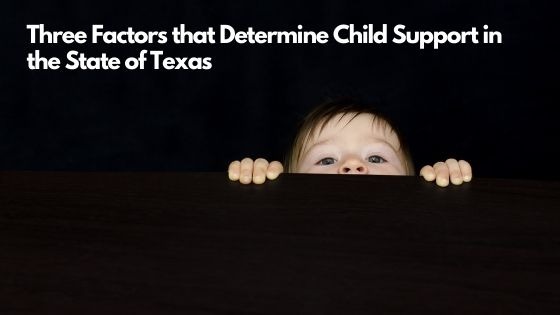 It is important that you have an experienced child support attorney on your side in order to make sure that you get the financial support that your child and family needs. 
Three General Factors That Are Taken Into Consideration When Determining Child Support 
Income

– The court will review each parent's income. The child support amount may be modified because of income alone. If the income of one or both parents goes up or down drastically, then the non-custodial may have to pay more or less.

Expenses

– The purpose of child support is to make sure that the custodial parent is able to provide for the child. In some limited circumstances the cost of living and expenses will be taken into consideration. Child care expenses, insurance, clothing, medical expenses, food and the age and needs of the children, are some of the expenses that will be considered.





If the parent enjoys a higher standard of living, then the non-custodial parent may have to pay more for their expenses. For example, if the parent wants to take their child to private school or go on vacation, then the non-custodial parent may have to pay more in child support.

Number of Children

– Generally speaking, the more children one has, the more they will have to pay in child support. However, this can also vary depending on income. That is why it is possible for someone who has four children to pay more in child support than someone who has five children. 
Why You Need a Child Support Attorney 
Hiring a child support attorney may seem unnecessary. However, it can save you a lot of frustration in the long run. You will need to hire an attorney if any of the following things apply. 
You have a complicated case. For example, if you and the other parent cannot come up with a fair agreement, then it is time for you to hire an attorney.

The other parent has an attorney-You need to have your own attorney in order to level the playing field.

You need help calculating the child support. Your attorney will be able to help you do that.

You need to have your child support modified. It will be a lot easier for you to modify the child support if you have an attorney. 
Issues That You Need to Address Before Hiring An Attorney 
Has the paternity of the child been established?

Is there a pending custody case?

Have you and the other parent agreed to the terms of the child support?

How long will the child support obligations last?

How will child support affect your finances?

How much child support are you expected to get or pay? 
Speak to an Attorney Today 
Dealing with child support can be difficult and complex. If you speak to an attorney, then they will help you understand the laws in the state of Texas. Your attorney will be able to help you get the best solution. 
If you would like to speak with an experienced child support lawyer, please call our law offices today at any of our convenient locations and get a free consultation. 
Arlington (817) 522-4451
Dallas (972) 362-6848
Fort Worth (817) 764-1375
Plano (972) 354-4602
Cedar Hill (972) 338-9427
McKinney (469) 522-3688
Lewisville (972) 354-4605
Frisco (972) 725-7681
Grapevine (817) 835-8677
Irving (972) 354-4610
Keller (817) 204-0904
Garland (214) 572-2251
Denton (940) 222-4060
Addison (972) 564-8108 
You can also contact us online by using our quick contact form.