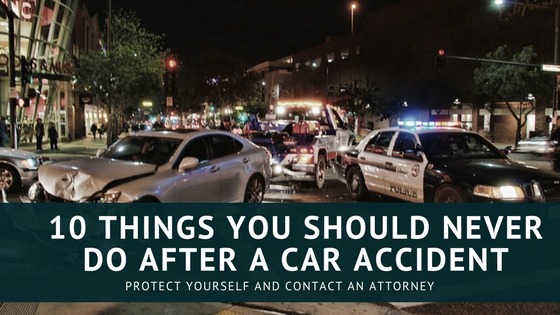 Being in a car accident can be scary. Most people feel a range of emotions after a collision, feelings that can cause confusion, out-of-character behavior or even neglect of responsibilities at the accident scene. But there are specific things you should do after a wreck to protect yourself and help you build a case for compensation for your damages.
After an accident, it is extremely important that you do not make your situation worse or hurt your legal rights. Things you should never do after a collision include:
1. Fleeing the scene.

If you have been drinking, are uninsured or just want to avoid the inconvenience of an accident, you may be tempted to leave the scene. In Texas, you are required to stop your vehicle and remain on the scene if there has been any property damage, injury to people or fatality. Fleeing could land you in jail and will lead to even greater consequences than the accident, itself.

2. Not calling police.

Not calling police is a bad decision and against the law. Even if no damage exists after the collision you still must call 911. You will need the police report to protect yourself and to have a record of the collision for insurance and other purposes.

3. Not gathering your own evidence.

While on the scene of your accident, you should take photos using your smartphone or other device. You should write down other drivers' and witnesses' information and take notes about how the wreck occurred.

4. Admitting fault or apologizing for anything.

Even just saying, "I'm sorry" can cause problems for you after an auto accident. Never admit the accident is your fault and do not apologize for any aspect of the wreck.

5. Using social media to share details of your case.

Social media is frequently the downfall of accident victims who have filed a legal claim. You should stop social media activity during your case or keep all of your posts and photos private. Even an innocent photo or post can be used to disprove your claim.

6. Talking to the other driver's insurance company.

You should never provide information to the other driver's insurance company, allow them to record you or discuss any aspects of a settlement without the help of an attorney. Doing so will risk reduction of your settlement amount or damage your case.

7. Neglecting to see a doctor.

It is important to see a doctor after your accident, even if you do not believe you are injured. This is because you can have injuries that take time to appear. It is also important to establish a medical record of your condition after the accident and for a timeline for injuries as they develop.

8. Misrepresenting evidence, how things occurred or injuries to your doctor, lawyer or others.

Exaggerating or falsifying aspects of what occurred in the accident to gain a larger settlement is illegal and fraudulent. You should always be honest about your case, injuries and specifics of the accident.

9. Accepting the insurance adjuster's quick or initial settlement.

Insurance companies will almost never offer accident victims what they are truly owed after an accident. A settlement may sound good at face value. But you need the help of a lawyer to truly understand what the cost of your injuries and other damages will be over time.

10. Not hiring a lawyer.

If you are in an accident with injury or serious property damage, you need the help of an experienced lawyer. A lawyer will protect you and ensure you gain the compensation you are owed as an injured victim.
For expert personal injury law assistance and compassionate representation, contact David Kohm – your auto accident lawyer in the Dallas-Fort Worth area. Free 24/7 consultations are available!