Truck Accident Lawyer
Truck Accident Attorney in Arlington & DFW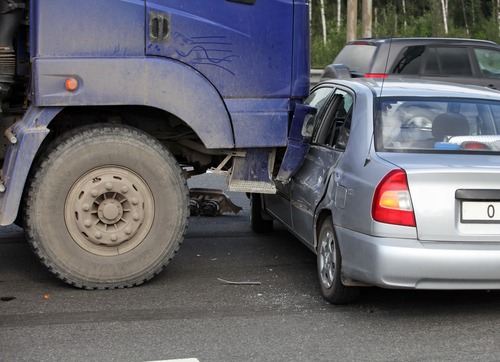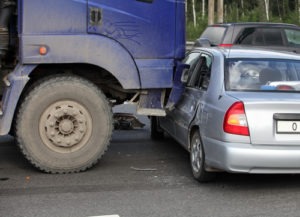 Commercial trucks travel hundreds of miles each day, delivering goods to their destination. While the majority of truck drivers and trucking companies operate their trucks safely, those that do not often cause accidents to occur. Because commercial vehicles are so heavy, these accidents can cause serious injuries to those in passenger cars or SUV's. The following is an overview of vehicle accident law and how it can help victims obtain compensation for injuries sustained in accidents involving commercial trucks. If you or someone you care about has been hurt in an accident with a commercial truck, contact a personal injury attorney to discuss your options. We offer a free no obligation consultation.
Proving Your Case
Truck drivers and carriers are required to operate and maintain their vehicles in a safe manner so that accidents do not happen. In order to obtain a settlement for your injuries, you must be able to prove the driver, carrier or truck manufacturer was negligent or careless. Some things that can point to this type of negligence are improper hiring practices, driver error or failure to issue a safety recall for defective commercial truck parts. It is not always easy to prove negligence in every case, which is why you should consider hiring an experienced attorney.
Truck Accident Injuries
Semi trucks, big rigs, dump trucks and tractor trailers can all cause very serious injuries to those riding in passenger cars, motorcycles or SUV's because they are so large. The most common injuries in truck accidents are:
Broken Bones
Facial Disfigurement And Lacerations
Spinal Cord Injuries
Paralysis
Limb Amputations
Back Injuries and Neck Injuries – Whiplash Or Herniated Discs
Many accident victims suffer with pain for years after being injured. Some will be permanently disabled and unable to work. In these cases, it is best to have an experienced attorney to protect the rights of the injured going forward.
Common Truck Accident Causes
While there are many different things that can lead to a commercial truck accident, some are more common than others. The most common causes of these crashes include:
Driver Fatigue
Improper Driver Training
Driving More Hours Than Is Safe To Meet Deadlines
Operating a Commercial Vehicle While Overloaded
Improper Commercial Truck Maintenance
Unsafe Loading
Driving While Overweight
Poor Vehicle Maintenance
Many trucking companies have unrealistic schedules for their truck drivers, which often leads to driving while tired which increases the chance of a serious incident. In addition, many drivers may take prescription or illegal drugs in an effort to stay awake, which may reduce their reaction times and perception. Commercial carriers are required to maintain their trucks in a manner that meets DOT safety guidelines and if they don't, a victim may be able to obtain a settlement for their injuries.
Truck Accident Settlements
Accident victims who pursue the trucking company or truck driver after an accident, may obtain a settlement for a variety of accident related expenses and damages. Some of the most commonly awarded damages in these cases are:
Reimbursement Of Medical Bills
Ambulance Fees
Hospital Costs
Surgery Fees
Cost of Medical Devices
Cost Of Alternative Transportation, Rental Car Costs
Emotional Distress
Pain And Suffering
Recover Property Damage
Recover Lost Wages Related to Loss of Gainful Employment
Recover Car Repair Expenses
Rental Car Assistance
In certain states, accident victims may also be awarded punitive damages after an accident. These types of damages are meant to be harsh, to discourage the at-fault party from making the same mistake again and injuring someone else. If you are permanently disabled after a truck accident, you may be able to obtain a monetary settlement for future lost wages. This is designed to compensate you for the money you would have been able to earn over the course of your career, if you had not been hurt. You may be eligible to receive a partial settlement for future lost wages if you can return to work but can no longer perform the duties of your job. It is extremely important that these settlements be calculated correctly, so that you get what you deserve under the law. For this reason, it is typically best to have an experienced lawyer perform these calculations and fight for your rights in court to achieve the best possible settlement for your case.
How Can A Lawyer Help You?
Having a lawyer to look out for your interests in an accident case is key to obtaining the highest settlement possible for your injuries. Some things a lawyer can do to help you obtain this settlement are:
Obtain Copies Of Police Reports
Obtain Your Medical Records
Speak To and Obtain Testimony from Medical Experts
Negotiate a Settlement With The Trucking Company's Insurance Carrier
File Court Documents For Your Lawsuit
Represent You In Court
Learn Your Rights Under The Law
If you have been injured due to the negligence of a truck driver, it is important to learn what rights you have under the laws in your state. Consulting a personal injury lawyer is the best way to achieve this goal. While many people are concerned that hiring a lawyer is expensive, most work on a contingency basis which does not require you to pay anything until a settlement is successfully obtained.
Being injured in an accident is always a difficult and trying time. In addition to being in pain, you most likely have mounting medical bills and are missing time from work. If this is the case, contact a personal injury lawyer today to discuss your case and the options you have.
If you've suffered personal injuries resulting from a truck accident whether it was an 18 wheeler accident or 4×4, then you need to speak to a knowledgeable Arlington & DFW truck accident attorneys that can represent you to get proper compensation for your damages, pain and suffering.
If, as a result of a truck accident you've experienced any physical or mental injury caused by the negligence or carelessness of the other driver, our Arlington & DFW truck accident attorneys have extensive experience in dealing with the insurance companies to reach an optimal settlement or if necessary litigate through a trial. We've handled many truck accident cases involving:
Fractures and Burns Injuries
Spinal Cord Injury
Arlington & DFW Truck Accident Law
Our law firm understands that as a result of these types of accidents, the financial losses can be quite disastrous and the injuries can be physically and mentally devastating, lasting for the duration of your life. Texas laws are here to accommodate any person injured the right to recoup the maximum amount of compensation from the responsible party.
Allow our experienced team to represent your best interest and acquire the best settlement possible in your favor.
contact us online by completing our case review form or call the Law Offices of David S. Kohm today for a free consultation.
Se habla ingles y español. Llame hoy a las officinas de David Kohm, Arlington y DFW abogados de accidentes con experiencia.