Car accidents are often caused by negligence. If you have been in a wreck due to another motorist's oversight, you must file a claim with the other party's insurance provider to get the compensation you deserve. However, the claim process is often complex. The insurance company might deny releasing a settlement without proper evidence to back your claim.
Claim settlements directly affect the victim's recovery. Therefore, you need an experienced car accident attorney to guide you through this complicated process.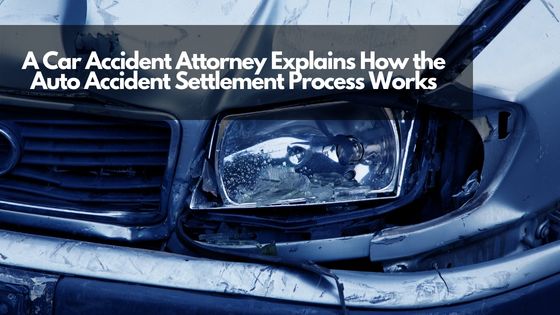 Below, we discuss the following topics:
The Car Accident Settlement Process

Filing Your Personal Injury Claim

Investigating the Accident

Claim Approval or Denial

Seeking a Fair Settlement

What if the Insurance Company Won't Agree to a Reasonable Settlement?

How Do I Collect My Car Accident Settlement?
At the end of this article, you gain a better understanding of how the settlement process works, helping you make informed decisions when building your case with an auto accident lawyer.
The Car Accident Settlement Process
The first step of the settlement process is filing a claim. The most important consideration to remember during this time is that many insurance companies are motivated by their profits. This means settlements like yours are given less priority. They will find loopholes and do everything necessary to keep the settlement as low as possible.
Filing Your Personal Injury Claim
After being involved in a crash, you will file a personal injury claim to the other party's insurance company to seek compensation for the following:
Property damage to your car

Past and ongoing medical costs

Lost earnings, including lost earning potential

Physical and emotional pain and suffering 
Investigating the Accident
You need to provide documents to support your claims. The better support your damages has, the stronger your case will be. A car accident attorney can help you gather the required documentation to receive a fair settlement. Your legal team will guide the investigative work, including:
Evidence gathering at the scene of the accident

Taking eyewitness testimonies

Securing expert testimonies

Creating an accident reconstruction document
Claim Approval or Denial
Once your claim is filed, the insurance company will begin its evaluation to see if they should approve or deny it. Congratulations if you get your claim approved on the first try. However, only some people get a positive outcome. 
Claim denial may feel final, but you must not give up. The denial is not the final word in the matter, and you can file a lawsuit against it to pursue compensation. When you do this, the court will decide if you are deserving of the claim or not. 
Seeking a Fair Settlement
The goal is to obtain a settlement that fairly compensates you for your sustained physical, emotional and financial damages. Unfortunately, the insurance company will be intent on settling your claim for less. You can expect the following from them:
Outright denying the claim

Prolonging the settlement process

Shifting the blame from its policyholder (the other party) toward you

Casting doubt to the severity of the damages you sustained

Offering a lowball settlement, hoping you will accept due to financial desperation
Don't be shaken by their attempts. Your car accident attorney knows the best response to these antics.
What if the Insurance Company Won't Agree to a Reasonable Settlement?
You can mediate or file a lawsuit if the insurance company refuses a fair settlement.
In mediation, a neutral third party will meet with you, your legal representative and the insurance company to sort out your differences regarding your compensation. This meeting happens in a neutral location, often at the mediator's office, to prevent biases. The mediator will help both sides understand their options and how the court will likely resolve the case if you file a lawsuit. Insurance companies avoid courts, so they may grant you fair compensation at this stage.
However, if the other party's insurer is intent on keeping their decision, this is the time you take legal action against them.
How Do I Collect My Car Accident Settlement?
When you and the insurance company have settled, you can get a lump sum or a structured settlement.
With a lump sum settlement, you get your fronts upfront allowing you to pay off your bills or use the funds as you see fit. On the other hand, the structured settlement gives you your money over time. The latter allows you to pay off your bills little by little but get better financial control over your funds. 
Regardless of what you choose, your settlement is tax-free.
Schedule a Free Case Evaluation Today
The David Kohm Law Offices are always prepared to help you settle your claims. An auto accident lawyer from our expert legal team will fight for your rights so you get the compensation needed to recover fully.
Call the Law Offices of David Kohm today. We offer free consultations at any of our locations:
Arlington (817) 522-4451

Dallas (972) 362-6848

Fort Worth (817) 764-1375

Plano (972) 354-4602

Cedar Hill (972) 338-9427

McKinney (469) 522-3688

Lewisville (972) 354-4605

Frisco (972) 725-7681

Grapevine (817) 835-8677

Irving (972) 354-4610

Keller (817) 204-0904

Garland (214) 572-2251

Denton (940) 222-4060

Addison (972) 564-8108
You can also contact us online by using our quick contact form.