Dealing with insurance companies after an injury accident can be a frustrating and stressful experience. Whether it's your own insurance company or the other driver's, many people find themselves in a battle to receive fair compensation. Despite advertising their trustworthiness, insurance companies often try to minimize payouts and may even resort to denying claims. It is important to be aware that they are primarily motivated by legal obligations and may not necessarily have your best interests at heart.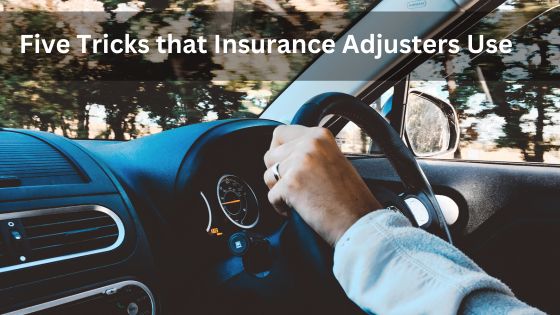 Knowing the various tactics that insurance companies employ to minimize or reject claims can help you avoid being exploited. To safeguard your claim, it's recommended that you hire an experienced car accident attorney.
Trick #1: Delaying the Claims Process
A common tactic involves neglecting your calls and using confusing language or legal terms when speaking to you. They may also claim that the process takes time. The reason for this delay is two-fold. Firstly, they hope that you become impatient and accept a lower settlement or give up altogether. Secondly, they allow enough time for bill collectors to start pressuring you to settle faster. This is a manipulative approach to make you settle for less money.
Trick # 2: Acting Like They Care About You
Beware of the insurance agent or adjuster who calls you frequently and expresses empathy. They may try to act like your friend, but it's not a friendly call. They're trying to gain your trust so that you let your guard down and say something that they can use against you to reduce your claim.
Trick # 3: Offering a Quick or Simple Settlement
The insurance company is making an offer for a quick and seemingly fair settlement which may appear tempting. However, it is actually a lowball offer that is not equivalent to the value of your claim. If you accept the offer, you may receive significantly less compensation than you are entitled to. You should be wary of the first offer made by an insurance company as it is often not fair. If they make a quick offer, it could imply that they are aware of information regarding the appropriate compensation amount that you do not have, and they are attempting to settle the claim before you become aware of it.
Trick #4: Using Your Words Against You or Out of Context
This is a sneaky tactic that is within the bounds of the law. The insurance company might use your statements against you by taking them out of context or interpreting them in a negative light. They might manipulate your words to make it seem like you are accepting some of the blame for the accident, which could lower the amount of money you receive from your claim. That's why it's crucial to consult with a lawyer before speaking to the insurance company.
Trick #5: Discouraging You From Contacting a Lawyer
"This case is straightforward."
"We are here to collaborate with you."
"Why choose a lawyer who will only add more fees to your bill?"
"It will merely prolong the process."
It's important to be cautious of certain statements that may not be truthful. Insurance companies may try to persuade you to settle for less money if you negotiate directly with them. However, hiring a good lawyer can actually help you receive the maximum amount of compensation for your claim and prevent the insurance company from exploiting you. In fact, with a lawyer, you often end up with a higher settlement that compensates for any legal fees required. Additionally, if you hire a lawyer on a contingency basis, you don't have to pay anything unless they win your case.
Car accident attorneys with experience are dedicated to assisting their clients in avoiding typical insurance company ploys. They will use their best efforts to secure the complete compensation you are entitled to receive.
Have You Been Injured In A Texas Car Accident?
If you've been injured in a car accident you need to speak with an experienced car accident attorney as soon as possible. Contact us online or call our office directly to schedule your free consultation. To learn more about your options, call the Law Offices of David Kohm today at any of our convenient locations and get a free consultation.
Arlington (817) 522-4451
Dallas (972) 362-6848
Fort Worth (817) 764-1375
Plano (972) 354-4602
Cedar Hill (972) 338-9427
McKinney (469) 522-3688
Lewisville (972) 354-4605
Frisco (972) 725-7681
Grapevine (817) 835-8677
Irving (972) 354-4610
Keller (817) 204-0904
Garland (214) 572-2251
Denton (940) 222-4060
Addison (972) 564-8108
You can also contact us online by using our quick contact form.