In, you can obtain monetary compensation for a wrongdoing committed against you by filing a civil claim. This compensation, which is referred to as damages in legal terms, can cover not only past damages but also future damages. To know more about the future damages that you could recover in a personal injury case, it is advisable to seek guidance from a lawyer.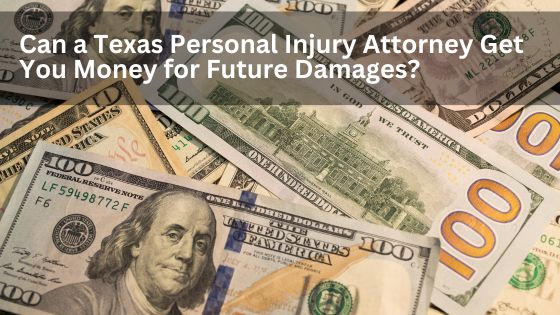 Economic vs. Non Economic Damages
To begin, it's important to distinguish between economic and non-economic damages. Economic damages cover expenses you incurred as a result of being a victim of a wrongful act such as medical bills, lost wages, property damage, and legal fees.
Non-economic damages refer to the intangible impact that an accident caused on you and your loved ones, commonly known as pain and suffering. These losses compensate for emotional distress, mental anguish, physical pain, inconvenience, humiliation, diminished quality of life, and loss of consortium.
If you are involved in a personal injury case in Texas, you may be entitled to receive compensation in the form of future damages for both economic and non-economic losses. However, your eligibility for future damages will be determined by the severity of your injuries and the duration of time they are expected to affect you. It's important to note that future damages are only awarded if you can demonstrate that you will continue to experience losses related to the accident in the foreseeable future.
What Are Future Damages?
When filing a personal injury claim, it's easy to identify the damages that have already occurred. Things like medical bills and lost wages can prove these losses. However, it's harder to identify damages that may occur in the future as it depends on when or if you will fully recover from your injury.
If it is medically probable that your injuries will persist or worsen in the future, you can include claims for future damages in your compensation claim. Examples of future damages include:
Please provide information on any medical care you may require in the future, such as surgeries, treatments, physical therapy, rehabilitation, medication, or visits with specialists due to your injury. Also, specify if you will need any disability accommodations for a permanent injury.
You can claim compensation for lost wages if a doctor determines that your injury will prevent you from working for a specified period. Moreover, if your injury will prevent you from continuing in your current job, you can seek damages for permanent loss of earning capacity.
Survivors of many accidents experience emotional and psychological impacts in the long-term. If you are diagnosed with a condition such as post-traumatic stress disorder or notice emotional injuries, you may be eligible for future pain and suffering damages.
In Texas, you can only receive compensation for future damages if they can be proven to exist by you or your personal injury attorney. Your attorney can use evidence like your medical records, testimony from medical experts and your doctor, statements from friends and family, and details about your job requirements from your employer to demonstrate future losses.
Why Is It Important to Seek Future Damages in a Lawsuit?
After you accept a settlement and sign a release of liability form to close a personal injury case, you cannot reopen it. This means that you cannot negotiate for a higher amount even if your injuries worsen or you incur additional medical expenses. It is crucial to ask for future damages in your original lawsuit to avoid missing the chance to recover them permanently.
If you need assistance listing all past and future damages on an insurance demand letter or personal injury lawsuit in Texas, contact the Law Offices of David Kohm. Call our law offices today at any of our convenient locations and get a free consultation.
Arlington (817) 522-4451
Dallas (972) 362-6848
Fort Worth (817) 764-1375
Plano (972) 354-4602
Cedar Hill (972) 338-9427
McKinney (469) 522-3688
Lewisville (972) 354-4605
Frisco (972) 725-7681
Grapevine (817) 835-8677
Irving (972) 354-4610
Keller (817) 204-0904
Garland (214) 572-2251
Denton (940) 222-4060
Addison (972) 564-8108
You can also contact us online by using our quick contact form.