Getting into an accident is always a harrowing experience. Unfortunately, it is also an inevitability due to many different factors. If you are located in the Dallas, Texas area and have gotten into a car accident that was not your fault but due to another driver's negligence, you will probably want to have a lawsuit prepared with an experienced car accident attorney. This is especially true if you have suffered a personal injury and if your vehicle has sustained damage. Your lawyer is also absolutely essential in helping you to prove fault in your accident to help your case. There are several ways to prove fault.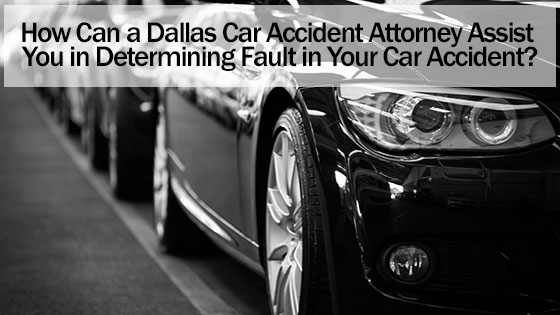 The Police Report
One of the first places to start when gathering evidence to prove who was at fault in your car accident is to obtain a copy of the police report. If the police and emergency services were contacted to the scene at the time of your accident, you should easily be able to obtain a copy of the report. You can go to your local police precinct to get it. It is a good source of evidence of who was at fault if you have to go through the other driver's insurance company to seek compensation. When an experienced car accident attorney is retained, they will handle the collection of the police report of the accident.
Pictures of the Scene and Damage
Any photos of the scene of the accident should be used when you are trying to prove who was at fault. Pictures of the road, particularly of skid marks, the vehicles involved and the damage they sustained, as well as damage to other property and even of injuries you or anyone else suffered after the accident, should be included as proof. Photographic evidence is strong proof when determining that the other driver was at fault for the crash and your Dallas car accident attorney can use them to your advantage in your case.
Medical Records
You and your attorney should gather all of your medical records that are pertinent to the injuries you sustained as a direct result of the car accident. If you sought medical attention immediately after the accident, it can only help your case. However, any records related to follow-up or ongoing treatment can also help to strengthen your case when determining who was at fault for the accident.
Witness Statements
Witness statements are integral when trying to prove who was at fault in a car accident. If you spoke to people who witnessed the accident on the day it happened and gathered their personal information, including names and phone numbers, your Dallas car accident attorney can get in touch with them to get their accounts of the events later on. If any witnesses were around when police responded at the scene of the accident, the witnesses' statements may have also been included in the police report, which can certainly help your case.
Reconstruction of the Accident
Your attorney can help to prove exactly who was at fault for your car accident with a reconstruction of the accident. Pictures from the accident can greatly help in allowing your lawyer and a team of experts to reconstruct the crash. Accident reconstruction experts can provide concrete proof to an insurance company or a jury of who was at fault.
Location of the Damage on Vehicle
In addition to all of these things, the location of the damage on your vehicle can serve as proof of the other driver being at fault. Generally speaking, there is often a  presumption of fault in certain types of car accidents, specifically, rear-end collisions and left-turn collisions. However, the specific facts of the accident will usually determine who is primarily at fault. Even in rear end collisions, insurance companies will often argue that their insured driver is not at fault. This is why it is important that you have an experienced car accident attorney to help you prove that the other driver is primarily at fault.
If you have been involved in a Texas car accident, call our law offices today at any of our convenient locations and get a free consultation.
Arlington (817) 522-4451
Dallas (972) 362-6848
Fort Worth (817) 764-1375
Plano (972) 354-4602
Cedar Hill (972) 338-9427
McKinney (469) 522-3688
Lewisville (972) 354-4605
Frisco (972) 725-7681
Grapevine (817) 835-8677
Irving (972) 354-4610
Keller (817) 204-0904
Garland (214) 572-2251
Denton (940) 222-4060
Addison (972) 564-8108
You can also contact us online by using our quick contact form.