Personal injury lawsuits include more than just the visible or physical injuries one can sustain during an accident. Most people think of broken bones, wounds, concussions and similar injuries during a car crash. However, in the State of Texas, trauma can go beyond these injuries, which means you can file for emotional distress as a form of pain and suffering. If you would like to pursue compensation for emotional distress, you should work with a reliable auto accident attorney.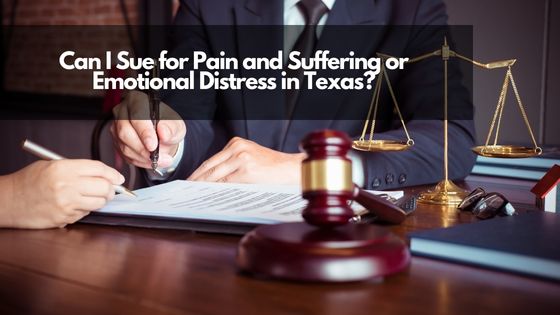 Emotional Distress Defined
Emotional distress refers to mental suffering caused by the actions of other individuals. The other person may have done it on purpose or accidentally. These two causes are often pointed out in tort law:
Intentional Infliction of Emotional Distress (IIED):

This cause refers to cases where another person intentionally caused you to suffer severe emotional distress. This cause is often cited in cases involving abuse and assault. Courts don't allow people to file lawsuits just because the other person's behavior upsets them. You must prove that the other person intentionally caused you mental anguish. To help make a successful IIED claim, it can help if you have experienced physical reactions because of the other person's behavior. For instance, if you developed tremors after a car crash, that can aid in proving an IIED claim.
Negligent Infliction of Emotional Distress (NIED):

This cause refers to situations where the emotional distress caused by the other person was not intended, such as in some car accidents. However, negligence is involved, which is why the other party is liable for the charges. Again, a physical reaction to the other party's negligent action can help prove your case.
Bystander Lawsuit:

Bystander cases are a legal subset of NIED and can be filed by relatives or other people witnessing the car crash. Even if you weren't in the car when the accident occurred, you could still file an emotional distress suit if what you witnessed caused you emotional and psychological pain and suffering. For example, you were standing on the curb when the accident happened, but you also saw the negligent driver hit your spouse while crossing the street before the cars collided. Aside from the physical injury claims your spouse can make, you can also claim emotional distress because of the incident. You can file the same case even if you arrived late after the accident and developed emotional distress symptoms after seeing your spouse's injuries.
NIED is the more common type of emotional distress reported by car crash victims. A skilled car accident lawyer will be an invaluable resource to help identify the facts of the incident that led to your emotional trauma. In addition, your auto accident attorney will help you file a personal injury lawsuit for pedestrian, motorcycle, truck and car accidents.
Examples of Emotional Distress
Emotional distress manifests in various ways. An experienced auto accident attorney can point out the following symptoms and gather related evidence:
Unexplained aches and pain

Loss of interest

Excessive sleeping

Guilt

Eating disorders

Anxiety and depression

Panic attacks

Suicidal thoughts

Hopelessness

Post-traumatic stress disorder
In some severe cases of emotional distress, some additional symptoms may develop which will require mental health treatment:
Sudden changes in performance at work or school

Developing disruptive behavior

Withdrawal symptoms

Aggression
When you or your loved one develops any of these latter symptoms, the condition may require counseling, therapy and medication.
Suing for Emotional Distress
Suing for emotional distress is similar to other complaints that you can file in court. Your car accident lawyer can ensure that you have all bases covered and that all the necessary documentation and evidence are ready for presentation. This documentation includes the following:
Document your emotional distress

Cost of treatment

Financial losses

Lost wages

Pain and suffering

Loss of employment

Expert witness testimonies

Photographs of the incident

Mental evaluations
How Much Can I Be Compensated For Emotional Distress?
The amount of compensation for emotional distress varies from one victim to the other. The court will evaluate the evidence presented by your attorney and determine if what was presented can be justified. Sometimes, you can enter a per diem agreement with the driver at fault.
These agreements assign a dollar amount for the distress you have suffered. This amount will then be multiplied by the number of days starting at the time of the accident until the last day of your treatment.
Another option that may be presented to you is called the multiplier method. This is a claim-based method and will consider the severity of the injury. In this method, you will take the cost of your financial damages and then multiply it by the assigned multiplier for your emotional distress. Again, consult your attorney to decide which of these methods best suits your case.
Work With a Seasoned Lawyer To Get the Emotional Distress Claim You Deserve
Emotional distress claims can sometimes be difficult to prove in court. However, with the help of an experienced legal counsel, you can get the compensation you deserve. The Law Offices of David Kohm has extensive experience working with personal injury cases for over 30 years, winning damages for emotional distress.
To learn more about your options, call today at any of our convenient locations and get a free consultation.
Arlington (817) 522-4451
Dallas (972) 362-6848
Fort Worth (817) 764-1375
Plano (972) 354-4602
Cedar Hill (972) 338-9427
McKinney (469) 522-3688
Lewisville (972) 354-4605
Frisco (972) 725-7681
Grapevine (817) 835-8677
Irving (972) 354-4610
Keller (817) 204-0904
Garland (214) 572-2251
Denton (940) 222-4060
Addison (972) 564-8108
You can also contact us online by using our quick contact form.