Having an Attorney Is Vital for Car Accident Victims
If you were in a car accident and would like to collect compensation to cover your injuries, you might think the insurance company will help. Sadly, insurance companies have a reputation for running over accident victims and being more focused on profit than helping their customer.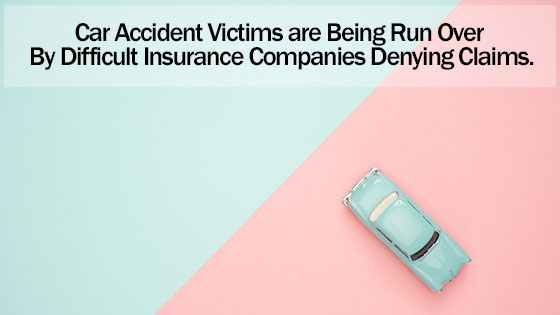 In this article, you will learn why you can't always trust insurance adjusters to have your best interests in mind, but you will also learn how an experienced car accident attorney can assist you in dealing with a difficult insurance company. Car accident attorneys deal with car accidents and insurance companies on a daily basis, and understand the common tricks insurance companies use to reduce or deny claims.
Reducing Your Right to Compensation
When you file a claim with your insurance company, they will begin looking for ways to reduce the amount of money you can collect. A lot of people don't know this fact and end up losing a lot of money as a result of their oversight.
The insurance company can document the things you say and use them against you if you decide to take your case to trial. In many situations, insurance companies try tricking victims into settling for a lot less than their case is worth, causing the victims to struggle to pay for their medical bills and other expenses. This is where an experience car accident attorney is vital in helping you to recoup the maximum amount of compensation for your car accident.
Understanding the Possible Fallout
Understanding the fallout you could face after an accident helps you understand why taking the right steps is vital. You can then move forward with confidence and know what to expect. Car accidents can cause many types of injuries that range from minor to severe.
After they are in an accident, some victims only consider the short-term injuries they face and fail to see the big picture. You can encounter long-term injuries that require ongoing therapy in the months after your accident, and the costs add up quickly. Accidents often cause vehicle damage and other expenses you will need to cover on your own if you don't fight for your compensation.
The Steps in Your Case
Reviewing the steps that occur during your case is wise if you want to act with confidence, and you will increase your odds of reaching a fair outcome. Learning how personal injury cases unfold removes some of the fear and lets you make your decision with a clear mind. Your case begins when you speak with a car accident attorney and agree to move to the next step. Your car accident attorney and the other party will try reaching a fair middle ground before going to trial.
How an Attorney Can Help
The attorney you hire will collect evidence and let you understand the strength and value of your case so that you can make the best choice for your needs and goals. Insurance companies are that much more likely to give you a fair deal if you have a lawyer by your side. If the other side does not give you a reasonable settlement offer and tries taking advantage of you, the lawyer you hire will stand by your side and take your fight in front of a judge or jury.
Final Thoughts
Having a car accident attorney is essential when you want to give yourself the highest odds of moving forward without encountering unneeded problems. Despite what the insurance companies might say, they care more about their bottom line than your right to compensation.
A personal injury attorney will learn about your case and craft a viable approach, improving your chance of victory. Although fighting a legal battle is often a difficult and stressful experience, you don't have to do it alone. The lawyer you enlist will be happy to represent your rights and guide you along the correct path. Although nobody can promise that you will win, a competent personal injury attorney will defend your rights and give you the best possible shot.
If you would like to discuss your case with a team member, we invite you to contact us for a no-obligation case review. Call our law offices today at any of our convenient locations and get a free consultation.
Arlington (817) 522-4451
Dallas (972) 362-6848
Fort Worth (817) 764-1375
Plano (972) 354-4602
Cedar Hill (972) 338-9427
McKinney (469) 522-3688
Lewisville (972) 354-4605
Frisco (972) 725-7681
Grapevine (817) 835-8677
Irving (972) 354-4610
Keller (817) 204-0904
Garland (214) 572-2251
Denton (940) 222-4060
Addison (972) 564-8108
You can also contact us online by using our quick contact form.