Whether going to school or our places of work, we certainly have boarded public buses many times. Regarding saving transport costs and reducing congestion in major towns, these buses have no equal. Nevertheless, the ride isn't always smooth; accidents happen along the routes resulting in injuries to the passengers and third parties. If you suffer such injuries while using public buses, out of the negligence of others, you can claim compensation. This article discusses how to make claims using a car accident attorney for damages suffered in auto accidents involving public buses.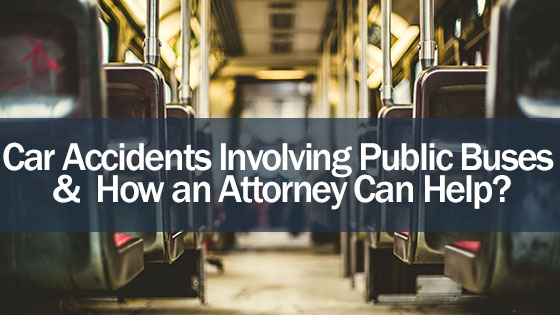 Common causes of public bus accidents.
Accidents involving pubic buses can occur due to many factors. The most common causes include:
Shutting doors on passengers
Knocking down a pedestrian
Collision with other vehicles or stationary objects
Unfamiliarity with particular routes
Driving while intoxicated
Fault determination in accidents involving public buses.
Sometimes, claiming compensation for public buses injuries can be a complicated process. This is due to the complex ownership models of the buses. For example, if you suffer injuries due to the driver's negligence, will you make a claim against the driver or the bus company? To obtain compensation in a court of law, the plaintiff must prove negligence on the defendant's part. Below are some of the factors that may be used to establish fault.
Driver's fault
Drivers can be at fault if they are improperly trained, are driving while intoxicated, or are operating the buses while distracted. Other factors such as forcing passengers to alight at dangerous spots and overloading vehicles can also be used to prove the driver negligence. Furthermore, one effective way of proving driver negligence is showing that the driver violated traffic rules leading to the accident.
Bus companies fault
Bus companies have the obligation of ensuring that their vehicles are well maintained and are compliant with the relevant government regulations. If the bus company has not fulfilled this obligation, it might be held responsible for bus accidents. For example, lack of safety belts and hiring of unqualified drivers are examples of negligence on the bus company's side.
Other motorists' fault
When public bus accidents are caused by other road users, fault will fall on their side. For example, if a collision is caused by failure of the other driver to observe traffic rules, compensation claims may be filed against the negligent driver.
As earlier mentioned, fault determination is not as easy as it sounds. In certain cases, leaving out details that seem insignificant can cost you a lot in compensation. When preparing or presenting a personal injury claim before a court of law or an insurance firm, it is essential to work hand in hand with a competent auto accident attorney.
What should you do if you are involved in a public bus accident?
After getting involved in a public bus accident, you should first establish the party that was at fault. This will help you know the party against whom you will file the claim. Depending on the circumstances surrounding the accident, you can file claims against third-party drivers, the public bus driver, the bus company, or other parties. Before you make the claim, you will need to decide the type of claim you will file. Some of the claims you can make include
Personal injury or disability compensation
Medical bills compensation
Loss of income compensation
Compensation for non-economic damages such as emotional anguish
You should consult your attorney to know the type of claim you should make. Dozens of bus companies belong to government institutions such as schools and public transport bureaus. If you believe that a government institution is liable for the damages you have incurred due to a public bus accident, you need to file a claim with them. In many states, you need to notify the government agency within six months. The notice should include the nature of your losses, events surrounding the accident, and a statement of your intention to seek compensation for the losses.
Where to find a competent auto accident personal injury attorney.
If you need help with filing claims after a public bus injury, turn to David S. Kohm & Associates. We have a team of unwavering lawyers who will fight aggressively to deliver the compensation you deserve. For almost three decades, these lawyers have represented different clients in Arlington, Dallas, and Fort Worth. Call our law offices today at any of our convenient locations and get a free consultation.
Arlington (817) 522-4451
Denton (940) 222-4060
Dallas (972) 362-6848
Fort Worth (817) 764-1375
Cedar Hill (972) 338-9427
McKinney (469) 522-3688
Lewisville (972) 354-4605
Frisco (972) 725-7681
You can also contact us online by using our quick contact form