GEICO (Government Employees Insurance Company) is one of the biggest insurance companies nationwide. If you're insured by this company, you need to know what to look for to avoid unfair treatment by its adjusters. 
To protect their bottom line, insurance adjusters would often give lowball offers that do not cover the damage and loss you sustained. Avoid being mistreated by your insurer and talk to an experienced car accident attorney adept at understanding the process of dealing with insurance companies like GEICO.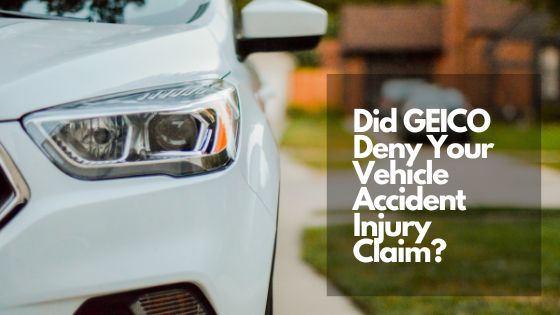 Don't be fooled!
The insurance adjuster may try to discourage you from hiring an auto accident attorney by saying that working with a legal professional is an unnecessary expense – this is the furthest thing from the truth.
When you hire an experienced car accident attorney, you won't have to pay upfront or anything at all unless they win your case. Most lawyers work on a contingency fee basis, which means that they don't get paid unless you get paid by your insurer. A lawyer's assistance can streamline your claim process and help you gain a larger settlement.
Things To Remember When Dealing With GEICO Adjuster
Keep in mind the following guidelines when you are processing your claims with the GEICO insurance company:
Don't Give a Recorded Statement
An insurance adjuster will ask you a few questions or request you to give a recorded statement. However, you are not obligated to comply with these requests. 
Recorded statements might contain information that the insurer might use against you. It's easy for an adjuster to take a single word and twist it out of context to deny or reduce your claim. Therefore, you should direct all your communication to your legal time to avoid issues. 
Don't Accept the First Offer
GEICO adjusters work hard to ensure that you accept their first offer and leave without a fuss. They might even tell you they will prioritize your claim if you take their offer. 
The adjuster's first offer is the lowest and worst one. If you accept, you enter a legally binding agreement, preventing you from seeking further compensation. So don't let them take advantage of you and allow your car accident attorney to handle the claim negotiations.
Be Careful of What You Say
Insurance adjusters will attempt to pry into various aspects of your accident. They will call you and ask questions, aiming to get your personal information and the car accident details. However, you should only give them a general account of the incident. 
NEVER discuss the following:
How the accident happened

How your injuries affect your life (daily activities, general activities, pain levels, etc.)

What you were doing before the crash transpired

Medical diagnosis

Medical treatment you received

Missed days at work
There's no harm in telling your side of your story to the insurance adjuster. But, be aware that they are constantly looking for something they can use to reduce your claim. So, most of the time, they will repurpose your words to limit the settlement offer.
Why Does GEICO Give Lowball Offers?
Insurance companies, like GEICO, sometimes purchase hospital liens for much less than they are worth, then use the purchase price as the actual amount of your bills. For example, you have a medical debt amounting to $50,000. Then, GEICO buys your lien for $15,000. Finally, their adjuster will base your settlement offer on the $15,000 amount.
If the jury only sees the $15,000 in bills at court, they will likely assume your injuries were less severe than they were. For this reason, the compensation you receive for pain and suffering is significantly lesser. 
Contact an Auto Accident Attorney Who Knows How To Handle Your GEICO Claim
Insurance companies like to use underhanded tricks to increase their bottom lines and limit liability. Without legal representation, the insurance claims process can be tricky to navigate. An experienced auto accident attorney can assist in getting the compensation you deserve. You won't have to worry about paying for your medical expenses and property damage when you have a legal expert by your side. 
You're not alone if you're dealing with unfair treatment from GEICO after your car accident. Our law firm is here to help you get the relief you need. So call the Law Offices of David Kohm today at any of our convenient locations and get a free consultation.
Arlington (817) 522-4451

Dallas (972) 362-6848

Fort Worth (817) 764-1375

Plano (972) 354-4602

Cedar Hill (972) 338-9427

McKinney (469) 522-3688

Lewisville (972) 354-4605

Frisco (972) 725-7681

Grapevine (817) 835-8677

Irving (972) 354-4610

Keller (817) 204-0904

Garland (214) 572-2251

Denton (940) 222-4060

Addison (972) 564-8108
You can also contact us online by using our quick contact form.