Drunk driving accidents are very complex and many times a bar that over-serves a patron who then gets into a drunk driving accident may be held liable by the injured party. The importance of an experienced Texas car accident attorney when involving a drunk driving accident can not be understated. They will be able to help you navigate the complex legal waters and also help you in maximizing your settlement. One way in which they can help maximize this settlement is by holding all parties involved accountable and one of those parties may be the bar that over-served the drunk patron.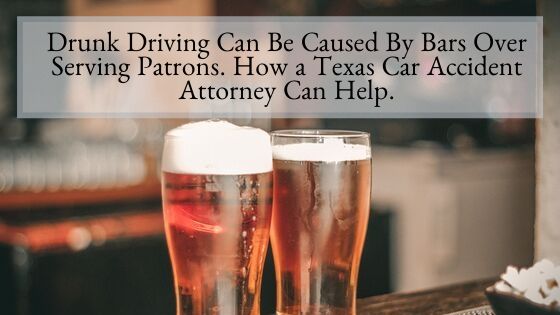 Here is an overview of the dram shop laws in the state of Texas: 
The definition of a dram shop law is a law that covers any incidents regarding alcoholic intoxication and drunk driving accidents linked to bars and liquor serving establishments. All 50 states have dram shop laws overall.

This law formulated when patrons became too heavily intoxicated and got into an accident that was linked to being served alcohol that they bought from a bar when already intoxicated.

Depending on the type of case, one may have a chance at having a dram shop case if they can provide sufficient evidence showing that the person who hit them (or themselves) became intoxicated from a bar that served them. 
There are different types of dram shop cases: 
A first-person dram shop incident is when the person who purchased alcoholic drinks is the injured person in the accident. These cases are highly unlikely to win because there is a general consensus within the jury that one should be responsible when they're drinking and should not be drinking and driving. The only way this would be a winning case if a child under the age of 21 enter the bar and was sold alcohol and consumed it. At that point the bar would be held liable for the charges.

There is the third-party dram shop position. This is the only other winning position. Describes a situation where a passenger is hurt or killed by a drunk driver who became intoxicated from alcohol sold to him or her at a bar or alcoholic establishment. 
Possible cases with a dram shop law are as follows: 
The first one would be a bartender serving a Patron alcohol after closing time.

Second case possibility would be serving someone underage or not checking IDs before serving.

Lastly, serving someone way too much liquor at once.
Now here are the counter defenses to the dram shop lawsuit: 
Bartenders at their patrons know not to consume too much alcohol

Every bartender on duty has there training course completed when applying for their liquor license

Non-alcoholic drinks are promoted within the establishment

Taxi services are suggested for safe travels for patrons by the bar
Statute of limitations vary from one to six years in the state of Texas for dram shop laws. The victim has 60 days to file for the case. Including formal written notice to the bar as well. But some states also have laws of statue of limitation that are shorter than the latter provided. One must confide with the state .org site depending on the case and state laws. 
A downside to cases being picked up regarding dram shop laws is that there's not enough attorneys educated in the matter, therefore they will not take the cases. However one can find a Texas Car accident attorney that has experience and knowledge in this. 
Consequences for Establishment owner if Patron wins case are as follows: 
The consequences for a bar found guilty for inducing intoxication that led to a deadly accident involves revoked liquor license, a strike on the bar establishment, a strike on the owner of the establishment who carries the name on the liquor license. In some cases a temporary suspension will be given and a 6 to 12 months suspension on holding a license similar to a driver's license suspension. Depending on the severity, cases can go from 12 months to 2 years suspension.

A Dram Shop case is very simple however it's the minor details that make each case different. If the patron decides to legally come after a bar establishment, he or she must be able to prove liability at all fronts which with the right Texas car accident attorney and right resources can be done. But if there is no guilty party then the case is dismissed and no liability falls on the bar or bar owner themselves. 
Call our law offices today at any of our convenient locations and get a free consultation. 
Arlington (817) 522-4451
Dallas (972) 362-6848
Fort Worth (817) 764-1375
Plano (972) 354-4602
Cedar Hill (972) 338-9427
McKinney (469) 522-3688
Lewisville (972) 354-4605
Frisco (972) 725-7681
Grapevine (817) 835-8677
Irving (972) 354-4610
Keller (817) 204-0904
Garland (214) 572-2251
Denton (940) 222-4060
Addison (972) 564-8108 
You can also contact us online by using our quick contact form.