To increase your chances of receiving compensation for damages in an auto accident claim, it is essential to gather and present evidence that demonstrates the other party was responsible for your injuries. The credibility of your witnesses is a crucial factor in strengthening your case.
In a car accident claim, it is important to have credible witnesses, even though you do not have the choice of who these witnesses are. Their credibility determines how you can use their statements in your case and how much significance the jury places on their testimony. Therefore, there are several considerations to keep in mind regarding witness credibility.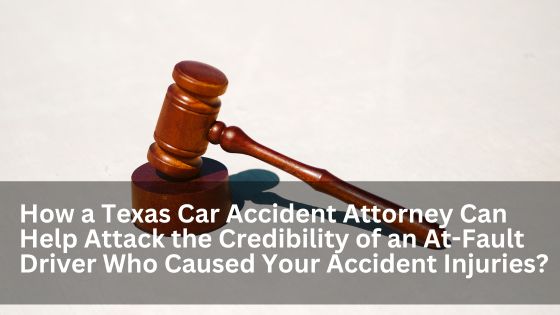 What Is a Third-Party Witness?
A third-party witness refers to a person who is not involved in the lawsuit and was not driving any of the vehicles involved in the accident. Given the tendency of drivers to provide conflicting statements about the accident, third-party witnesses play a crucial role in determining the exact cause of the crash.
What Things Determine Witness Credibility?
To decide the credibility of a witness's testimony, several factors must be considered.
Were They Distracted?
Did the witness observe the crash from a safe place or were they close to the scene and had to take action? It's important to consider if the witness was distracted during the crash as it can affect their credibility.
Did They See the Crash From Start to Finish?
In some cases, witnesses are able to observe the events leading up to a collision as well as the aftermath, while in other cases, they may only notice the incident due to the sound of the impact. A witness who saw the entire sequence of events is likely to be more reliable in describing how the accident happened compared to someone who only observed after hearing the crash.
Are They Biased?
Did the witness have any personal connection to the individuals involved in the accident, such as being a passenger in one of the vehicles? It is possible for a witness to know someone involved, which can affect the reliability of their statement.
Do They Have Physical or Mental Health Limitations?
Witnesses with physical or mental limitations may have difficulty observing a scene accurately. This eyesight, hearing or cognitive abilities might be impaired. It is crucial to evaluate a witness to determine if they have any limitations that could affect their testimony regarding an event's details.
Does Their Criminal History Weigh on Their Honesty?
In Texas, a witness may have their credibility questioned based on their criminal history, especially if it involves dishonest behavior such as theft, larceny, or fraud. The severity and length of their felony offenses can also impact the weight given to their testimony.
How Well Do They Remember Details?
A witness who has good credibility will remember the event with some degree of detail. They will be able to provide a solid response when asked follow-up questions by an attorney. Nonetheless, it is impossible for a witness to know everything about the incident. Assessing a witness's credibility in a car accident claim involves examining their ability to recall details truthfully and without exaggeration.
Has Their Testimony Changed?
Consistency is key for someone who is telling the truth. Changing one's story can lead to doubts about their credibility, especially when it comes to witnesses.
The Trier of Fact Weighs Witness Credibility
The decision on the credibility of each witness and the importance of their testimony lies with the person who is responsible for the case. This person could be the judge in a non-jury trial or the jury in a jury trial.
During your trial, your lawyer can argue to the jury about the reliability of a witness. The judge can't advise the jury which witness to believe in case a jury is responsible for your trial. The number of witnesses doesn't determine the verdict as the jury evaluates all the evidence and weighs each witness to reach a decision.
What Creates Discrepancies Between Witnesses?
It's important to understand that witnesses giving different accounts of an event doesn't necessarily imply that one of them is lying. Honest individuals with good intentions can experience the same situation differently, owing to disparate factors like their location, attention, as well as their physical and mental characteristics. Hence, it becomes crucial for the jury to analyze all these factors and determine how to evaluate their testimonies.
How Do You Put Witness Testimony Into Evidence?
In order to present witness testimony as evidence during a trial, you need to summon the witness to the stand where they will take an oath to tell the truth. Following that, you will have the opportunity to interrogate them.
After you finish questioning, the opposite party will have a chance to ask their own questions. Simply submitting a sworn statement from a person is inadequate since it deprives the other party of the opportunity to cross-examine. Usually, you will need to bring the witness to testify at trial.
How Can an Attorney Help?
By hiring an experienced car accident attorney, you can get help in identifying potential witnesses and reaching out to them. As experienced professionals, they know how to ask the right questions and evaluate whether a witness may be beneficial for your case in court.
If a witness is hesitant to testify, your lawyer can obtain a subpoena to legally require them to share their testimony. During the trial, your lawyer will ask the appropriate questions to the witness and assist the jury in comprehending the significance of the testimony. By skillfully utilizing witnesses in your case, you can strive for the most favorable resolution.
To learn more about your options, call the Law Offices of David Kohm today at any of our convenient locations and get a free consultation.
Arlington (817) 522-4451
Dallas (972) 362-6848
Fort Worth (817) 764-1375
Plano (972) 354-4602
Cedar Hill (972) 338-9427
McKinney (469) 522-3688
Lewisville (972) 354-4605
Frisco (972) 725-7681
Grapevine (817) 835-8677
Irving (972) 354-4610
Keller (817) 204-0904
Garland (214) 572-2251
Denton (940) 222-4060
Addison (972) 564-8108
You can also contact us online by using our quick contact form.