Were you aware that there are about six million car accidents in the United States yearly? The majority of these accidents result in damage to the vehicles involved. However, approximately one in three accidents also cause personal injuries, and two out of ten car accidents lead to fatalities. Dealing with a collision can be confusing, particularly if it occurs at night when many people are not working.
In the event that you are involved in a car accident at night, seeking the help of a skilled auto accident lawyer can aid you in safeguarding yourself, your passengers, and your rights in the eyes of the law.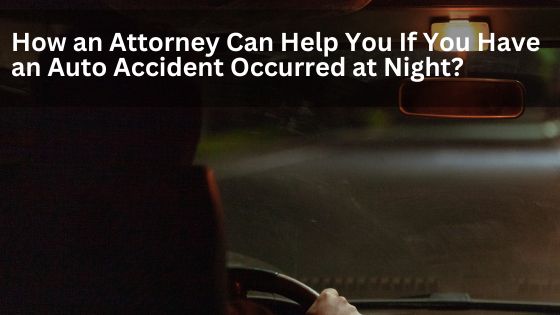 How to Avoid Car Accidents After Dark
It is true that driving at night is more dangerous, as confirmed by the National Highway Traffic Safety Administration. The likelihood of collisions is three times higher at night compared to daytime travel. To reduce this risk, consider these five helpful tips for your next nighttime driving journey:
#1 Be Cautious on Wet Roads
If the roads are slippery, losing control of a vehicle is likely. Rather than abruptly hitting the brakes, slow down and use caution when making turns. Taking advanced driving courses can be extremely helpful in gaining mastery of these abilities.
#2 Take Breaks on Long Trips
Driving long distances can be hard on your body, making it easy to get distracted or sleepy while driving, especially if it's dark and the heating is on. To reduce this risk, take frequent breaks and rest every two hours. Eating heavy meals can also make you feel sleepy, so it's best to have light snacks during the trip and drink plenty of water.
#3 Check the Rearview Mirror Often
It is very risky to stop on a highway as a vehicle coming from behind could hit you if you don't signal or take measures to move. Even if you are not at fault, there is a possibility of getting injured. Therefore, always check your rearview mirror to make sure there is no traffic, and double-check your blind spot before stopping or pulling over.
#4 Respect the Speed Limits
The speed limits set by the state must be followed without exception. Additionally, in conditions such as fog or wet roads, it is crucial to decrease speed to prevent accidents. Certain sources suggest that the maximum speed for such poor weather conditions should be thirty miles per hour.
#5 Always Wear Your Seatbelt
Even if you drive carefully at night, accidents can still occur. To lower the risk of injury, get into the habit of fastening your seatbelt before driving off and make sure your passengers do the same. This simple habit can be life-saving for you and your passengers.
What to Do After a Collision at Night
Car accidents can happen very quickly and the moments immediately following the collision can require you to make important decisions questions. However, the shock of the situation can make it difficult to think clearly. This is especially true at night or if the accident involves another vehicle or a pedestrian.
Here are a few pieces of advice for what to do after a car accident at night:
Stop Your Vehicle and Assist the Injured Party
It is important to immediately stop your vehicle after a car accident, but make sure not to block the flow of traffic. Failing to stop can lead to serious legal consequences and is morally unacceptable.
If there are any traffic hazards, warn the other vehicles by setting traffic flares.

At night, keep the car lights on, or you may be liable for accidents by approaching automobiles.
Call an Ambulance
If someone has injuries, you need to call an ambulance. At the same time, try to stop the bleeding and provide first aid. Keep in mind that you should not move a seriously injured passenger unless it's necessary because movement can make the injury worse.
Contact the Police
It is important to call the police in case of a vehicle accident, even if there are no visible injuries to those involved. The driver at fault should not move their vehicle from the accident location. If you suspect the other driver was driving under the influence of alcohol or drugs, make sure to inform the police officer who arrives at the scene.
In case of a hit-and-run accident, it is important to contact the local police station and inform them right away. The police report will be necessary for filing an insurance claim and covering any damage caused.
Write Down Important Information
To support any legal or insurance claim, it is crucial to gather specific information such as names, numbers, addresses, and license plate numbers. Make sure to also collect details from witnesses. Both drivers should provide valid identification and driver's license information. It is important to take pictures of any visible damage to the vehicles.
Seek Medical Help
Even a small accident may result in injuries that require urgent medical attention. Some injuries may not be immediately apparent, and it is important to undergo necessary tests and seek assistance from a doctor to avoid more serious health issues in the future. Even a minor impact can cause permanent damage to the spinal cord or lead to concussion and cognitive changes in the days following the accident, affecting both drivers and passengers.
Protect Your Legal Rights
After a car accident at night, it is crucial to contact an experienced car accident lawyer. Insurance companies typically require official statements following the crash, and having legal advice beforehand can prevent you from saying something that may harm your policy. A trustworthy lawyer can also assist you in obtaining appropriate medical care and compensation for your injuries. They can go over your case options with you.
What Happens to Your Vehicle After a Car Accident at Night?
Once you've exchanged information, informed the police, and contacted your insurance company, you should wait for an agent to appraise the damage to your vehicle. Only after receiving this report can you take your vehicle to an auto repair shop. If the collision is serious, your vehicle may not be drivable, and you'll need to arrange for a tow service.
Please note that for the sake of public safety, law enforcement may require you to tow a damaged vehicle, which means you will need to find alternate transportation. Repairing a damaged car can be a complicated and stressful task. Therefore, it is advisable that you work closely with your insurance to compare estimates and policy coverage. If you are unable to repair the vehicle immediately, you can wait until the case is resolved and claim reimbursement later.
Work with a Reliable and Experienced Attorney
Are you in the middle of vehicle damage, medical bills, emotional pain, and suffering after a vehicle accident? Consult with the professional lawyers at The Law Offices of David Kohm for support on your night time car accident and a chance at building a strong case. We help collision victims and their loved ones navigate the challenges of the legal journey, including handling insurance negotiations, multiple collision cases, and other difficulties that require robust legal knowledge and experience. Let us talk about your legal options. Call The Law Offices of David Kohm today at any of our locations to get a free consultation.
Arlington (817) 522-4451
Dallas (972) 362-6848
Fort Worth (817) 764-1375
Plano (972) 354-4602
Cedar Hill (972) 338-9427
McKinney (469) 522-3688
Lewisville (972) 354-4605
Frisco (972) 725-7681
Grapevine (817) 835-8677
Irving (972) 354-4610
Keller (817) 204-0904
Garland (214) 572-2251
Denton (940) 222-4060
Addison (972) 564-8108
You may also fill out our quick contact form. One of our representatives will reach out to you as soon as possible.