Family heirlooms have a lot of sentimental value, and in some cases, they are of considerable monetary value. Unfortunately, in a heated divorce, both parties may contest each other's claims, making dividing all assets and properties very stressful. For this reason, hiring a skilled property division divorce attorney can find the best ways to ensure the protection of your family heirlooms.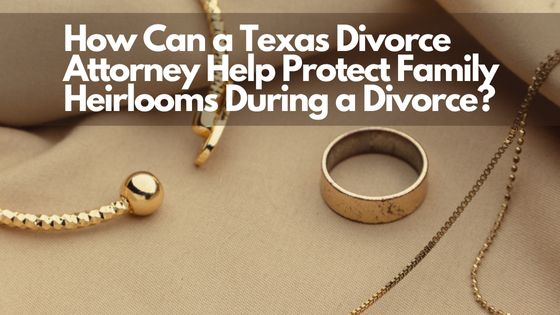 Handling Heirlooms During a Divorce
An experienced divorce attorney can help both parties in a divorce to go through mediation and enter into an amicable settlement. This option allows the former spouses to split the property under agreeable terms. However, if parties can't come to terms, the court can step in to divide the assets.
Some of the items that usually carry a lot of attachment for couples include the following:
Works of art

A house

Vehicles

Photos

Jewelry

Firearms

Furniture

Collectibles

Clocks

Antiques
Several factors can help determine if an heirloom should be considered a separate or marital asset. For instance, it won't be regarded as marital property if the heirloom was inherited before the marriage. A skilled divorce lawyer can help you make these distinctions, thus protecting your heirlooms during the divorce proceedings.
How the Property Was Acquired
One of the crucial factors that the court will consider during a divorce is how a piece of property was acquired. This critical deciding factor tells you whether an heirloom is marital property or not. In most instances, if an item was gifted to you during your marriage, it can be considered separate property. The same rule is applied when an heirloom was provided via a trust or will. Financial gifts are given in the same manner and also remain separate property and will remain yours even after a divorce.
Sometimes, it won't be easy to determine when and how an heirloom was acquired. For example, there are instances where both former spouses couldn't recall whether an item was given to them as a couple or individually. Another complication is when one spouse gives away an item as a gift. The court will often determine the intent of the donor. A skilled property division divorce attorney can help you provide evidence proving how heirlooms were acquired.
Pre-Marital and Inherited Heirlooms
The court considers inherited heirlooms as non-marital assets. They also treat all pre-marital assets the same way. Therefore, courts will always consider these properties separate assets regardless of when they were given to you. A seasoned divorce attorney will help you gather evidence proving how and when you inherited these heirlooms. You can use family photos and testimonies from family members to verify an item has been in your family for generations, which can be used as evidence in court.
When Separate Property Becomes Part of Marital Property
There are several ways for separate or individual property to become part of marital property. For instance, when you deposit money gifted to you into a joint savings account, it automatically becomes marital property. Another example is changing a car's title to include your spouse's name. These conditions aren't always easy to sort, so it's best to retain the services of a seasoned divorce lawyer.
Here are some of the conditions that can turn an heirloom from separate property to marital property:
Your spouse did something to increase the value of your heirloom, like adding aftermarket parts to your car

You gifted the heirloom to your former spouse, such as giving away a wedding ring

Your heirloom was combined with the marital funds and was used to upgrade or purchase other items.
In the instances outlined above, the court may consider heirlooms as marital assets even if they were initially given to you before your wedding. 
Heirlooms Freely Given as a Gift
When an heirloom is given to you as a gift, even before a wedding, you will be considered the owner of the gifted item, making it a separate asset. For instance, your mother-in-law gave you a piece of jewelry before your wedding day. The jewelry has been handed down in their family for generations. Years later, you are divorcing, and your spouse wants it back.
Your spouse has no claim to it. According to law, the heirloom is yours to keep, and you are under no obligation to return it. These heirlooms can still be handed down to your children even after the divorce, which may help ease any distress your spouse is feeling. Another option is to enter a negotiation where the heirloom can be exchanged for the marital property that you want.
Entering Prenuptial Agreements
One of the ways to protect family heirlooms in the event of a divorce is to enter a prenuptial agreement. Assets with sentimental value can be included in these agreements, assigning the ownership to one spouse when the marriage is dissolved. Another similar option is to draw up a postnuptial agreement, which addresses the properties you're concerned with in case of a divorce.
Negotiations and Amicable Agreements
One of the best ways an expert divorce lawyer can help both parties is to settle things through an amicable agreement. Both parties will negotiate how to divide every piece of property equitably. During negotiations, you can exchange a family heirloom for any property your former spouse wants. Your attorney can be the voice of reason for both of you so that negotiations will be made peacefully with terms agreeable to both sides.
Protect Your Family Heirlooms With the Help of an Expert Divorce Attorney
Dividing assets may seem pretty straightforward, but it's more complicated than it looks. For this reason, it is best to retain the services of a skilled divorce attorney from the start so you can protect your family heirlooms during divorce proceedings.
Call the Law Offices of David Kohm today at any of our convenient locations and get a free consultation.
Arlington (817) 522-4451
Dallas (972) 362-6848
Fort Worth (817) 764-1375
Plano (972) 354-4602
Cedar Hill (972) 338-9427
McKinney (469) 522-3688
Lewisville (972) 354-4605
Frisco (972) 725-7681
Grapevine (817) 835-8677
Irving (972) 354-4610
Keller (817) 204-0904
Garland (214) 572-2251
Denton (940) 222-4060
Addison (972) 564-8108You can also reach us by using our online contact form.