The National Highway Traffic Safety Administration (NHTSA) defines distracted driving as any activity that diverts a driver's attention from the task of safe driving. According to DMV.org, these activities can be categorized as visual, manual, and cognitive distractions. Cellphone use, for example, encompasses all three categories.
The Department of Motor Vehicles (DMV) identifies cellphone use as a leading cause of automobile crashes, with over 26 percent of crashes in 2014 being caused by drivers who were texting and using their phones while driving. In most cases, victims of car accidents involving a texting driver are hardly the ones at fault. However, the responsible party may be reluctant to admit to the offense, and the aggrieved party will have a hard time proving otherwise.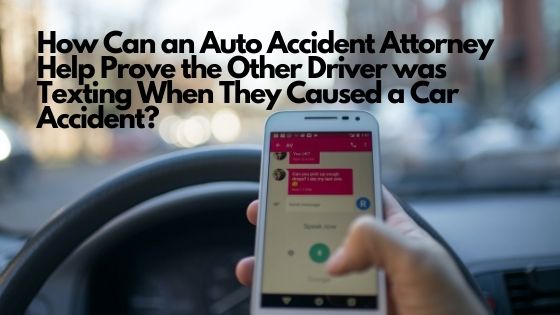 Texting And Driving In Texas
For many people, texting and driving may not be considered as harmful as other behaviors, such as driving under the influence. But the NHTSA states otherwise, with texting while driving being six times more dangerous than drunk driving (with a BAC level of 0.08 percent).
On average, receiving or sending a text will take the driver's eyes off the road for 4.6 seconds. When traveling at 55 mph, this is equivalent to driving the entire length of a football field while wearing a blindfold. 
To curb this dangerous behavior, Texas enacted the Texas Distracted Driving Law in 2017, which banned texting while driving. Unsurprisingly, this resulted in the number of car accidents in the state dropping by more than half and about 15 percent fewer fatalities. However, despite the drop in the number of accidents, there were still over 11 accidents due to cellphone use per day, corresponding to more than 4,000 cases per year.
What to Do When Involved In An Accident With A Negligent Driver
After an accident, it is crucial that you take photographs of all vehicles involved. Include different angles and shots of items that may point to the cause of the incident. Do not leave the scene and do not move your vehicle. You should then call the police and give them a complete account of the incident. The police will then continue investigating the accident and confirm who is liable for the incident. They will then write a citation, which can be used in court.
It is also vital that you seek medical care following the accident. You may have sustained injuries as a result of the accident and need immediate care. However, regardless of any injury sustained, you should still seek medical attention to document the accident. Keep a copy of all medical records and submit them to a car accident lawyer as supplemental evidence in the case.
How Are Negligent Drivers Liable If They Were Texting And Driving?
The Texas Distracted Driving Law makes it illegal to use a cellphone or any other electronic device while driving. This also includes sending and receiving electronic messages. Violators will be punished with a fine between $25 and $99 on the first offense, while subsequent violations will carry fines between $100 and $200. 
Although those punishments may seem light, negligent behavior that leads to personal injuries carries stiffer penalties. When proven guilty, a negligent driver will be required to compensate the victim for damages caused. These include:
Medical bills;

Lost wages;

Property damages;

Physical impairment;

Pain and suffering;

Emotional distress
When you get involved in an accident with a texting driver, your best course of action is to get in touch with an auto accident attorney to help gather evidence for your case. Most drivers will be hesitant to admit being at fault. In most circumstances, insurance companies of the negligent driver will place the blame on the other party, regardless of who was responsible. But with the help of an experienced car accident lawyer, you have a number of legal options as recourse in requesting evidence for your case.
Request The Negligent Driver's Phone Records
If you need to prove that a driver's phone use was the direct cause of the accident you were involved in, then you can request the driver's phone records as evidence. To do this, you will need to request a subpoena from the court to acquire the phone records from the mobile service provider. 
As a party to the case, you have the right to obtain a subpoena from the court and serve the phone company without a legal representative. However, that can come with its own complications, so it would be better to seek the help of an experienced car accident lawyer.
During discovery, your auto accident attorney will file a formal request for the other party's phone records from their phone company or insurance company. Although insurance companies can voluntarily submit the necessary documents to your lawyer, it is still more likely that you need to obtain them through a subpoena. Once those records are obtained, they will then examine whether any calls or texts were made at the time of the accident.
Seek Help From An Auto Accident Attorney 
If you need legal assistance with your case, don't hesitate to call our law offices at David Kohm Attorneys immediately for a free consultation. Call any one of our numbers below:
Arlington (817) 522-4451

Dallas (972) 362-6848

Fort Worth (817) 764-1375

Plano (972) 354-4602

Cedar Hill (972) 338-9427

McKinney (469) 522-3688

Lewisville (972) 354-4605

Frisco (972) 725-7681

Grapevine (817) 835-8677

Irving (972) 354-4610

Keller (817) 204-0904

Garland (214) 572-2251

Denton (940) 222-4060

Addison (972) 564-8108 
You can also contact us online by using our quick contact form.