Child custody issues can sometimes be a stressful affair for people going through a divorce – especially when it comes to visitations. Child custody laws are complex, and often require someone experienced to help you. The best way to successfully come out of this process is by having an experienced child custody attorney at your side. Trying to do it by yourself or hiring an incompetent lawyer will only make matters worse.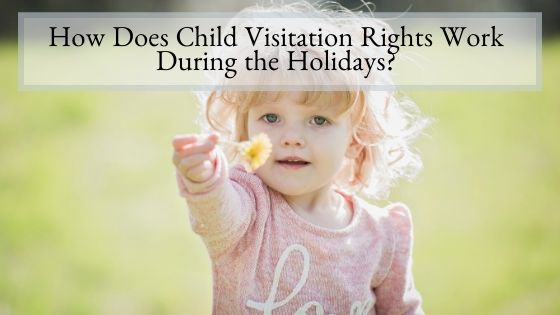 The following are some of the common issues regarding child custody and visitation during the holidays: 
What does reasonable visitation mean?
If the judge presiding over your divorce case ruled that you or your ex-partner were entitled to "reasonable visitation", it implies that the two of you are given the liberty to come up with a schedule of parental visitation during the holidays – that is appropriate for both of you. 
However, it is important to note that the parent with the custodial right will still have more say and influence over what's considered "reasonable visitation". The parent with custody rights is not legally obliged to agree to any proposed visitation plan. 
For a holiday visitation schedule to work properly, both parents must be willing to freely communicate in a reasonable manner. In case you think that it will be difficult to agree on a visitation schedule with your ex-spouse, you should ask the judge to decide on a fixed visitation schedule, which will include the holidays. 
Factors to consider when coming up with a child holiday visitation schedule: 
Travel and work schedules for both parents;

A child's school and co-curricular schedules;

Holiday traditions often enjoyed by your child;

Religious practices of both parents.
What does it mean when a judge places a "fixed visitation" schedule on you?
Generally, a fixed visitation schedule is where the judge rules on time and sometimes places where the non-custodial parent is supposed to have parental visitation. 
For instance, the judge may allocate Tuesday and Thursday nights as the time when the non-custodial parent can visit. Courts often order for a fixed visitation schedule where the conflict between two spouses is clear. 
Do the child's grandparents have visitation rights during the holidays? 
Texas law permits grandparent visitation if it is in the best interest of the grandchild. It is through such laws that grandparents and other close relatives can petition the court to grant them the right to continue with a normal relationship with the child. 
The court will generally rely on the parent's decision to limit grandparent visitation. 
What happens if the non-custodial parent fails to exercise his or her assigned time to see the child? 
Some custodial parents will seek to modify the visitation ruling on account of the non-custodial parent's failure to abide by the assigned parenting time. Although this might be a good decision in some situations, most child custody attorneys say that it is not the best decision to make. 
How can a custodial parent limit visitation time by the child's grandparents? 
If you decide to limit the time your grandparents visit your child, they might just go to court to seek their rights to visit. However, if you have good reasons as to why the grandparents should not visit, then you can also go to court and have your wishes enforced. You will need a good child custody attorney to argue your case. 
In general, child custody laws can often prove to be challenging. Dealing with complicated issues such as child visitation rights require that you have a highly qualified and experienced child custody attorney. 
This is because your ex-spouse might prove to be difficult to deal with when it comes to agreeing on specific visitation hours or days during the holidays. 
Call our law offices today at any of our convenient locations and get a free consultation. 
Arlington (817) 522-4451
Dallas (972) 362-6848
Fort Worth (817) 764-1375
Plano (972) 354-4602
Cedar Hill (972) 338-9427
McKinney (469) 522-3688
Lewisville (972) 354-4605
Frisco (972) 725-7681
Grapevine (817) 835-8677
Irving (972) 354-4610
Keller (817) 204-0904
Garland (214) 572-2251
Denton (940) 222-4060
Addison (972) 564-8108 
You can also contact us online by using our quick contact form.