Whiplash and soft tissue injuries can sometimes be difficult to prove. Their symptoms often appear after a week or two from the time of the accident, which is enough for insurance companies to question your claim. For this reason, it's best to work with a skilled car accident attorney to prove your case and get you the settlement you deserve.
The term whiplash can refer to a wide variety of ailments one can experience in an auto accident. Unfortunately, because of the injury's vague nature, you can encounter insurance companies that don't recognize them as actual injuries. Sometimes, they use the variance to settle for a lower claim amount.
Whiplash is a prevalent car injury in the country, with over three million cases reported yearly. Due to the intricacies of soft tissue injuries, consider working with a seasoned car accident attorney to get fair compensation and proper medical attention for your injuries.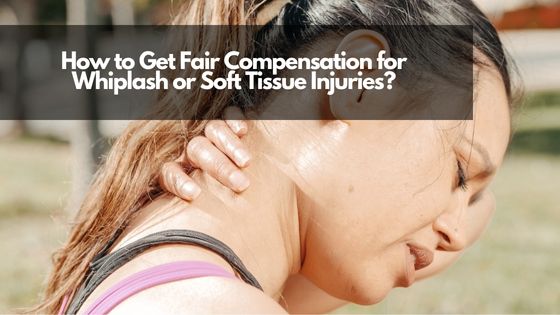 The Nature of Whiplash and Soft Tissue Injuries
The National Institute of Neurological Disorders and Stroke classifies a whiplash injury as a soft tissue injury known as a neck strain. It's a catch-all term used to describe a wide range of neck injuries caused by sudden flexion and extension.
Whiplash cases have an undeservedly bad reputation in some legal circles. There have been cases where people fake their injuries, hoping to cash in on the accidents. However, it's an actual injury that can cause much pain and require medical attention. Working with an experienced car accident lawyer will help shed light on the severity of the symptoms you are experiencing.
Your car accident attorney can highlight the facts of your case. During an accident, a victim's head will be forcefully thrown back and forth, impacting muscles, tendons and other soft tissues. This violent whipping motion causes internal tears in the surrounding tissues of the neck and can also affect the arms, back and shoulders. In worse cases, whiplash and soft tissue injuries can also include severe nerve roots and intervertebral disc damage.
A whiplash injury is usually experienced during rear-end car accidents and is quite common in Texas. However, you can also experience whiplash in other forms of car crashes. A reliable Texas car accident lawyer can provide you with expert legal advice and gather the necessary evidence to build your case.
Here are some of the symptoms that patients can experience with this type of injury:
Dizziness

Fatigue

Pain and soreness in the back, arms and shoulders

Uncomfortable tingling sensation in the arm

Numbness in the neck, shoulder and other areas

Headaches, which are usually felt at the base of one's skull

Progressing pain, especially when moving the neck and shoulder areas

Muscle spasms

Reduced range of motion

Stiffness and steady pain in the neck and other affected areas
In some cases, this type of soft tissue injury can go away in a few weeks. However, the pain and discomfort you experience can last for months in more severe conditions. Some patients develop chronic pain years after experiencing whiplash.
Medical care providers will pay special attention to specific symptoms that can indicate a more severe injury:
Depression

Loss of sleep or difficulty sleeping due to pain

Irritability

Concentration and memory problems

Tinnitus or ringing in the ear

Blurred vision
These symptoms can indicate that there's more than just whiplash or soft tissue injury. It can lead to traumatic brain injury or a concussion, which requires careful medical attention. Your car accident lawyer can use professional networks to help you find medical professionals with extensive experience treating whiplash injuries. This service allows you to gain access to the best medical treatments to help you recover faster.
Why Insurance Companies Downplay Whiplash Injuries
Insurance claims for whiplash and other soft tissue injuries are common. Since these injuries are also quite common, there have been instances of fraud related to them. For this reason, many insurance companies are more alert and often expect people to file claims for this type of injury.
Some insurers will point out that whiplash lacks any visible injuries since you can't prove it using MRIs or X-rays. However, a seasoned Texas car accident lawyer will point out that these medical imaging technologies are better suited for bone-related injuries. Further, your lawyer can gather the appropriate evidence using suitable sources to prove your claim and establish a firm legal argument to help build your case.
What Your Whiplash Injury Lawyer Can Do For You
Retaining the services of a skilled attorney can help protect your rights during claims processing and other legal proceedings. They can find medical professionals who can provide expert opinions to support the medical documentation related to your injuries.
Your lawyer can also provide the following important documents and resources:
Copies of your hospital bills and medical records as proof of your injuries

Video footage of the accident

Witness statements and expert medical opinion to support your claims

Documents from your employer to prove lost wages

Lawyers can secure police reports, accident scene diagrams and photographs

Copies of the bill for the repair of your vehicle
Your lawyer can give you the necessary evidence with proper medical documentation to support your whiplash and soft tissue injury claims. By doing so, you can secure maximum compensation.
To learn more about your options when making whiplash injury claims, call the Law Offices of David Kohm today at any of our convenient locations and get a free consultation.
Arlington (817) 522-4451
Dallas (972) 362-6848
Fort Worth (817) 764-1375
Plano (972) 354-4602
Cedar Hill (972) 338-9427
McKinney (469) 522-3688
Lewisville (972) 354-4605
Frisco (972) 725-7681
Grapevine (817) 835-8677
Irving (972) 354-4610
Keller (817) 204-0904
Garland (214) 572-2251
Denton (940) 222-4060
Addison (972) 564-8108
You can also contact us online by using our quick contact form.