Overloaded or overweight trucks continue to be a major cause of traffic fatalities throughout the United States. According to the Federal Motor Carrier Safety Administration (FMCSA), which assembles statistics related to vehicles and safety, overloaded trucks continue to be a leading reason for traffic accidents. The truck may be completely overweight as to its total payload or it may be operating within its capacity, but may be overweight on one or more of its axles. The result remains the same. The truck cannot function properly which leads to accidents and in the worst case scenario fatalities.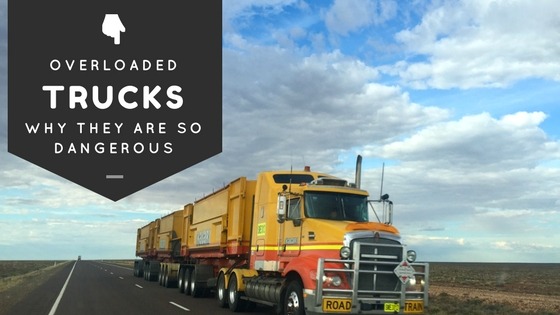 Not Enough Time to Stop Safely
An overloaded truck takes more time to stop. Because of this, the driver may misjudge the distance necessary to safely maneuver the vehicle and cause an accident. Further, an overloaded truck may pick up too much speed while travelling down an incline and create a need for longer stopping distances. In these emergency situations, an overloaded truck may not be able to stop in time to avoid serious consequences.
Both of the above situations put an additional burden on the truck's brakes and tires which causes an increased rate of brake failure or tire blowout. Brake failure continues to be one of the most common causes of truck accidents. Because overloaded trucks put more stress on the brakes, the brakes, themselves, are more likely to fail. A driver may not have the time or the skill set to appropriately navigate the truck in the event of brake failure causing a car accident.
Increased Chances of Mechanical Failure
An overloaded truck puts more pressure on the vehicle's tires. This causes the tire to wear much more quickly than intended. In a blowout, the truck will suddenly veer in the direction of the blown out tire. If the driver does not handle the situation appropriately, the truck could jack-knife or rollover. The blown tire itself may be a cause of car accidents as it can be suddenly thrown into traffic or left in the middle of a lane.
Besides having greater wear and tear on the brakes and tires, an overweight truck is more likely to have an axle snap. Although this is not the most likely case, imagine driving next to a semi-truck cruising along at 60 mph when an axle breaks. The obvious ramifications could be deadly.
A truck overloaded on just one of its axles leads to an equally dangerous situation. The load may become unbalanced during transport. This could happen if the driver makes a sudden stop or a quick turn. A load could unbalance during a simple lane change. An unbalanced load causes accidents by possibly having cargo fall of the truck into traffic or causing the truck itself to rollover.
Regulations are in place to prevent accidents, but aren't always followed
To help prevent these accidents, the FMCSA controls the weight allowed for trucks limiting weight to a 80,000 pounds. The 80,000 includes both the weight of the truck itself and its cargo. Trucks are designed to carry this load. When the truck carries too much weight, all of the above situations become more and more possible. However, in order to increase profits many companies eschew these regulations and pack as much weight onto each truck as possible regardless of the probable outcomes. This practice may give rise to liability to the driver and the company as accidents are much more likely to occur. A truck accident lawyer can help you and your family if you are ever a victim in one of these awful scenarios.
Call our law offices today at any of our convenient locations and get a free consultation.
Arlington (817) 522-4451
Denton (940) 222-4060
Dallas (972) 362-6848
Fort Worth (817) 764-1375
Cedar Hill (972) 338-9427
McKinney (469) 522-3688
Lewisville (972) 354-4605
You can also contact us online by using our quick contact form.