It is commonly believed that school buses are among the safest modes of travel on the road today. After all, these behemoths transport some of the most precious cargo in the country every day for most of the year, and their specifications and operation are regulated by government agencies funded with taxpayer dollars. Right? Not necessarily.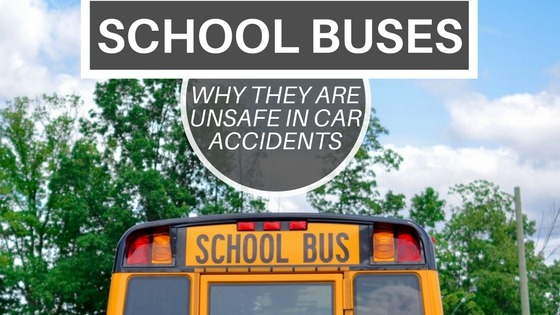 Distracted Drivers
Driving a school bus carries tremendous responsibility and requires the full attention of the bus driver. School bus drivers are also barraged by things that can make it difficult to stay attentive and alert to possible dangers on the road.
The National Transportation Safety Board, in its "Most Wanted List for 2017-2018" stated that "To reduce crashes, injuries, and deaths, drivers must completely disconnect from an increasing variety of deadly distractions…" Some of these distractions may include:
Misbehaving children on the bus
Cell phone use
Smoking
Adjusting controls on the vehicle's dash, such as interior temperature or radio
Eating or drinking
Driver health issues including medications that may cause dizziness or sleepiness
Lack of Seat Belt Availability
While the use of seat belts has been mandated both by state and federal agencies for several years, at this time many school buses are allowed to legally operate on the nation's roads and highways without mandatory occupant protection in the form of seat belts.
While those who are opposed to seat belts on school buses cite such facts as the safety statistics that are currently in place regarding school bus crashes, there are other cases that may suggest that increased protection is usually better. For instance, upon completing their investigation of a 2014 bus crash in Anaheim California, the NTSB found that the proper use of lap/seat belts by the children riding the bus was a major factor in reducing the severity of passenger injuries.
What Do the Numbers Say?
According to an August 2017 publication from the National Highway Traffic Safety Administration, 1,313 people have been killed in crashes involving school buses between the years of 2006 and 2015. Between those years, there were 324,710 motor vehicle crashes with fatalities of which 1,172 were classified as being related to the transportation of school children.
While the numbers of school bus crashes may be relatively low when compared to the number of total vehicular collisions on the road, most would agree that the numbers still need to be lower.
In order to lower those numbers, it is imperative to scrutinize the accidents that have happened and determine not only the cause of each accident but preventative measures that might have deterred the accident from happening at all.
What is the Solution?
Parents and school administrators can take action to encourage that policy and procedural action be taken to further enhance the safety of children who ride school buses. In fact, many school districts already have policies in place to address these issues, but unfortunately, the policies may not always be enforced.
What To Do If a School Bus Accident Affects You
The impressive statistics of school bus safety can quickly become meaningless to someone whose child has been harmed in a school bus accident. Since most school districts are considered to be governmental agencies, it can be difficult to hold them to the same standard of accountability as an entity in the private sector.
For this reason, it is extremely important to contact a legal professional who is experienced in dealing with entities of this type on behalf of their clients. If you are someone who needs this type of help, call our law offices today at any of our convenient locations and get a free consultation.
Arlington (817) 522-4451
Denton (940) 222-4060
Dallas (972) 362-6848
Fort Worth (817) 764-1375
Cedar Hill (972) 338-9427
McKinney (469) 522-3688
Lewisville (972) 354-4605
You can also contact us online by using our quick contact form.