In many collision incidents involving a truck and another car, the courts most likely side with the driver with the smaller vehicle. This is because these drivers usually sustain more severe injuries. However, that doesn't take away one's responsibility to prove that the truck driver was at fault. A seasoned truck accident attorney can help you gather critical evidence, including dashcam videos.
Difficulty Obtaining Video Evidence
Some believe that the other driver is at fault and that the severity of the damage caused is enough to prove it. However, insurance companies can still argue that you were partly to blame for the accident. Their goal is not to disprove the truck driver's negligence but to reduce the settlement claim.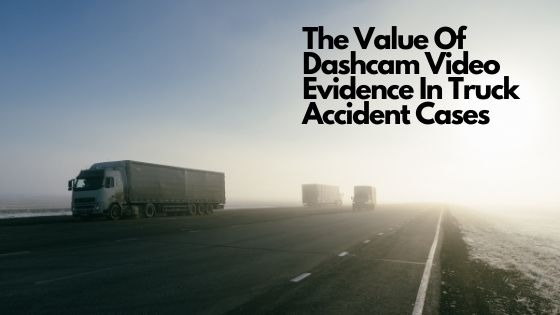 One powerful tool that can produce undeniable evidence is dashcam video. Through the video recorded, authorities can see the events that transpired which led to the accident. Today, most trucks are equipped with dash cams, and the footage can be used as evidence.
The dash cams were installed to promote safety in the industry. These cameras also monitor the drivers' behaviors. However, you will need the help of an experienced truck accident lawyer to secure the related footage before they get deleted.
Types Of Dash Cams Used By Trucking Companies
The trucking industry isn't required to install dash cams on their vehicles. However, many companies install them anyway as an added safety measure. There are two types of cameras they install on trucks, which include the following:
Forward Facing Cameras:

A forward-facing dash cam will show you what the driver sees while they're on the road. It doesn't show you the truck driver's actions. But this type of camera will show how fast the vehicle was moving and if the truck was too close to the car in front. It can show who made unsafe driving decisions like hazardous lane changing.
Driver Facing Cameras:

Dashcams of this type are like those installed on police patrol vehicles. These cameras record the truck driver's actions, which will come in handy when trying to prove that the driver was at fault. These can record negligent driving, such as truckers dozing off on the wheel, texting while driving or otherwise being distracted. The footage that covers the moments that led to the accident will be most significant.
The Importance of Dash Cam Videos in Accident Cases
One of the measures trucking companies have taken to protect themselves from litigation and costly fees is dashcam videos. This is why you need an expert truck accident lawyer to get the footage you need to prove it was the truck driver's fault.
Whether the truck driver was responsible for the accident will yet be proven via the video, which is why it is a critical piece of evidence that both sides will want to obtain. The evidence produced by dashboard cameras is often overwhelming. However, in some cases, this type of evidence is irrefutable. Depending on what was recorded on video, it will determine whether you win or lose the case.
Independent Eye-Witness Accounts
Apart from providing evidence, the video can be used to substantiate and preserve independent eyewitness statements made on the scene.
One crucial factor to keep in mind if you're going to use an eyewitness testimony is that you will need to gather identification. If not, then the testimonies will only be treated as hearsay. Claims have been won using both eyewitness testimonies and video evidence.
Again, you can't rely on eyewitnesses alone to prove your case. People would like to believe that their memories are accurate, but there is no scientific evidence to support this. Studies have shown that eyewitnesses can reconstruct memories as they are retold repeatedly. Eyewitness memories of the incident can thus be considered unreliable in some instances. 
This is why dashcam videos can be a significant help to underpin witness statements. In addition, an experienced truck accident attorney can help you collect the relevant evidence and information to prove your case. This is hard evidence that can get you the compensation that you deserve.
Dash Cam on Your Car
The dashboard camera footage from the truck driver's vehicle usually only shows one side of the case. Trucking companies will always review the video before deciding whether to go to court or settle everything out of court. In instances where it is clear that the truck driver is at fault, the company will try to settle things before any trial commences.
Each dashcam can only show one side of the story. However, if you have a camera on your car, authorities can view both sides of the accident.
Disadvantages of Using Dashcam Video
There are disadvantages to using dashcam videos as evidence. Video evidence can be interpreted either way, so a truck accident attorney should be there to represent you. If it appears that you are at fault in the accident, or at least partially, the video showing it can be used as evidence against you. 
The video might show any of the following indicators of inept driving: 
Yawning

Listening to loud music

Eating while driving

Drinking while driving

Looking away from the road 

Adjusting your settings on the infotainment system

Dialing on your phone
In the case that the video shows that you were doing any of the things mentioned above, the insurance company's attorney or adjuster can argue that you were either tired or distracted while driving. It can be interpreted as evidence that you were partly to blame for the accident.
The Value of Expert Truck Accident Attorney Guidance
If you or your loved ones have been injured in a truck accident, we highly recommend that you work with an experienced attorney handling such cases. Our truck accident legal team can explain all the available options and provide you with expert legal advice.
Call the Law Offices of David Kohm today at any of our convenient locations and get a free consultation.
Arlington (817) 522-4451
Dallas (972) 362-6848
Fort Worth (817) 764-1375
Plano (972) 354-4602
Cedar Hill (972) 338-9427
McKinney (469) 522-3688
Lewisville (972) 354-4605
Frisco (972) 725-7681
Grapevine (817) 835-8677
Irving (972) 354-4610
Keller (817) 204-0904
Garland (214) 572-2251
Denton (940) 222-4060
Addison (972) 564-8108
You can also contact us online by using our quick contact form.