After you are injured in a car accident, your top priority should be to receive the medical care you need. After that, however, the costs will inevitably seep into your mind. Medical bills are usually expensive, and since you were injured, it's safe to assume that in most cases, you can't return to work immediately. Without employment, you won't be able to support yourself and your family financially. Additionally, if your vehicle was damaged during the wreckage, you also need to consider repair costs.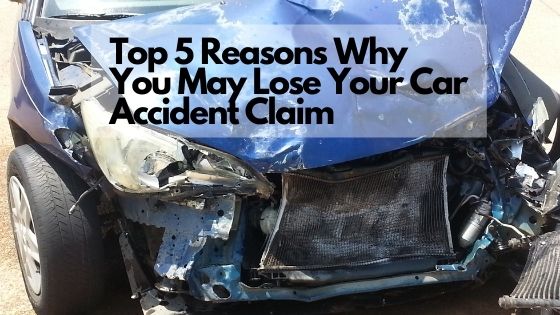 The good news is that filing a car accident claim can help you recover compensation for your medical bills, lost wages and vehicle damage. It is essential to be well-informed regarding the situation surrounding your claim. A minor mistake can drastically reduce your chances of recovering the compensation you deserve.
Keep reading to learn the top five reasons you can lose your car accident claim.
1. Accepting the Insurance Company's First Offer
There's a chance that the liable driver's insurance company will call you after the accident. They will attempt to find out your account of what happened. While you may think it is a harmless call, it's important to realize that some insurance companies do not have your best interests in mind. 
They will likely offer you a low ball settlement, hoping you will accept and refrain from negotiating for more compensation. The insurance company is focused on settling your car accident claim for as little money as possible rather than offering you a fair amount. 
To avoid a situation where you are left with compensation that does not cover all of your damages, you should consult with a car accident lawyer to communicate and negotiate with the insurance company on your behalf.
2. Failing to Seek Medical Attention
Car accident victims often fail to seek medical attention because they believe they only have minor injuries. However, regardless of how you feel physically, it would be best to visit a doctor immediately following the accident. 
By failing to seek medical treatment, the liable party's insurer can argue that you were not hurt or your injuries were not as significant as you claim them to be. On the other hand, visiting the doctor protects your health and ensures that you get the documentation required for your accident claim.
3. Not Providing Documentation
Gathering ample documentation is critical after a car accident. It is advised to photograph the accident scene, vehicle damage and any injuries. You should also ask your doctor for documentation of your medical visits. These papers will serve as crucial evidence that proves the other party's liability and demonstrates that the crash left you with damages that you deserve to be fairly compensated for. Finally, talk to a car accident lawyer to stay on top of the required documentation for your claim.
4. Admitting Fault
When you are at the crash scene, you may feel tempted to apologize for what happened or say you are sorry for the hassle. However, apologizing is an admittance of fault, and it can considerably weaken your case.
If you make a statement that makes it seem like you caused the accident, your statement can be used against you by the liable party's insurance company. Even if you think you know who is at fault for an accident, you won't be sure until a thorough investigation has been performed and you have shared the police report and documentation with an attorney.  
When speaking with the other driver involved in the accident, stay neutral. It is okay to ask them how they feel, but refrain from admitting any fault.
5. Not Consulting a Car Accident Lawyer
While you can file a car accident claim without the assistance of a legal professional, it will likely be an uphill battle. However, with an experienced auto accident attorney by your side, you are more likely to get full and fair compensation.
A skilled car accident lawyer can inform you of the value of your case. It can be challenging to determine what your case is truly worth if you do not seek legal help. Additionally, trying to tackle your car accident claim on your own could take your focus away from your recovery.
Injured in a Car Accident? Contact an Experienced Car Accident Attorney
If you or a loved one sustained an injury in a car accident, you should immediately contact a highly experienced accident lawyer. Protect your rights and call the Law Offices of David Kohm today at any of our convenient locations to get a free consultation. You can also reach us through our contact form.
Arlington (817) 522-4451

Dallas (972) 362-6848

Fort Worth (817) 764-1375

Plano (972) 354-4602

Cedar Hill (972) 338-9427

McKinney (469) 522-3688

Lewisville (972) 354-4605

Frisco (972) 725-7681

Grapevine (817) 835-8677

Irving (972) 354-4610

Keller (817) 204-0904

Garland (214) 572-2251

Denton (940) 222-4060

Addison (972) 564-8108