Ride-sharing services, such as Uber and Lyft, have massively grown in popularity recently and have become one of the most widespread means of transportation for Americans. 
However, as usage grows, so do accident rates.
According to a study by the University of Chicago Booth School of Business, there is a link between the increased usage of ride-sharing services and the three percent increase in traffic deaths. 
If you were involved in a ride-sharing incident and have no idea what steps to take next, it is best to call an Uber accident attorney to help you navigate this harrowing ordeal.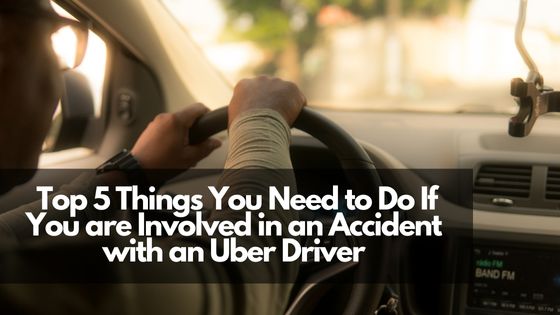 Why Are Rideshare Accidents Different?
Uber and Lyft provide up to $1,000,000 in passenger bodily injury liability coverage. But, unfortunately, claiming it isn't as straightforward as you would like. Many factors affect insurance coverage for injuries and property damage, including the accident's location and details surrounding the case.
The unique circumstances of the accident dictate how you are going to file your claim. For this reason, many people involved in ride-sharing accidents don't know where to turn to and how much coverage they are entitled to, which puts more strain on an already distressing situation.
Things To Do After an Uber Accident
Looking for advice following an Uber accident is challenging since ride-sharing companies offer little information about what to do next. Fortunately, we have listed down the first five things you should do. 
Call the Police
Contact the authorities immediately after the crash. It's important to have officers investigate the scene to create an official record of the incident. This document will be your primary evidence to support your claim. 
Report the Incident to Uber
Never assume that the Uber driver will report the accident to the employer. There have been reports of drivers dropping off the platform following the incident. This doesn't necessarily mean they were banned, but some drivers don't want to take the risk and would explicitly keep the ride-sharing company in the dark. 
Therefore, you must inform Uber of the incident if you want to get your legal compensation from them. You can report traffic accidents or unsafe driving behaviors using their app under the "Trip Issues" section. 
When doing this, be very careful of speaking to their representatives and only give a general account of what transpired. They will most likely push you for more details but tell them that your Uber accident lawyer advised against giving too much information.
Gather Evidence at the Scene
Take photos of the scene if you can. Documenting the accident thoroughly while the events are still fresh on your mind is essential. When building your case with your Uber accident attorney, everything matters. But it's easy to forget minor details when you are stressed. This is why you should snap pictures as soon as you can. 
Talking to witnesses will also help you build a solid claim. Take their contact details if they are willing to give them to you because you might need their testimony later. 
Seek Medical Help
See a doctor even if you don't think you are seriously injured. Shock and adrenaline can delay pain. You might feel fine soon after the accident, but you won't know the full extent of your injuries if you don't see a medical professional.
Going to the emergency room establishes a link between the accident and your health. When you fail to see a doctor, the other party might use this as evidence to show that you were not as injured as you are, further complicating the insurance claim process. 
Contact an Uber Accident Attorney
The best way to get fair compensation is to employ a seasoned Uber accident lawyer to help you build your case. A legal professional has the needed skills and knowledge to guarantee smooth sailing claim procedures. In addition, they will take the burden of the circumstances off your shoulders so you can focus more on your recovery. 
Call David Kohm Law Offices and Get a Free Consultation
The Law Offices of David Kohm have experience working on behalf of insurance companies and individuals like you. We bring everything we learned from working on their side to your case to get you the best possible result.
Contact us today and get a free consultation.
Arlington (817) 522-4451

Dallas (972) 362-6848

Fort Worth (817) 764-1375

Plano (972) 354-4602

Cedar Hill (972) 338-9427

McKinney (469) 522-3688

Lewisville (972) 354-4605

Frisco (972) 725-7681

Grapevine (817) 835-8677

Irving (972) 354-4610

Keller (817) 204-0904

Garland (214) 572-2251

Denton (940) 222-4060

Addison (972) 564-8108
You can also reach out to our team online through our quick contact form.