More than 17,000 car collisions occurred on the streets of Fort Worth in 2017. While accidents can happen at any location, the majority of them take place on the most dangerous Fort Worth roads, which include:
Interstate 20
The National Highway Traffic Safety Administration's Fatality Analysis Reporting System determined that the section of Interstate 20 that runs through the Dallas-Fort Worth metroplex is the sixth most dangerous highway in the U.S.
West Weatherford Street and State Highway 199
Drivers often take their eyes off the road when they merge onto West Weatherford Street from Summit Ave or Forest Park Blvd to figure out their next turn. Unfortunately, the distraction causes them to collide with traffic on State Highway 199.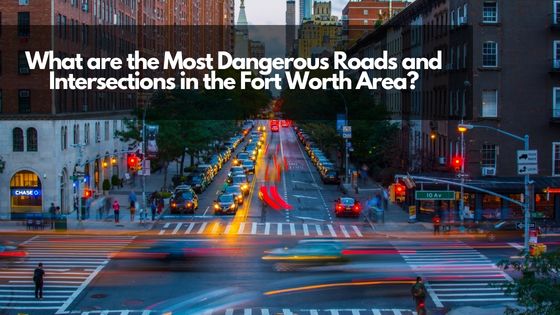 Western Center Blvd and North Beach Street
The North Beach Street and Western Center Blvd intersection is one of the busiest in Fort Worth. Therefore, crashes at this crossing are a regular occurrence. Accidents are often caused by drivers trying to beat the red light.
Interstate 35-West and East Berry Street
Drivers exiting Interstate 35-West to East Berry Street usually travel at highway speeds between 60 and 70 MPH. However, they need to adjust their speeds quickly since the speed limit for the access ramp is just 30 MPH. Failing to do so can cause them to collide with cars on East Berry Street.
Bryant Irvin Road and West Vickery Blvd
There are two through and turn lanes at the Bryant Irvin Road and West Vickery Blvd intersection, making the road more challenging to navigate. Therefore, the complex nature of the intersection makes it one of the most dangerous Fort Worth Intersections.
Common Causes of Intersection Car Accidents
Around 40 percent of all vehicular accidents in the United States take place in intersections caused by the following:
Drunk driving

Speeding

Running red lights

Distracted driving

Improper turning

Inattentive pedestrians
What To Do if You Are Involved in an Accident at a Dangerous Intersection 
Being involved in an accident on the most dangerous Fort Worth intersections is a frightening experience. However, it would be best if you were focused because every small thing you do following the collision impacts your actions moving forward. Make sure to follow these steps to protect your health and financial future:
Seek medical attention:

Your health should be your top priority following the accident. Even if you don't see or feel any injuries, you must go to the emergency room to record that you sought medical attention following the collision. This document will significantly assist your case if you decide to take legal action.

Report the accident:

Call the police and report the accident. Please give a detailed account of what transpired and allow officers to put together an accident report.

Take photos and videos of the scene:

Photos and videos are valuable evidence you need to build a solid legal case. Take many pictures of the accident scene, including the damage to your car.

Hire an experienced car accident lawyer:

When you have been involved in an accident on one of the most dangerous Fort Worth roads, it can be challenging to make the right decisions. This is why it's important to seek out legal representation to help you navigate your way through the ordeal. A skilled attorney will provide you with all the information you need to protect your financial and legal interests.
How Can a Lawyer Help You After Your Car Crash Involved in a Crash?
Most people involved in collisions do not fully understand their legal options. When you work with a lawyer, you won't have this issue. Instead, your legal team will discuss with you to give an overview of your potential routes to compensation.
Lawyers can also negotiate a settlement deal that fairly compensates you for your sustained physical, emotional and monetary losses. The other party's insurance company will offer you compensation, and your car accident attorney will analyze this deal to know if this is fair. If it's not, they will use their legal experience to negotiate a better offer.
If the other party's insurer is unwilling to enter negotiations, you can take legal action against them. File a lawsuit and demand you receive the compensation you deserve. Your attorney will represent you in court to fight for your rights and sway the judge to rule in your favor.
Contact an Auto Accident Lawyer in Fort Worth
Call a lawyer today to protect your rights if you have been involved in a crash on one of the most dangerous Fort Worth intersections. The car accident attorneys here at The Law Offices of David Kohm have been helping the people of Fort Worth fight for a fair claim settlement for many years. Reach out to our team to know our options by calling us at any of our locations:
Arlington (817) 522-4451

Dallas (972) 362-6848

Fort Worth (817) 764-1375

Plano (972) 354-4602

Cedar Hill (972) 338-9427

McKinney (469) 522-3688

Lewisville (972) 354-4605

Frisco (972) 725-7681

Grapevine (817) 835-8677

Irving (972) 354-4610

Keller (817) 204-0904

Garland (214) 572-2251

Denton (940) 222-4060

Addison (972) 564-8108
You can also contact us online by using our quick contact form.