Making turns driving a truck and trailer is far more complex than driving a smaller vehicle. These heavy vehicles take up more space and must often swing into the other lane first before being able to maneuver a turn with enough clearance.
Unfortunately, accidents happen. When truck drivers make a mistake during these traffic maneuvers with semis and large trucks, other vehicles can get involved in horrific crashes. In many instances, the drivers and passengers of the smaller vehicles may be entitled to compensation for pain and suffering, lost wages, property damage and medical bills. Retaining the services of an experienced truck accident attorney can help you gather sufficient evidence, present a strong case and win the settlement you deserve.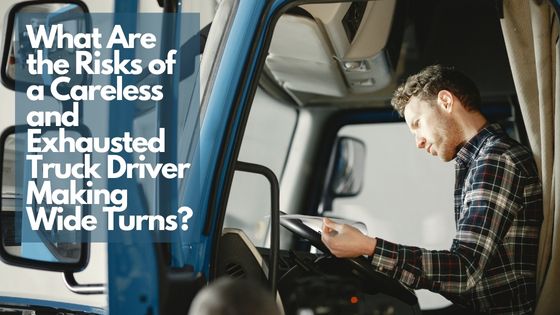 Types of Wide Turning Truck Accidents
Trailer trucks going through a right-hand turn can sometimes be more dangerous on the road, especially when the driver is trying to maneuver at a sharp 90-degree angle. Truck drivers will have to deal with a wide blind spot when performing such a maneuver. Things can get more complicated when there are light poles and other objects along the way. In addition, there are two common car crashes associated with wide-turning trucks:
Squeeze play:

This type of vehicle accident occurs when another vehicle tries to squeeze right into the ride side of a big rig, attempting to pass while the huge truck is also trying to make a right turn.

Override or underride:

This is a horrific type of accident where the smaller vehicle is forced under the truck.
The trucking company will still be mandated to pay for any damages resulting from a car crash involving their trucks. This requirement will be enforced whether or not the truck driver was cited for dangerous turning. An experienced 18-wheeler accident lawyer can help you file for damages and win fair compensation.
Common Causes of Wide Turning Truck Crashes
There are several common causes of wide turning truck accidents:
Blind spots:

Truck drivers need to become more aware of blind spots at the front and rear when driving their vehicles. Truckers who fail to check blind spots may miss vehicles, and this results in a car crash.

Unfamiliarity with the road:

Truckers are often made to drive on unfamiliar roads, which requires them to exercise the utmost care. Truck drivers can make mistakes when determining how much space is available for them to turn, how far their truck needs to swing out and identifying the vehicles in their blind spots.

Intoxication:

Driving under the influence will reduce a truck driver's reaction time and ability to maneuver a massive vehicle. To build your case, a seasoned 18-wheeler accident lawyer can highlight this fact and other negligence counts.

Driver fatigue:

This is a common cause of wide turning accidents, especially when truckers have been driving for several hours of the day. Accidents can be caused by poor judgment since the truck driver is already too tired.

Distracted driving:

Like other drivers on the road, truckers can get distracted when they're on the phone, eating or making adjustments to their vehicle's control panel. However, the consequences of distracted driving are more severe for truck drivers due to the damage they can cause.

Failing to use turn signals:

Using turn signals is more crucial for truckers. It warns other motorists, so they don't drive into the side where the truck is making a turn. The side where the truck turns can quickly become a blind spot, which is why many truck collisions occur when truckers turn without switching on their blinkers.

Inadequate training:

Making a wide turn on a trailer truck or semi will require more skill and experience than making turns with smaller vehicles. Truckers need sufficient training before executing these maneuvers properly, especially when adjusting to varying road conditions. Unfortunately, trucking companies send drivers out without proper training to make more profits.
Determining Liability
The liability in traffic accidents can be shared by the trucking company, the trucker and other vehicles on the road. An experienced truck accident attorney can identify relevant causes of the wide turning truck accident and determine the liability.
Trucking companies can be held liable for several reasons:
Not providing adequate training to their truck drivers.

Forcing drivers to work extended hours and break hours of service regulations.

Hiring an unqualified driver or one without a commercial driver's license.

Failing to provide proper and adequate truck maintenance.

Overloading a truck makes it difficult for the driver to make turns.
Work with an Experienced Truck Accident Attorney
There are many factors to consider in a wide turning accident. Obtaining competent legal advice will help you secure the compensation you deserve to cover your vehicle damage and personal injury. Call the Law Offices of David Kohm at our convenient locations today and get a free consultation.
Arlington (817) 522-4451
Dallas (972) 362-6848
Fort Worth (817) 764-1375
Plano (972) 354-4602
Cedar Hill (972) 338-9427
McKinney (469) 522-3688
Lewisville (972) 354-4605
Frisco (972) 725-7681
Grapevine (817) 835-8677
Irving (972) 354-4610
Keller (817) 204-0904
Garland (214) 572-2251
Denton (940) 222-4060
Addison (972) 564-8108
You can also contact us online by using our quick contact form.