Most drivers are likely to experience rear-end accidents at least once in their life. In the United States, around 1.7 million rear-end collisions happen annually, which accounts for 29% of all car crashes. This means that rear-end collisions are the most frequent type of collision, leading to over half a million injured. 
While there are a lot of misconceptions about rear-end accidents, there's one thing that holds true for victims of car accidents: if you or a loved one is injured in a vehicle accident, your best bet is to hire a Texas car accident lawyer to represent your legal rights to claim compensation for your injuries.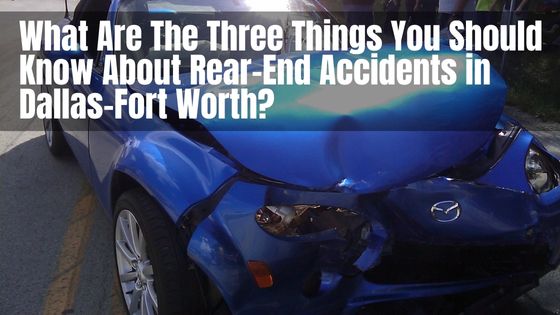 1. The Driver in the Back Is Usually At Fault, But Not Always
All drivers are responsible for keeping a safe distance between their vehicle and the vehicle in front of them. As a result, Texas law presumes that, in case of a rear-end accident, it's the fault of the driver at the back of the collision. The one exception to this is what's known as a "rebuttable presumption."
Under a rebuttable presumption, the driver in the back can claim that it's not their fault that they hit the vehicle in front of them. For instance, if the driver in front does a brake check for no legitimate reason, it could be argued that the driver in front is at fault. 
However, if the driver in the front brakes because of a road hazard, a collision is still the fault of the driver in the back, as it's their responsibility to leave room for incidents like these. 
2. Distracted Driving Is the Leading Cause of Rear-End Collisions
Surprisingly, out of all the 1.7 million rear-end accident cases in the U.S., 87% of them were completely avoidable. The National Transportation Safety Board found that the leading cause of rear-end collisions is drivers distracted by multi-tasking or not focusing on the road. 
Heavy traffic, road hazards, and other factors can change road conditions in a split second, which is why drivers need to stay focused. Even the act of looking at one's phone is enough time to distract a driver. Other causes of rear-end collisions include:
Driver fatigue

Drunk driving or driving under the influence

Aggressive driving tactics like tailgating and brake checking

Road hazards

Inclement weather 
3. Rear-End Accidents Can Lead to Serious Injuries
While many victims of rear-end collisions suffer minor injuries, it can also lead to major or even fatal injuries. Many who recover from rear-end collisions have to take time off work or spend months or years recovering from their injuries. Some of the most common major injuries from rear-end accident cases include: 
Whiplash

Brain injuries

Spinal cord injuries

Back sprains or strains

Wrist and arm injuries

Chronic pain

Internal bruising

Broken bones
Even if you feel fine after a rear-end collision, you should still see a doctor. There's a chance that your body's adrenaline release after an accident may be preventing you from feeling the effects of an injury. Days or even months after the incident, you may start to feel the debilitating symptoms of an internal injury. 
Failing to see a doctor immediately after your accident could lead to legal issues down the line. With no medical documents proving your symptoms were caused by the rear-end accident, your insurance company may deny your claim since you can't link your injury to the accident. You may also be unable to file a personal injury claim against the other driver because of this. 
Understanding Rear-End Accidents
During a rear-end accident, one vehicle collides with the vehicle in front of it. These types of crashes can happen for a number of reasons, such as: 
Hard braking

– the driver in front slams on their brakes too quickly, and the driver in the back has little time to react. 

Hard acceleration

– the driver in the back accelerates too quickly.

Lack of attention

– the driver in the back is distracted and doesn't notice the traffic ahead of them slowing down. 

Tailgating

– the driver in the back isn't leaving enough space behind the car in front of them to react in time. 

Unsafe driving for the road conditions

– the driver in the back is driving too fast in hazardous road conditions like rain, ice, damaged roads, and more.

Poor visibility

– low visibility in conditions such as heavy rain, snow, fog, and low light clouds a driver's ability to see the vehicle in front of them. 

Distracted driving

– a driver is unable to brake in time because of a loss of focus on the road. This can account for reasons like fatigue, texting while driving, looking at their phone, alcohol, drug impairment, and more.
Victims of a rear-end accident tend to suffer traumatic injuries that take time to recover. Most victims end up with whiplash, which causes neck-related injuries that lead to minor to severe chronic pain. 
If You Were In A Rear-End Collision, You Should Contact A Lawyer
If you're the victim or at fault of a rear-end accident, you should protect your interests by hiring an experienced Texas car accident lawyer. In either case, having a reliable lawyer ensures that your rights are protected, and you have exemplary legal representation. 
For drivers that have rear-ended another car, you may feel that the accident was caused by a driver's negligence. If that's the case, having a lawyer to determine the facts of the case can provide you with sound advice on what to do. 
For those who have been rear-ended, your lawyer can help you file a claim with your insurance company. You can also file a personal injury claim for compensation against the driver at fault. 
With an experienced car accident lawyer, you can get fair compensation awarded to you for medical bills, personal property damage, loss of income, and the physical and emotional pain you've experienced. 
To learn more about your options, get in touch with the Law Offices of David Kohm today to schedule your free consultation.
Arlington (817) 522-4451
Dallas (972) 362-6848
Fort Worth (817) 764-1375
Plano (972) 354-4602
Cedar Hill (972) 338-9427
McKinney (469) 522-3688
Lewisville (972) 354-4605
Frisco (972) 725-7681
Grapevine (817) 835-8677
Irving (972) 354-4610
Keller (817) 204-0904
Garland (214) 572-2251
Denton (940) 222-4060
Addison (972) 564-8108
You can also contact us online by using our quick contact form.