A car pileup is one of the terrifying accidents one might experience while on the road. A pileup is a type of collision that is more common on freeways and highways and involves multiple vehicles. Retaining the services of an experienced vehicle accident attorney will help you obtain the compensation you deserve for property damage and personal injuries.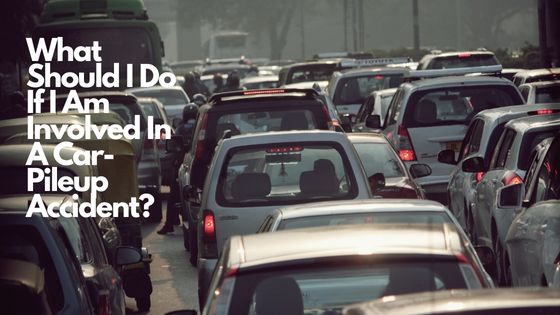 What is a Car-Pileup Accident?
A car-pileup is an accident involving more than two vehicles, where multiple vehicles rear end one after the other. These terrible accidents often occur due to low visibility and poor road conditions.
Dust storms, ice, snow, fog and heavy rains can affect road visibility, which reduces a driver's reaction time. In this type of road accident, drivers fail to hit the brakes in time to prevent a rear-end collision.
The speed at which vehicles travel on freeways is another significant factor contributing to the severity of the damage caused by a pileup. The size of the vehicles involved can also impact the gravity of the situation: semi-trucks and heavier vehicles involved in a pileup cause more catastrophic damage and injuries.
The Impact of Car-Pileup Accidents in Personal Injury Cases
A seasoned car accident lawyer is an invaluable resource during the litigation of this case. With so many drivers and vehicles involved, determining the driver or drivers at fault will be difficult. In such a case, a vehicle accident attorney specializing in pileup accidents can expertly investigate all factors and adequately distribute the fault to the drivers who contributed to the accident.
After analyzing the related facts, your car accident lawyer will also need to look into the details of various automobile insurance policies. It's an intricate and tedious process that requires the services of an experienced professional. Finally, your attorney can find which insurance companies need to be notified and determine the interplay of the different policies and how to file claims for each involved.
Determining Who is at Fault in a Multi-Vehicle Collision
To those unfamiliar with the intricacies of multiple-vehicle collisions, the vehicle that caused the most damage is at fault. However, in reality, that isn't always the case. In many instances, the cars that caused more damage may not carry most of the responsibility in a car-pileup accident.
Because of this, you should work with a seasoned vehicle accident attorney who can determine the extent to which each driver is at fault. Your lawyer can investigate critical details such as the speeds at which drivers were driving, vehicles that were able to come to a lawful stop, drivers who lacked concentration, drivers who were driving under the influence and the drivers involved in the initial crash that started the chain of collisions.
In a car-pileup accident, all the other vehicles behind the first few that started the collision can be held responsible for causing injuries and damage to vehicles to a certain extent. For instance, some drivers can only be held up to 50 percent liable because they could not stop their cars in time.
Some drivers might be less liable if they could stop in time. However, they still got involved because they were rear-ended by another vehicle that caused them to hit the vehicle in front of them.
What to do in a Car-Pileup Accident
If you want the settlement you deserve, you need to gather and preserve every piece of evidence to build your case. For example, capturing a video of the incident using your car's dash cam or your phone could be invaluable evidence to show how you were involved in the car-pileup accident.
The collision scene in this vehicular accident tends to become very chaotic. Sometimes you can't rely on witness testimony from drivers and passengers involved in a car pileup. As a result, people often end up confused and cannot offer a clear account of the incident.
If you survive such an accident, it is best to take photographs of the incident. If you can take videos of the scene, that will also be useful. You should also photograph the injuries you sustained. Finally, don't forget to call emergency services and contact the police immediately.
When emergency medical service providers arrive at the scene, make sure to have yourself checked even if you feel fine. You may have sustained injuries you're not aware of.
Work with a Seasoned Car Accident Attorney Specializing in Pileup Cases
As stated earlier, determining who is at fault in a car-pileup accident requires extensive experience and expertise. A seasoned vehicle accident attorney can help make sense of the details that build your case and win you the compensation you deserve. So call the Law Offices of David Kohm today at our convenient locations and get a free consultation.
Arlington (817) 522-4451
Dallas (972) 362-6848
Fort Worth (817) 764-1375
Plano (972) 354-4602
Cedar Hill (972) 338-9427
McKinney (469) 522-3688
Lewisville (972) 354-4605
Frisco (972) 725-7681
Grapevine (817) 835-8677
Irving (972) 354-4610
Keller (817) 204-0904
Garland (214) 572-2251
Denton (940) 222-4060
Addison (972) 564-8108
You can also contact us online by using our quick contact form.