The do-it-yourself spirit is common among Texans and for good reason. There is nothing more satisfying than saving hundreds or maybe even thousands of dollars by performing home or auto repair duties on your own.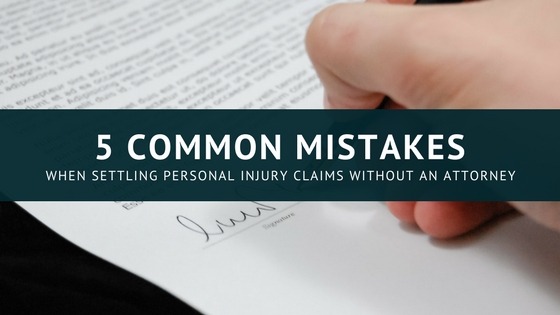 Some duties are more complicated to perform on your own, however. And though it may seem tempting to act on your own when settling a personal injury claim, there are many mistakes that can be made.
1. Settlement Too Small
When injured due to the fault of another you can usually expect to be contacted by a lawyer or insurance agent for the other party fairly quickly. Their motive will be to get a statement and hopefully incite you to say things that may undermine the value of a potential claim. An immediate offer will sometimes be made to settle the claim at a fraction of the fair value.
Those in favor of the do-it-yourself approach will often point out that an attorney would receive approximately one-third of the claim. The reasoning is that more money can be kept if there is not an attorney with his hand in the cookie jar.
This reasoning is faulty because most individuals that do not practice personal injury law will not possess the expertise to give a proper valuation of a particular claim. To the point, paying a lawyer one-third of $50,000 claim will be much more beneficial to a personal injury plaintiff than receiving 100% of a $10,000 claim.
2. Lack Of Confidence During Negotiations
The confidence necessary to aggressively negotiate personal injury claims comes from both knowing the law and having experience with litigation. A skilled attorney that expresses his knowledge of the law and specifically what the law entitles his client to receive in regards to personal injury claims serves notice to insurance companies that you are not going to be a pushover. Many insurance adjusters will not have the same respect for plaintiffs acting on their own behalf.
3. Rushing To Settle
While the benefit to personal injury claimants to settle quickly is obvious, errors are often made when injured parties respond to offers made by insurance company shortly after an accident. One common problem with quick settlements occurs when an injury sustained proves to be more serious than initially believed by doctors. Once a settlement is agreed upon it is usually a finished matter. There will often be no opportunity to reevaluate damages later.
4. Unknowingly Coupling Property Damage With An Injury Claim
When insurance companies offer settlements in personal injury claims they will often seek to reach the agreement that all further claims will be ended. This is problematic when significant damage happens to a vehicle or other property due to another's negligence. Taking a settlement that does not properly cover property damage, rental costs, repairs, medical bills and lost wages will simply put you into a bad position to recover and is an unfair outcome for your case.
5. Failing To Provide Needed Documentation
When working out a personal injury claim it is important that the proper evidence to support the claim be provided. You will be obligated to prove that an injury was sustained due the careless or negligent actions of another party. You will also have to establish that you are due financial compensation as a result of the event. Medical records, information pertaining to the loss of wages, and a variety of other information are likely needed to verify the claim.
Contact an Attorney You Can Trust
If you or a loved one have been recently injured and are seeking redress it may be better to save any do-it-yourself aspirations for your next home improvement product. Instead, trusting in the services of a skilled and competent personal injury lawyer will most likely provide the best possible outcome.
Call our law offices today at any of our convenient locations and get a free consultation.
Arlington (817) 522-4451
Denton (940) 222-4060
Dallas (972) 362-6848
Fort Worth (817) 764-1375
Cedar Hill (972) 338-9427
McKinney (469) 522-3688
Lewisville (972) 354-4605
You can also contact us online by using our quick contact form.