It is difficult for people who have recently been in a car accident to start planning for the events which will determine their financial liability, potential civil liability and the status of their vehicle, license and insurance premiums. What makes such planning doubly difficult is all of those things might end up the subject of a court case four months after the collision.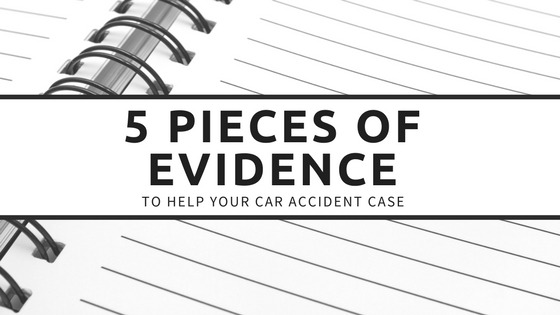 The important thing to remember, however, is the outcome of events four months hence depends on what you do at the scene, in the minutes and hours following the accident. There is evidence you need to gather, because you can be secure in the knowledge there's nobody else present who is going to do it for you. Here are five things you need to consider. It is likely that you may be injured after an accident and will have trouble collecting much of the evidence listed here. If possible, have a relative or friend help out with photos, contact info, and other items. It is easy to forget these things after a serious accident, but it could make the difference between enormous debt and fair compensation.
Police Report
You need to be aware of the names and badge numbers of every law enforcement official at the scene of your accident. Collect business cards. Photograph them. Get pictures of the license plates of every law enforcement vehicle. Each of the police officers you encounter at the scene is a potential witness and will be of premium importance in the event of a dispute over the facts.
While you're gathering your evidence and introducing yourself, make no statements, authorize no searches of your person or property, and do not answer any questions other than those you are legally required to answer, like who you are and whether you have a license and insurance.
Witness Testimony
Clearly you'll need to obtain contact, license and insurance information from any other driver involved in the car accident. Make liberal use of the portable television station in your pocket, and take pictures of everything including license plates.
Don't overlook the fact you're going to need testimony from witnesses who weren't involved, if they can be found at the scene. Get their contact information as well. You don't necessarily have to get their statement immediately, but if they will permit it, record a few lines from each of them on video along with a picture of their identification.
Photos
Conclusive proof. It's the thing that attorneys live for. It's the thing they love to pretend to discover after the other side thinks they've won. Photographs are one of those things that are practically unassailable in a courtroom. You will want hundreds of them.
Take pictures of the kinds of things others involved in the accident won't think of, like any surveillance cameras, ATMs or shopping malls in the area. Evidence might later be gathered at each location. Take pictures of the insides of the other cars involved. Anything plainly visible is fair game. Use your flash if it is dark. Take pictures of the damage, road conditions, any nearby public transit stops, traffic signs, weather, emergency vehicles, skid marks, tire conditions and street signs. If you can get video, so much the better.
Your goal is to recreate the scene in pixels, because later it will become valuable evidence.
Medical Records
This category is a little tougher than the others for a couple of reasons. Doctor-patient communications are privileged and often inadmissible in some cases, and there are considerable regulations on the dissemination of medical information without the consent of the patient. That said, any records belonging to you, including the reports filed by any emergency first responders, are admissible on your behalf, so make sure you gather them early and make them available to your car accident attorney.
Expert Testimony
In the overwhelming majority of vehicle accident cases, expert testimony isn't necessary. However, if you or your attorney suspect your accident might be the result of a mechanical failure, a faulty vehicle or some other highly unusual circumstance, having an expert available to make clear to the court the relevance of those circumstances can be a valuable thing.
Four months later, when you and your attorney can reconstruct the accident scene photograph by photograph and document by document, you will find your case is much easier to prosecute.
Call our law offices today at any of our convenient locations and get a free consultation.
Arlington (817) 522-4451
Denton (940) 222-4060
Dallas (972) 362-6848
Fort Worth (817) 764-1375
Cedar Hill (972) 338-9427
McKinney (469) 522-3688
Lewisville (972) 354-4605
You can also contact us online by using our quick contact form.