Being involved in a car accident is always difficult to deal with. Dealing with potential injuries can be a long-term process, and the sheer amount of paperwork involved can be overwhelming. Frustration is common as well. If the other driver was under the influence of drugs, for example, knowing that the accident was likely avoidable if the other driver had been sober can be challenging to deal with. However, there are steps you can take to achieve a better outcome, and the first step is to contact a car accident lawyer.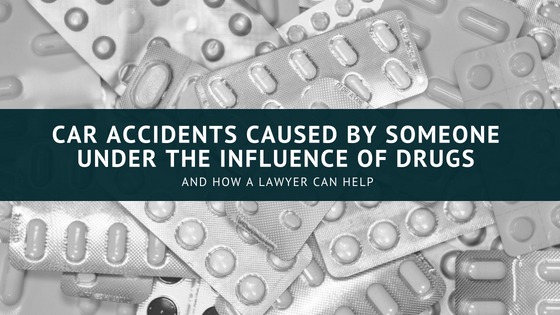 Setting a Course
The aftermath of a car accident presents a confusing landscape, and people often don't know where to start. When the other driver was under the influence of drugs, the complexity increases significantly as the matter typically becomes a criminal one. When working with a lawyer, you'll have a better understanding of what to expect and what you need to do to proceed. There are often deadlines involved, and failing to file appropriate documentation in a timely manner can cause you to lose out. Having a car accident attorney ensures you'll be prepared.
Dealing with Insurance Companies
Insurance companies frequently put up roadblocks in an effort to avoid payouts whenever possible, and the fact that the responsible driver was under the influence of drugs can complicate matters even more. Once an insurance company learns that you have hired a lawyer, they are far more likely to try to resolve the manner promptly and without trying to pay less than required. When you're dealing with the aftermath of an accident, you'll want to be able to focus on recovering physically and keeping your day-to-day life in order. Hiring a lawyer lets you offload a considerable amount of work.
Settlement Decisions
Insurance companies covering the expenses of a driver who was under the influence of drugs or alcohol typically want to settle the case as quickly as possible, and they may make a surprisingly strong offer, especially if you're represented by a lawyer. However, it's sometimes worth holding out as the potential settlement you can gain might increase significantly if the driver is convicted of driving under the influence. It's ultimately up to you to determine whether you want to accept a settlement, but it's worth going through your options with a lawyer to determine the best strategy going forward.
Collecting Information
Although it's statistically unlikely that you'll end up in court over your insurance claim, insurance companies sometimes refuse to offer an acceptable settlement offer, even after a significant amount of negotiation. While negotiating, information that will matter in a potential lawsuit needs to be gathered, and your lawyer can ensure you have the information you need to proceed. Police reports, witness statements and other information is difficult to gather without legal expertise, so ensure you're prepared by hiring lawyer if there's any question.
Bringing a Lawsuit
Few people, especially after being involved in an accident, want to deal with court cases. In some scenarios, however, it may be necessary to sue to receive the compensation to which you're entitled. Note that filing a lawsuit doesn't guarantee that your case will go to court; insurance companies often ramp up their settlement efforts after a suit is filed, and filing a lawsuit can be a powerful negotiating tactic. Still, you should only file a lawsuit if you're willing to follow through as the insurance company may think you're bluffing, so be prepared for the potentially lengthy process. You owe it to yourself and your family to be prepared, and hiring a lawyer to prepare and present your case is critical to reaching the best possible outcome.
Call our law offices today at any of our convenient locations and get a free consultation.
Arlington (817) 522-4451
Denton (940) 222-4060
Dallas (972) 362-6848
Fort Worth (817) 764-1375
Grapevine (817) 835-8677
Cedar Hill (972) 338-9427
McKinney (469) 522-3688
Lewisville (972) 354-4605
You can also contact us online by using our quick contact form.