Getting divorced can lead to many discussions about material and monetary assets. Naturally, many people want to protect their resources during the process, but unfortunately, it often involves dividing wealth between the two parties.
But does that division apply to an inheritance? An experienced divorce attorney can help you answer that question.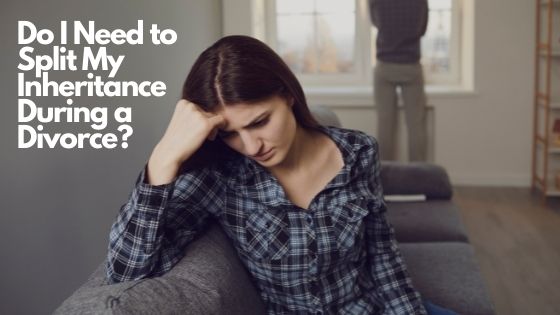 Division of Assets During a Divorce
In most divorce cases, both parties have the opportunity to divide the marital assets. The court often assigns a 50/50 split, but you and your spouse may come to a private agreement based on the division that works best for you.
When it comes to inheritance, it is always reflected as cash assets. As a result, you may find yourself in a conflict over who gets to keep the money from the inheritance and whether you have to share it with your spouse.
Marital Assets vs. Private Assets
The court will examine the marital assets versus private assets to determine whether you will need to split an inheritance. Marital assets are properties that are bought during the marriage. For example, a house you bought together is considered a marital asset. 
If you go into the marriage with considerable investments in your bank accounts, they are considered private assets. Private assets are not split during a divorce.
Does an Inheritance Count as Marital Property?
In many cases, an inheritance is specifically assigned as the property of one spouse. For example, if you received an inheritance from your grandmother, it goes to you directly and is not expected to be shared with your partner. But, on the other hand, if the wording of the will assigns it to the two of you, you will need to split that inheritance in the divorce.
In addition, wording matters in distributing an inheritance. In some cases, aging relatives may make provision for your spouse directly in their will, often to ensure that grandchildren get taken care of. 
Protecting Your Inheritance in a Divorce
Whether you have already received an inheritance or know that you have one coming after your divorce, you must take several steps to protect the money as much as possible.
1. Keep Inheritance Money in a Separate Account
If you and your spouse buy something together with the money from the inheritance or move it into a joint investment account, it will count as a marital asset. On the other hand, if you keep it in a separate account assigned to you alone, the court considers that money yours after the divorce.
2. Be Prepared To Negotiate
During any divorce, you must be prepared to compromise and negotiate with your former spouse as you decide how to assign assets, including your inheritance. You may need to be willing to offer something else to your spouse in exchange for the assets related to your estate. 
3. Talk to Your Divorce Lawyer
Inheritance law is complex, especially in a divorce where emotions are running high. Talk to your divorce attorney about how assets will be distributed and how you want to manage your inheritance. Your attorney will offer sound advice on protecting your properties or money.
4. Do Not Attempt To Hide Assets
It's never recommended to hide any inheritance money from your spouse as doing so can result in legal consequences. You can protect your money by placing it in a separate account or keeping it separate from marital funds, but you must disclose the amount during your divorce. 
5. Talk to Your Loved Ones About Their Wills
Talking about a will with your loved ones can seem daunting. However, if you know that your parents, for example, have rewritten their will since your marriage, you may want to remind them to revisit it. Of course, they are the ones who will decide who to include in the inheritance, but you may want to have them designate different amounts for you and your former spouse.
Dealing with divorce is a difficult situation, often exacerbated by conflicts arising about inheritances. It's advisable to seek the advice of professionals to protect your assets throughout the proceedings. An experienced divorce lawyer will be your guide in this ordeal. Call the Law Offices of David Kohm today at any of our convenient locations to get a free consultation. You can also contact us through our contact form.
Arlington (817) 522-4451

Dallas (972) 362-6848

Fort Worth (817) 764-1375

Plano (972) 354-4602

Cedar Hill (972) 338-9427

McKinney (469) 522-3688

Lewisville (972) 354-4605

Frisco (972) 725-7681

Grapevine (817) 835-8677

Irving (972) 354-4610

Keller (817) 204-0904

Garland (214) 572-2251

Denton (940) 222-4060

Addison (972) 564-8108