In Texas, a new law, House Bill 19, makes it harder for truck accident victims to sue trucking companies for negligence following a collision.
Texas had more truck accident deaths than any other state in 2019. And yet both the House and the Senate recently passed HB 19, which threatens to undermine the rights of victims following their trucking accidents. It is now more important than ever to have an experienced truck accident attorney on your side to fight for the compensation that you and your family deserves.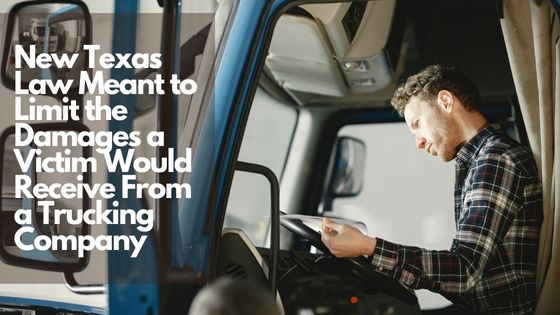 What Is HB 19?
Under HB 19, trucking companies are only liable in accidents where it can be proven that the trucking company committed gross negligence (or extreme negligence) in their driver training and policies. This means that in most cases, the injured party would only be able to sue the truck driver who was involved in the crash.

Therefore, more victims would be limited to suing just the truck driver instead of suing the trucking business after a truck accident involving one of their vehicles.

It also means a higher standard of proof that a plaintiff must meet if they wish to hold the trucking company accountable. That's because, under the new law, evidence of a trucking company's negligent hiring, training or supervising practices could only be presented in the second phase of a trial after the truck driver is found negligent. Additionally, gross negligence requires a unanimous vote by the jury in Texas.

Unfortunately, because individual truck drivers have nowhere near the level of resources that trucking companies have, HB 19 could make it difficult for truck accident victims to obtain the right level of compensation for their life-altering injuries or the death of a loved one. 
Why Did Politicians Support This Bill?
Those in support of the bill argue that it is necessary to combat the rising number of lawsuits against motor vehicle carriers, which are said to be increasing insurance rates for trucking companies and hurting the industry. 
However, some insurance industry analysts are skeptical of these claims, saying that the rising rates could be due to the natural business cycle of the insurance market, especially since all types of industries are experiencing increases in insurance rates premiums right now.

HB 19 will reduce insurance premiums for trucking companies while leaving accident victims without a road to recovery. 
How HB 19 Limits Liability for Trucking Companies
Hundreds of families in Texas experience tragedy in trucking accidents every year. Because commercial trucks are larger and heavier than other vehicles on the road, truck crashes often cause catastrophic injuries or death to other motorists and pedestrians.

Personal injury cases filed with the help of a truck accident attorney for tractor-trailer accidents can result in thousands or even millions of dollars in compensation for victims for the harm that they suffered.

Holding Trucking Companies Responsible
The trucking industry must abide by both state and federal laws when it comes to operating commercial vehicle fleets on the roads. The government's safety regulations include rules and limits on the amount of cargo that trucks can carry, as well as the total length of time that truck drivers can work each day or week. This assists with the ongoing issue of truck driver fatigue, which can often lead to serious accidents. 
Highway safety laws for the industry are constantly at odds with the profits of trucking companies — the more hours a driver can work, the faster deliveries can be completed, the better profit the company can make. As a result, many trucking operators break the rules or fail to properly enforce these policies, which can lead to tragic accidents.

A big rig accident lawyer can help hold trucking companies responsible when they fail to operate in a way that takes the safety of others into consideration. The threat of having to pay a huge settlement to an accident victim helps keep trucking companies in line. By limiting the ability of accident victims to sue trucking companies, the law lowers the incentive for companies to prioritize safety over profits.

How Personal Injury Lawsuits Protect Victims
Personal injury lawsuits are an extremely important legal tool. They are a way for accident victims to hold trucking companies responsible for the damage that they cause. A truck accident attorney also helps cover the cost of medical treatment, any income lost because of the accident, and other damages such as the cost of vehicle repair or replacement. If you are in need of a big rig accident lawyer, call the Law Offices of David Kohm today at any of our convenient locations and get a free consultation.
Arlington (817) 522-4451

Dallas (972) 362-6848

Fort Worth (817) 764-1375

Plano (972) 354-4602

Cedar Hill (972) 338-9427

McKinney (469) 522-3688

Lewisville (972) 354-4605

Frisco (972) 725-7681

Grapevine (817) 835-8677

Irving (972) 354-4610

Keller (817) 204-0904

Garland (214) 572-2251

Denton (940) 222-4060

Addison (972) 564-8108
You can also contact us online by using our quick contact form.