If you're considering a divorce, you're likely wondering how long it will take before it is finalized. Unfortunately, due to a Texan mandate requiring divorce cases to undergo a 60-day waiting period, the quickest time for a divorce to be official is 61 days – that is, if both parties agree to the separation, custody arrangements and distribution of assets. 
However, realistically, it will take a bit longer for most couples to be granted a divorce in Texas. Most courts have packed schedules, so even an uncontested hearing will be scheduled beyond the mandatory waiting period. Therefore, the usual time frame is between six months to one year, depending on court availability, the number of assets a couple owns and the lives affected by the separation.
An experienced Texas divorce attorney will be dedicated to moving the divorce process along and fighting to get you the best resolution possible.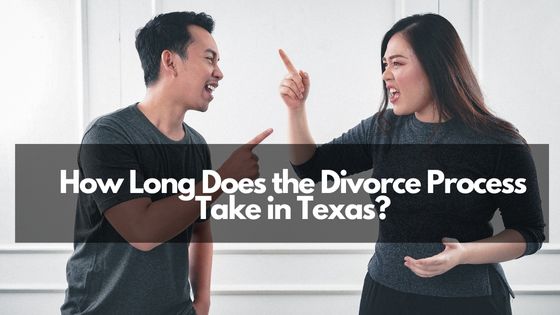 The Texas Divorce Timeline
Every marriage is different, and so is every divorce. However, the average divorce process follows this timeline:
Pre-filing
The pre-filing stage involves two steps – deciding if you want a divorce and working with a divorce lawyer. The former is not a legal process but is still an important decision. Marriage can still be mended through counseling so take some time to ensure that this is what you truly want. 
When you have decided, retain the services of an experienced divorce attorney. Separating from your spouse can be complicated, so hiring an expert is essential to guide you through the trying and confusing times. In addition, a legal team can help you understand the divorce process, provide advice on dividing your assets and ensure your rights are protected.
Filing
The divorce begins when your lawyer files a petition to the court requesting that the marriage between you and your spouse be dissolved. This petition also outlines your appeal for child support, property division and alimony.
Waiting Period
In Texas, a mandatory waiting period of 60 days starts when the divorce petition is submitted to the court. However, this is not always the case. For example, the judge may grant a 60-day waiver for family violence cases. 
Responding to Petition
The divorce petition must be served to the "Respondent" to let them know the case exists. Depending on county regulations, petitions can be served via mail, delivery service or publication. The service process may take longer if the spouse's whereabouts are unknown.
Once the petition has been received, the respondent has between 20 to 28 days to respond. Then, they can accept the demands, contest or ask for an extension to reach an amicable agreement. 
Contesting
If the divorce is contested, the two parties will gather evidence to support their claims to the court. Often, attorneys from both parties will meet up to come up with an agreement before trial.
Temporary Orders
In complicated divorce cases, the judge may grant temporary orders stating who the children will spend time with, who will remain in the family home and who will pay for the temporary child or spousal support.
Divorce Hearing
The final divorce hearing can take a few days, depending on how much evidence is presented. After the trial, a judgment is declared, finalizing the marriage dissolution.
Factors That Make the Divorce Process Last Longer
If you want a quick divorce but aren't sure whether that's possible for you, ask yourself the following questions:
Did you skip out on working with a prenup lawyer?

Do you think your partner will contest the divorce?

Has your partner hired a lawyer?

Is this a high-asset divorce?

Do you have children?

Are the courts backed up?
Answering "yes" to any of the questions above means you won't be able to finalize your divorce in 61 days, but hiring a divorce lawyer can help speed up the process. In addition, an experienced divorce attorney will do whatever it takes to fight for your family's best interest.
Hire a Divorce Attorney You Can Trust
Emotions can run high during divorce, even if it's an amicable separation. Delays can happen, and you might not get the fast marriage dissolution you were hoping for. But with a skilled divorce lawyer, the process becomes much more manageable. Call the Law Offices of David Kohm at our convenient locations today and get a free consultation.
Arlington (817) 522-4451

Dallas (972) 362-6848

Fort Worth (817) 764-1375

Plano (972) 354-4602

Cedar Hill (972) 338-9427

McKinney (469) 522-3688

Lewisville (972) 354-4605

Frisco (972) 725-7681

Grapevine (817) 835-8677

Irving (972) 354-4610

Keller (817) 204-0904

Garland (214) 572-2251

Denton (940) 222-4060

Addison (972) 564-8108
You can also contact us online by using our quick contact form.