One of the most common questions during divorce consultations is whether it's a good idea to continue living in the marital home or leave. While there is no one-size-fits-all approach that can apply equally to all inquiring spouses, some factors are worth considering across the board.
Below, we'll discuss the factors you should consider if you are considering departing from the marital home and explore how some spouses have tried to trick their spouses into leaving their shared property.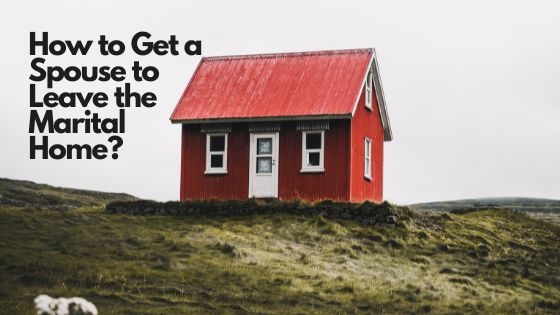 Trick #1: Temporary Restraining Orders Used to Trick Spouses into Leaving the Marital Home
After being served with divorce papers that included a temporary restraining order (TRO), some spouses may leave home because they do not understand what the TRO is when they are served with the paperwork.
Often, their spouse wanted them out of the marital home and encouraged their misunderstanding by telling them that a TRO meant they had no choice but to leave. If they insist on staying, the other party will call the police.
Trick #2: Changing the Locks
Another common tactic that spiteful spouses use is changing the locks on the marital home and telling their spouses they are not allowed inside. 
For example, a wife changes the locks and tells the husband not to come home. After talking with his divorce attorney, they informed the husband that he owned the home, and his name was on the deed. The divorce lawyer can then advise him on how to handle the situation. In this case, the husband could call a locksmith to help him get into the property or let himself in. The husband won't have to be concerned about his wife calling the police on him since it's not against the law to break into your own house.
Bring a Witness / Or Record Everything on Your Phone
If your soon-to-be ex-partner calls the authorities, it's important to remain calm. Tell the officers what happened, and have a friend come with you to act as a witness if possible. If you don't have a witness, you can record everything. If you do one of those things, it is difficult for your spouse to make up a story that they were attacked or physically threatened.
Do I Have to Move Out Because My Spouse Told Me To?
You do not have to leave home if your name is on the lease or mortgage.

You do not have to move out just because your spouse tells you they want you to leave.

Both parties have a right to stay in the home. No one can force you to leave your residence without a court order unless there is domestic violence.

If you and your spouse cannot agree on who will live in the house while the divorce is pending, the judge will make a quick decision for you. The court must hold a temporary order hearing to determine who is awarded the exclusive use of the home. 
In some cases, when there are spare bedrooms, the spouses may agree to live together until the divorce is finalized to save money and ease the transition for the children. However, for other families, continuing to live together causes too much stress. The decision to move out should be considered carefully and discussed with an experienced divorce attorney who can help you make the best decision for you and your family.
If your children need to continue living in the home – and with you as a result – then it's in your best interest to request that you be given exclusive use of the house. This is important strategically because what occurs at the beginning and middle of divorce tends to end up happening ultimately. If your spouse agrees to move out during the temporary order hearing, it gives an impression that they are willing to leave the children behind, which a judge most likely won't look highly upon. 
Finalizing the Divorce with an Experienced Divorce Attorney
If you remain in the house and your spouse hasn't as the case progresses, the judge will more than likely award the home to you in a trial setting. Having an experienced divorce lawyer on your side is essential to guide you through this process. Call the Law Offices of David Kohm today at our convenient locations and book a free consultation.
Arlington (817) 522-4451

Dallas (972) 362-6848

Fort Worth (817) 764-1375

Plano (972) 354-4602

Cedar Hill (972) 338-9427

McKinney (469) 522-3688

Lewisville (972) 354-4605

Frisco (972) 725-7681

Grapevine (817) 835-8677

Irving (972) 354-4610

Keller (817) 204-0904

Garland (214) 572-2251

Denton (940) 222-4060

Addison (972) 564-8108
You can also contact us online by using our contact form.