After a car accident, the driver who was negligent is responsible for the damages, and their insurance company pays for the other driver's car repair bills and medical expenses.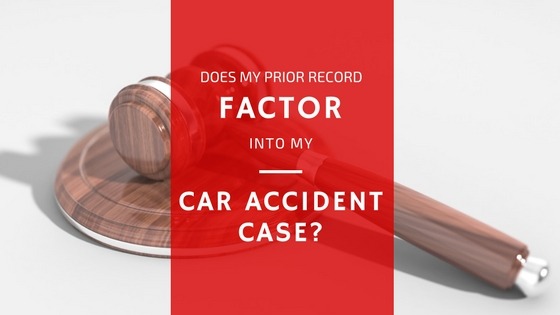 Determining which driver was at fault isn't always cut and dry, though. The insurance companies and drivers involved may disagree on who was negligent, and in that case, the determination of who was at fault will depend on the evidence surrounding the car accident.
Whether you have a stellar driving record or a poor one, you may be wondering if that will come into play as evidence for or against you. Although it's impossible to say that something will or won't be used as evidence, it's highly unlikely that anyone's driving record will factor in.
Driving record wouldn't be considered direct or even circumstantial evidence. A comparison of each driver's prior record doesn't provide any info about what happened during an accident, meaning it has very little use. Instead, insurance adjusters and the judge, should your case go to court, will focus more on the following to figure out which driver was at fault:
The Police Report
The police report is a valuable piece of evidence, because it's an unbiased account of what happened. It may not say which driver was at fault, but the account in the report, combined with other evidence, can paint a clearer picture of the circumstances surrounding the crash.
Drivers are always advised to contact the police after a car accident since the police report is so important.
Video Evidence
If there is any video that clearly shows what happened during the crash, that's about as good as it gets in terms of evidence. Unfortunately, video isn't available for many crashes, but it's becoming more common with the low cost of dashcams. Of course, drivers are under no obligation to provide their personal dashcam footage, which means they will typically only share it if it supports their case.
Witness Testimony
If there was anyone at the scene who witnessed the accident and is willing to provide their account of what happened, that can be very helpful in determining fault.
Now, it's important to note that the witness must be an unbiased third party for their testimony to carry any weight. Testimony from a passenger of one of the drivers wouldn't, because it's reasonable to believe that they may be biased towards the driver they know.
The Accounts of the Drivers
Each driver's account of what happened can play a role in figuring out who is at fault. One thing to understand after an accident is that you don't need to talk to the other driver's insurance company or lawyer, and in fact, it's always better to avoid that.
You certainly shouldn't make a recorded statement, which the other driver's insurance adjuster will ask you for. They will only be trying to find information they can use against you. Complying just means you're providing information to the other side.
The Physical Evidence
The damage each car suffered from the crash may also help investigators piece together what happened. They can see where the impact occurred on each car and get an idea of how fast the drivers were going. Physical evidence alone may not tell the full story, but it can when combined with other information.
Getting the Best Result from a Car Accident Case
If you've been in a car accident, the best thing you can do for yourself is consult with an experienced car accident lawyer.
Call our law offices today at any of our convenient locations and get a free consultation.
Arlington (817) 522-4451
Garland (214) 572-2251
Dallas (972) 362-6848
Fort Worth (817) 764-1375
Cedar Hill (972) 338-9427
Plano (972) 354-4602
Irving (972) 354-4610
You can also contact us online by using our quick contact form.