Truckers are expected to meet or exceed delivery deadlines and are employed based upon their ability to do so. This pushes many truck drivers to fulfill their delivery obligations by driving too many hours, working through fatigue, using medications or taking other substances to maintain energy. Truckers may even becoming aggressive on the road due to stress. All of these actions and behaviors lead to more trucking accidents.Texas drivers suffer more from these deadly accidents than drivers in any other state.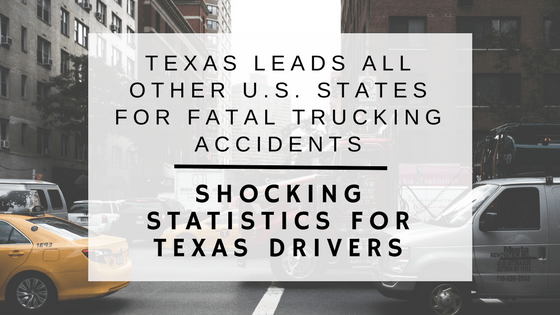 Statistics of Deadly Trucking Accidents Do Not Lie
In 2014 there was a 17 percent increase in truck crash injuries, over the prior year's injuries. 16,000 people were injured in these wrecks nationwide. According to the National Highway Traffic Safety Administration (NHTSA), Texas is home to the greatest percentage of these injured drivers.
Research into 2014 crash statistics indicated:
Over 15 percent of auto accident fatalities in Texas involve large trucks
In 2014, 553 people were killed due to large truck accidents in Texas
Texas trucking accident deaths are 14.1 percent of all truck accident fatalities in the country
Texas is the only U.S. state with truck accident fatalities numbering in the double digits
The NHTSA reported that 3903 traffic accident deaths involved large trucks in 2014. Only 15 percent of these accidents' fatalities were the truckers, themselves. Ten percent were pedestrians or people riding bicycles. The remaining 75 percent were people traveling in other vehicles, such as passenger cars, motorcycles or pickup trucks.
How Trucking Accidents Cause Serious Injuries and Death
When a large truck collides with a passenger vehicle, the outcome is all too often catastrophic. So many people die in these accidents because commercial trucks are so much larger and heavier than passenger cars and trucks.
When large trucks hit other vehicles, the truck driver is often to blame. The truck driver may have lost control due to speed. Or he or she may have been distracted, using a cellphone, driving drowsy or even driving under the influence of alcohol or drugs. Even when a truck driver is fully attentive and not at fault in the accident, the vehicle they are driving can still be deadly.
People in passenger vehicles who are injured in accidents involving large trucks are often debilitated as a result. They may suffer traumatic brain injury, spinal injury, paralysis, chest injury, multiple fractures and many other types of injuries that are life-changing, if not fatal.
Many of these accidents are deadly due to the truck's size, speed or weight. But others are deadly even if the truck is sitting still at the time of impact, as a passenger vehicle can flip over, be crushed or even be torn open by running into the underside of one of these oversized vehicles.
Truck drivers have little room for errors as part of their jobs. People driving around these vehicles rely upon truck drivers to follow safety guidelines, share the road, remain alert and drive cautiously. When truckers fail to do so, many lives can be forever changed.
Stand Up for Your Rights Against a Trucking Company
When you or someone you love has suffered property damage, injuries and other damages in a trucking accident, you have the right to pursue compensation for your damages, wrongful death compensation for losing a loved one, and justice for the errant driver.
Personal injury and trucking accident lawyers work for people like you, helping injured victims and loved ones of those killed in trucking accidents to recover financially. Through a trucking accident claim, large truck drivers and their companies are not able to get away with their negligent actions. You can hold them responsible and gain some financial recovery as part of a trucking accident case.
Our team has years of experience in cases involving large trucks and vehicles of all kinds. We have defended the people of Texas against trucking companies and insurance companies, fighting for our clients' rights and compensation for what was taken from them. You need an experienced truck accident lawyer in your corner. Call us today.