Divorce Can Be A Difficult Decision
When choosing to divorce your spouse, whether or not to hire a divorce lawyer is often the hardest decision one can make. While going at it alone may be the most cost effective way to file for a divorce, it is not always the most wise route to take.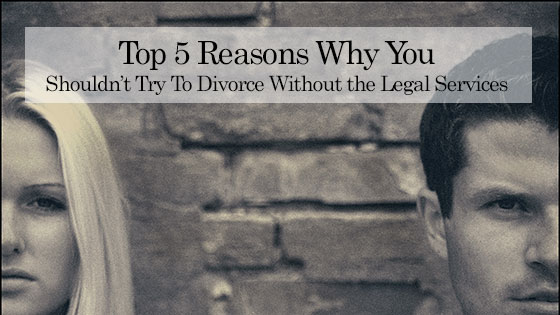 Unless there are absolutely no assets to be divided and no children involved, not having the legal expertise needed to understand court forms and proceedings can often lead to losing more in the long run.
Here are what we've discovered to be the top five reasons why you shouldn't try to get a divorce without the services of a divorce lawyer: 
Understanding Court Documents and Proceedings Can Be Difficult
Court documents can be confusing if you're not experienced in how to interpret them. It may be too late by the time you realize that you signed off on terms that you did not intend to agree to. This is not a position you want to find yourself in. Checking the wrong box or misunderstanding the language used on court forms can definitely affect you long after the final hearing is over. 
If you're set on doing this alone, at the very least, seek expert advice on how to fill out the necessary paperwork prior to making any agreements or signing any documents. 
Custody and Child Support Is Not As Easy As It Seems
If you don't have minor children with your partner, then this won't be an issue for you. But if you do have children with your spouse, then custody and child support will have to be determined during the divorce proceedings. 
Custody is often a very delicate issue when couples split, and you will most likely need help to understand the different types of custodies (joint, sole, etc.) and what they entail. Hiring a divorce attorney can also relieve you of the task of having to fill out long worksheets that determine how much child support should be paid. 
Assets, Alimony, and Debt
Who gets what? This is another difficult matter that causes many to lean on the expertise of a good divorce lawyer. Keep in mind that lawyers are experienced, trained experts who know how to get you what you want during a divorce. They will help you to sort out your finances and determine what's fair and what's not fair. For this reason alone, you should never try to go through a divorce without legal representation when there are assets and other finances involved. 
Can You Really Trust Your Spouse?
Even if you've been through the divorce process before, each case and person is different. Yes, you and your soon to be ex-spouse may have come to an agreement that satisfies both parties, but you never know what could happen between then and the final divorce hearing. 
Do you trust that your spouse isn't hiding assets? Can he or she be trusted with the kids? Do you suspect that there may be deception in the pending agreement? If so, don't hesitate to hire an attorney. They've seen and heard it all and can detect deception and future danger by instinct. 
Do You Have the Time and Patience?
Filling out the necessary paperwork alone is a long and tedious process. Can you manage to do this without any assistance? Do you have the time to go back and forth to court to file the paperwork? 
Furthermore, if you're the type of person who can't control their emotions or temper while under pressure, you may want to avoid representing yourself in court. This is not the time to have an outburst that may discredit you and hurt your case. 
Regardless of whether or not you have decided to continue with your divorce without a divorce attorney, it won't hurt to have a consultation so that you will know what to expect. 
Call our law offices today at any of our convenient locations and get a free consultation. 
Arlington (817) 522-4451
Dallas (972) 362-6848
Fort Worth (817) 764-1375
Plano (972) 354-4602
Cedar Hill (972) 338-9427
McKinney (469) 522-3688
Lewisville (972) 354-4605
Frisco (972) 725-7681
Grapevine (817) 835-8677
Irving (972) 354-4610
Keller (817) 204-0904
Garland (214) 572-2251
Denton (940) 222-4060
Addison (972) 564-8108 
You can also contact us online by using our quick contact form.