No matter your reason for divorce, one thing remains true – it is a life-altering event for everyone involved. Coming to a final decision is often complicated, and it may have taken you months or even years before deciding to separate. Other parties did not even see the divorce coming and were blindsided by their spouse.
Every divorce situation is unique, but all are complicated and draining for both partners. If you are making plans for separation but don't know what to do, we have listed the top things you need to do before filing for divorce.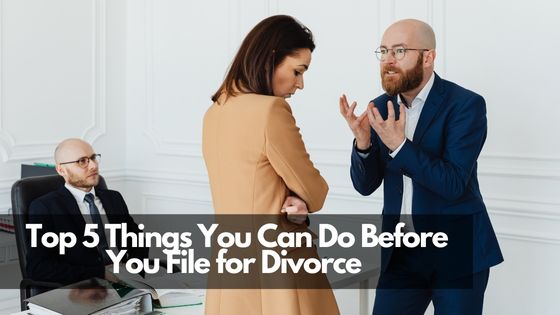 1. Collect Important Documents
Divorces can be messy if one spouse is uncooperative. Therefore, the best way to ensure it goes smoothly is to have an amicable situation. But unfortunately, there is no way to guarantee this. Minds change fast, especially in challenging situations. One day they might cooperate, but the next, they become problematic. 
However, you will have an easier time if you have all documents relating to your marital assets. While your divorce attorney can request these papers during the process, it will be simpler for you to collect them before the divorce begins. But, again, you can't guarantee the other party's cooperation, so it may be difficult for you to lay your hands on documents like your spouse's pay stubs, tax returns and investment account statements.
These documents will be the basis for the division of property, alimony and child support. So gathering all pertinent records early in the process will allow your divorce lawyer to negotiate a better outcome for you. In addition, collecting the papers yourself will help you save money down the line. Letting your legal team chase down your soon-to-be former spouse to get the needed documents costs extra fees. 
2. Decide Whether To Move Out of the Marital Home
Just like everything that has to do with divorce, deciding to move out is a difficult decision to make. But if the atmosphere in the marital home is tense and stressful before divorce plans are announced, it is best to move out of the household. Things could get downright explosive, and your safety and your children's will be in jeopardy. 
However, if safety isn't an issue, there may be compelling reasons to stay. For example, not moving out of the house means spending more time with your children. Plus, staying could get you a favorable custody arrangement since the courts prefer to minimize disruption in the lives of the children. If you are the parent who left without a valid reason, the other party may use this to paint an unfavorable picture of you during custody trials. 
3. Be Transparent About Marital Assets
When planning for a divorce, you may be tempted to hide assets, resulting in your spouse getting less than they deserve. This is a bad idea and can get you in legal trouble if discovered. The consequences are severe, so your divorce attorney will heavily advise you against this. 
You and your partner have the right to each other's financial information even during divorce, but that doesn't mean you can't make preparations to safeguard your interest. For example, before filing, you may want to pay off your debts or hire a divorce lawyer to help you build a solid case. 
4. Be Careful of What You Say
Anything you say during divorce can be held against you. For this reason, watching how you speak to the other party is best to avoid any consequences during the trial. 
Don't allow your partner to use your words as ammunition against you, particularly during the custody proceedings. Instead, remain civil and never lose your temper. Before you say anything, ask yourself, "What would a divorce judge think if they overheard this conversation?" This little forethought effectively prevents you from saying something that might put you in an unfavorable light.
Also, be careful of what you post on social media. Don't rely on privacy settings to conceal what you say. If it's online, it will be found and may be used by the other party as evidence during trials.
5. Meet With a Seasoned Legal Professional
The best way to avoid costly divorce mistakes is to meet with a legal professional. A divorce attorney has the knowledge and experience to help you prepare if you are planning a separation. 
Conflict will always be present during divorce, but with a skilled lawyer, you can prevent any disagreements from escalating. The legal team of David Kohm can advocate for your interest in the best ways possible. Call us at any of our convenient locations and get a free consultation.
Arlington (817) 522-4451

Dallas (972) 362-6848

Fort Worth (817) 764-1375

Plano (972) 354-4602

Cedar Hill (972) 338-9427

McKinney (469) 522-3688

Lewisville (972) 354-4605

Frisco (972) 725-7681

Grapevine (817) 835-8677

Irving (972) 354-4610

Keller (817) 204-0904

Garland (214) 572-2251

Denton (940) 222-4060

Addison (972) 564-8108
You can also contact us online by using our quick contact form.