It's highly likely that you may experience a rear-end car crash at some point in your life. The National Highway Safety Traffic Administration (NHTSA) has reported that rear-end collisions account for 28% of all accidents and are the most common type of collision.
There are many misconceptions and generalizations surrounding rear-end accidents. However, one universal truth about all car accidents is that if you or someone you love gets injured, it is crucial to hire an experienced car accident attorney in Dallas-Fort Worth to ensure you get the maximum amount of compensation for your injuries.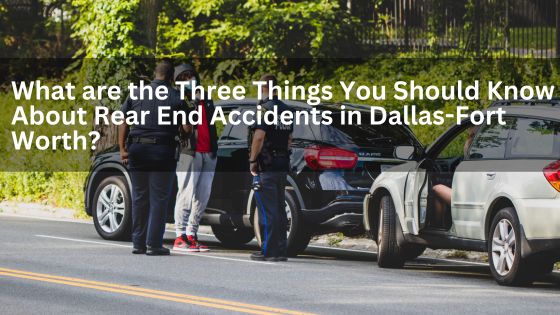 1. The Driver in the Back Is Usually At Fault, But Not Always
According to Texas law, it is important for drivers to maintain a safe distance between their vehicle and the vehicles ahead of them. If a driver's vehicle is hit from behind, the driver who caused the accident is generally presumed to be at fault. However, there is an exception to this known as a "rebuttable presumption."
This message suggests that there could be situations where it's not the fault of the driver who hit the car in front of them. If the front driver suddenly slams their brakes in the middle of a busy road without any valid reason, then it may not be the fault of the other driver. However, if there's a car accident or road hazard that requires the driver in front to brake, then it's the responsibility of the driver behind to maintain a safe distance between the vehicles.
2. Distracted Driving Is the Leading Cause of Rear-End Collisions
Did you know that almost all of the 1.7 million rear-end collisions that happen on U.S. roads every year can be prevented? This is because distracted driving, such as using a cell phone, changing music, talking to a passenger or daydreaming, is the primary cause of these types of accidents.
Reading a single sentence on a cell phone can cause a delay that results in changes to the traffic flow. Drivers who look up from their phone after reading a text may not have enough time to stop and could cause a rear-end collision. Other causes of rear-end collisions exist as well.
Driver fatigue

Drunk or impaired driving

Aggressive driving, such as tailgating

Hazardous road or weather conditions
3. Rear-End Accidents Can Lead to Serious Injuries
Although rear-end collisions are usually considered minor incidents, they can actually cause severe or fatal injuries. These types of crashes are well-known for resulting in injuries that require months or even years to fully heal. Some of the common injuries that people can sustain in these accidents include:
Whiplash

Brain injuries

Sprains or strains

Internal bruising
It is important to visit a doctor for diagnosis if you have been involved in a rear-end accident to determine if you have any injuries. Even if you feel fine, delayed symptoms may occur. If you don't seek medical attention right after the accident and discover later that you have back problems, the insurance company might reject your claim by stating that there is not enough evidence to connect the injuries to the accident.
Understanding Rear-End Accidents
A rear-end collision occurs when one vehicle collides directly into the back of the vehicle in front of it. Crashes often occur due to:
Hard braking – the leading driver slams on his or her brakes too quickly

Hard acceleration – the following driver accelerates too quickly

Lack of attention – the following driver does not notice a slow-down in traffic

Tailgating – the following driver is driving too close

Unsafe driving for the road conditions – the following driver is driving too fast for the road condition such as wet, icy, damaged surfaces, or other road hazards.

Poor visibility – the driver of the second vehicle is driving too fast when there is low visibility in conditions such as heavy rain, snow, fog, and low light.

Distracted driving – the driver of the second vehicle loses concentration through actions such as fatigue, texting while driving, putting on make-up, looking at their phone, alcohol, drug impairment, etc.
Car accident victims who are rear-ended often suffer from a range of traumatic injuries, with whiplash being the most common. Whiplash is a term used to describe a variety of injuries that affect the neck, running the gamut from minor to severe. This type of injury usually occurs when the body experiences a sudden jolt, such as when a car is struck from behind.
If You Were In A Rear End Collision, You Should Contact A Lawyer
If you were involved in a car accident where you were rear-ended by another driver, or if you rear-ended another car yourself, it's wise to hire an experienced lawyer. Whether you were at fault or not, an experienced lawyer can assist in safeguarding your legal rights.
If you were involved in a car accident and rear-ended another car, but believe that the other driver was at fault due to their negligence, you can seek advice from a lawyer. They will review the facts of the case and help determine who was at fault.
If you were in a car accident where someone hit you from behind, you have the right to compensation if the other driver was at fault. In these cases, a lawyer can assist you in dealing with the other driver's insurance company.
If you've been in a car accident, you may be able to get compensation for medical bills, property damage, loss of income, and pain and suffering. To make sure you get a fair settlement, it's best to hire an experienced car accident lawyer.
To learn more about your options, call the Law Offices of David Kohm today at any of our convenient locations and get a free consultation.
Arlington (817) 522-4451
Dallas (972) 362-6848
Fort Worth (817) 764-1375
Plano (972) 354-4602
Cedar Hill (972) 338-9427
McKinney (469) 522-3688
Lewisville (972) 354-4605
Frisco (972) 725-7681
Grapevine (817) 835-8677
Irving (972) 354-4610
Keller (817) 204-0904
Garland (214) 572-2251
Denton (940) 222-4060
Addison (972) 564-8108
You can also contact us online by using our quick contact form.