One of the first questions people ask when they lose a loved one in a tragic car accident is: How could this happen? If the answer to this question is negligence or some other wrongful act by another driver, the concept of wrongful death comes into play. According to the Texas Department of Transportation, the fatality rate on Texas roads in 2017 was 1.36 deaths per 100 million vehicle miles traveled. If a loved one has perished in a car accident you may be able to file a wrongful death claim, but in order to do so you will need the assistance of an experienced Texas wrongful death attorney.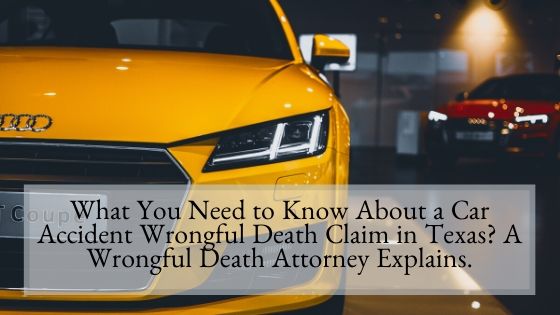 Causes of Fatal Car Accidents
While the number of car crashes has steadily increased in recent years, the percentage of deadly accidents has actually decreased slightly. This decline is primarily attributed to new and improved car safety technology, including airbag placement, frame construction, crumple zones, and other features.
However, fatal car accidents continue to be a common occurrence, and the downward trend means little to the family of someone who has been killed in a car crash.
The most common causes for fatal car accidents in Texas include:
Drunk driving

Reckless driving

Road defects
Distracted driving

Bad weather conditions

Vehicle defects
What exactly is a wrongful death case?
When a person is injured as a result of another person's negligence or wrongful act, the injured person has the option of filing a personal injury lawsuit to recover damages.
But what happens when the person is killed as a result of a negligent or wrongful act?
This is where a wrongful death claim comes into play. In Texas, certain family members can essentially step into the shoes of the deceased and sue the responsible party for damages.
Who can file a wrongful death claim in Texas?
Under the Texas wrongful death statute, the only people who are legally allowed to file a wrongful death action are the:
Surviving spouse of the deceased

Children of the deceased (including legally adopted children)

Parents of the deceased (including adoptive parents)
Siblings and grandparents of the deceased are not allowed to file a wrongful death claim in Texas. Any eligible family members may file cases individually or jointly.
If none of the individuals entitled to bring a wrongful death action have begun the action within 3 months after the death, the deceased's executor (the person appointed to carry out the terms of the deceased's will) may file and prosecute the action unless the people allowed to file a wrongful death action all request that the executor not file a claim.
What must be proven?
When a surviving family member files a wrongful death claim, they essentially step into the shoes of the deceased. As a result, the family member must prove liability the same way the deceased would've had to if they had survived the accident.
Statute of limitations in Texas wrongful death cases
Texas requires that all wrongful death lawsuits are filed within 2 years of the deceased's death, unless a rare exception applies to the situation. It's best not to rely on rare exceptions though, and instead seek out an experienced wrongful death lawyer as soon as possible to determine if and when you need to file your claim.
Call our law offices today at any of our convenient locations and get a free consultation. 
Arlington (817) 522-4451
Dallas (972) 362-6848
Fort Worth (817) 764-1375
Plano (972) 354-4602
Cedar Hill (972) 338-9427
McKinney (469) 522-3688
Lewisville (972) 354-4605
Frisco (972) 725-7681
Grapevine (817) 835-8677
Irving (972) 354-4610
Keller (817) 204-0904
Garland (214) 572-2251
Denton (940) 222-4060
Addison (972) 564-8108 
You can also contact us online by using our quick contact form.