Possessions shared by a couple hold some level of emotional value, and this makes it tricky to determine how to split shared assets in a divorce. If you and your spouse can't immediately find a fair and agreeable solution, you could drain your funds by fighting for every significant possession in court. The most challenging asset to divide is usually the home, but that doesn't mean you won't face other difficulties.
Who should get the RV? Is the jet ski worth selling? What about that piece of artwork that has so much emotional meaning to you? An experienced divorce attorney can help you fairly divide the other significant assets in your life.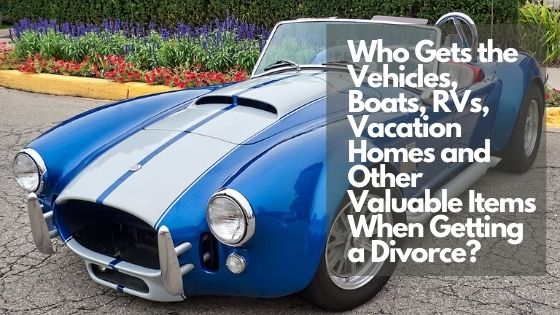 Determine Ownership
Identifying the items in your shared marital estate is the first step in dividing assets during divorce. Large assets you brought into the marriage are likely to be yours and not considered marital property. However, everything purchased while you were married is regarded as marital property, even if one spouse purchased it using their funds. In this case, both spouses have a claim to its value.
However, there are exemptions to this. Let's say that your partner owned an RV before you were married. It doesn't mean that you have no claim to this high-worth asset. Suppose your partner spent money to replace the RV's engine and buy new tires while you were married and used the shared marital funds. This action gives you a legitimate claim on the RV.
Market Value vs. Emotional Value
Once you've determined which assets are shared marital assets, it's time to begin negotiating how to split them. Remember that you are dealing with value, not specific assets. In an ideal situation, it won't matter which assets end up being yours or your partner's, as long as the value division is fair. 
But, the process is more complicated than that. It's normal for humans to have an emotional connection to material things, and it's common for parties to fight over certain assets due to the sentimental value it holds for them. 
Make sure you have a clear understanding of the value of each item as you start the negotiating process. A divorce lawyer can help you with this. Then, when your partner requests an item, you can effortlessly negotiate for an item of similar market value, which is the value you could receive if you sold that item today.
Don't Be Blinded By Emotions
Emotional connections make us human, but your emotions can work against you during a divorce. Maybe that piece of art you love would only sell for $200, but your partner says they will let you have it if they can keep their music collection worth $8,200. While the emotional value might be similar, the market value is not. Don't let your emotions be used against you.
Sell or Keep?
A divorce attorney knows that the easiest way to split assets is to liquidate them and divide the cash between the two parties. However, not every item is easy to liquidate quickly, and many times the emotional value of an object far outweighs what it can bring on the open market. For example, you may think that piece of artwork is priceless, but since it will only snag $200 on eBay, it probably isn't worth selling.
Swapping Equity
It is unlikely that you and your spouse will be able to perfectly divide your significant assets so that you both end up with the same amount of value. This means one of you may end up "buying out" the other one to keep a big asset. 
For example, your partner wants to keep the RV you purchased together during your marriage. The RV's market value is $18,000. Assuming you've decided to split your assets evenly, that means your equity in the RV is $9,000. So for your partner to keep the RV, they will need to find a way to provide you with $9,000. That might mean letting you keep $9,000 worth of assets or giving away $9,000 value of equity in your home when you sell it. It could also mean giving you $9,000 in cash out of their savings account or retirement account. 
Your partner can negotiate the division of assets in countless ways. For many couples, this ends up as spouses keeping certain items, selling others and making payouts to even up the division. The whole process is tiring and time-consuming, especially for those whose partner is uncooperative during negotiations. But with a seasoned divorce lawyer as your guide, you can navigate your way through the division of assets becomes a whole lot easier. 
Get an Experienced Divorce Attorney on Your Side!
Dividing your assets is just one aspect of dividing your life during a divorce. Unfortunately, mind games can be played, and you can get less than what you deserve. For this reason, we strongly suggest that you consult with a divorce attorney before negotiating the division of your marital estate with your spouse. A lawyer can help you determine a full accounting of your assets, value those assets and devise negotiation strategies that are beneficial for you. Call the Law Offices of David Kohm today at any of our convenient locations and get a free consultation.
Arlington (817) 522-4451

Dallas (972) 362-6848

Fort Worth (817) 764-1375

Plano (972) 354-4602

Cedar Hill (972) 338-9427

McKinney (469) 522-3688

Lewisville (972) 354-4605

Frisco (972) 725-7681

Grapevine (817) 835-8677

Irving (972) 354-4610

Keller (817) 204-0904

Garland (214) 572-2251

Denton (940) 222-4060

Addison (972) 564-8108
You can also contact us online by using our contact form.